For Any Enquiry On Nebosh Courses Click Here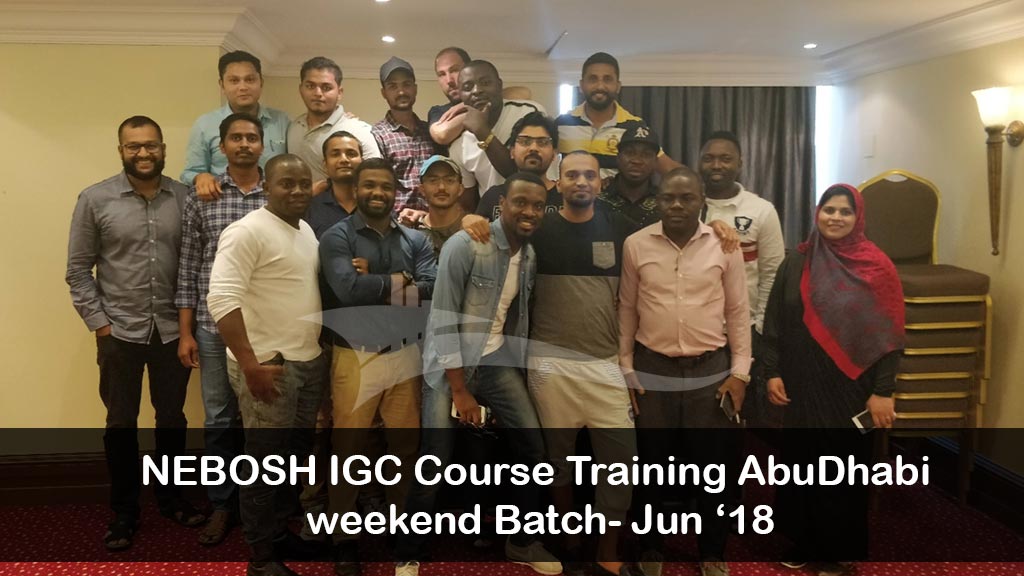 A Few Words by Our Tutor Mr. S.Prince Manova on his Experience at NEBOSH Weekend Batch Abu Dhabi – June 2018
To start out the NEBOSH training was held in abudhabi for a span of 10 weeks which looks long but went like a flash with people out there in pictures which made the training lively. Without them I wouldn't be here to write a blog on them. I the trainer who is with folded arms in the picture was able to train them effectively for a short span of 10 weeks. To talk about the group it is so evident from the picture that the multicultural people made the training dynamic with energy and positivity. The cultural difference seems to be wide but the people were forming a good team within a short time and was eagerly participating any activities conducted in class. When group activities were performed everyone were coming forward not sticking to their country people but with everyone that shows they are open to anything and ready to face the challenges.
To talk about my training experience it was so challenging as it is not easy to create an aura to the class by knowing only common medium of language very few people still with the basics. The technique I followed from beginning of the class was simply being friendly which will create an openness for the people to come forward and clarify any doubts they had. I tried my best to take care of individual at most as much they can understand with realistic example. I made each and every people to come forward and express their thoughts which made them face large people in future speaking about the technicality which they have never done before boosting their morale. The tests was conducted in a regular intervals to maintain their stability of learning as everyone had lost the habit of not spending time with quiet a long years. The papers was corrected during the moment of classes test when the individuals were writing because with the motto of making people to understand the root of their mistake during answering and correct it right way so that the wrong will never be forgotten which will pave way to the students come with right answers during examinations.
The feedback from the students after a wonderful journey of 10 weeks gave me a morale boost and how to improve in each and every aspect of training which am implementing in the subsequent trainings. This blog helps me to express my feeling and gratitude to the wonderful classes I had in the name of Green World Group carrying over my shoulders.
Click here to Know Upcoming Weekend batch at Abu Dhabi
---
---
Green World Management Consultants & Training Institute
Office #1103, 11th Floor, NBK (National Bank of Kuwait) Building,
Next to Universal Hospital,Sheikh Rashid Bin Saeed Street,
Al Karamah – Abu Dhabi – United Arab Emirates
Tel :
+971-4-2698807
, Mobile :
+971 55 7044 902
Email:
info@greenwgroup.com