The NEBOSH International General Certificate (IGC) covers the principles relating to health and safety, identification and control of workplace hazards and the practical application of this knowledge. The IGC syllabus takes a risk management approach based on best practice and international standards, such as the International Labour Organisation (ILO) codes of practice. Local laws and cultural factors may form part of the study programme where relevant and appropriate.
The International General Certificate is also suitable for those embarking on a career in health and safety, providing a valuable foundation for further professional study.
No previous health and safety knowledge is required. However it should be noted that the examination is offered, and must be answered, in English, and that the course includes a requirement to write a short report, which must also be in English. NEBOSH recommends that candidates undertaking the NEBOSH International General Certificate should reach the equivalent of a scoring of 6.0 or higher under the International English Language Testing System (IELTS).
700th BATCH OFFER !!
NEBOSH IGC – NEW DELHI
Pay For NEBOSH International General Certificate
& Get HAZWOPERM – (CPD, UK Certified) +Level-2 Fire Safety – (NCFE-UK)  +
Accident Investigation + First Aid + Fire Safety +COSHH KHDA – DUBAI (GOVT Approved)
Only Limited Seats.. Hurry Up for Early Booking
FREE QUALIFICATION
NCFE COURSE
Level 2 Award in Principles of Fire Safety for the Workplace, NCFE-UK
CPD CERTIFIED COURSE
HAZWOPERM – Hazardous Waste Operation and Emergency Response Management – CPD UK Certified
ROSPA ACCREDITATED HSE COURSES
Accident investigation- ROSPA UK Certified
INHOUSE COURSE KHDA – DUBAI
Control of Substances Hazardous to Health (COSHH)
Essentials of Fire Safety Principles
First Aid at Work
Last Date Of Reg : 03rd Feb 2018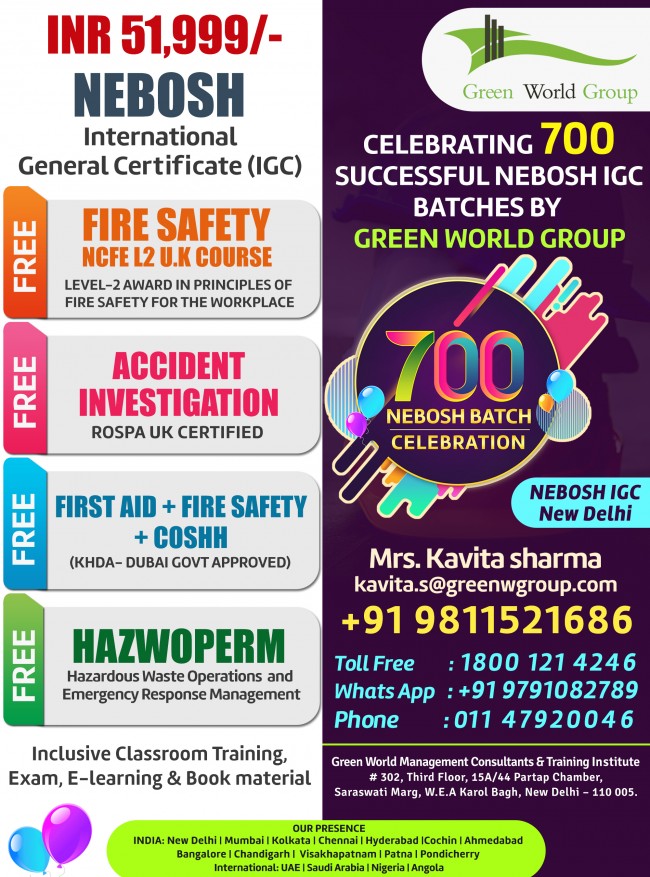 The qualification is divided into three units, each of which is assessed separately:
■ Management of international health and safety (IGC1) ■ Control of international workplace hazards (IGC2) ■ International health and safety practical application (IGC3)
Year end offer !!!
For Enquiry & Enrollment,
Thanks & Regards
---
For Enquiry & Enrollment:
Toll Free 1800 300 20676 (South India) | 1800 121 4246 (North india)
---
Mrs. Kavita Sharma
ACADEMIC COUNSELLOR
Mob: +91 9811521686
kavita.s@greenwgroup.com
---
Green World Management Consultant & Training Institute
# 302, Third Floor,15A/44 Partap Chamber,
Saraswati Marg,W.E.A Karol Bagh,
New Delhi – 110 005
Tel :+011 47920046
info.india@greenwgroup.com
Email: info.india@greenwgroup.com
Website: www.greenwgroup.com