For Any Enquiry On Safety Courses Click Here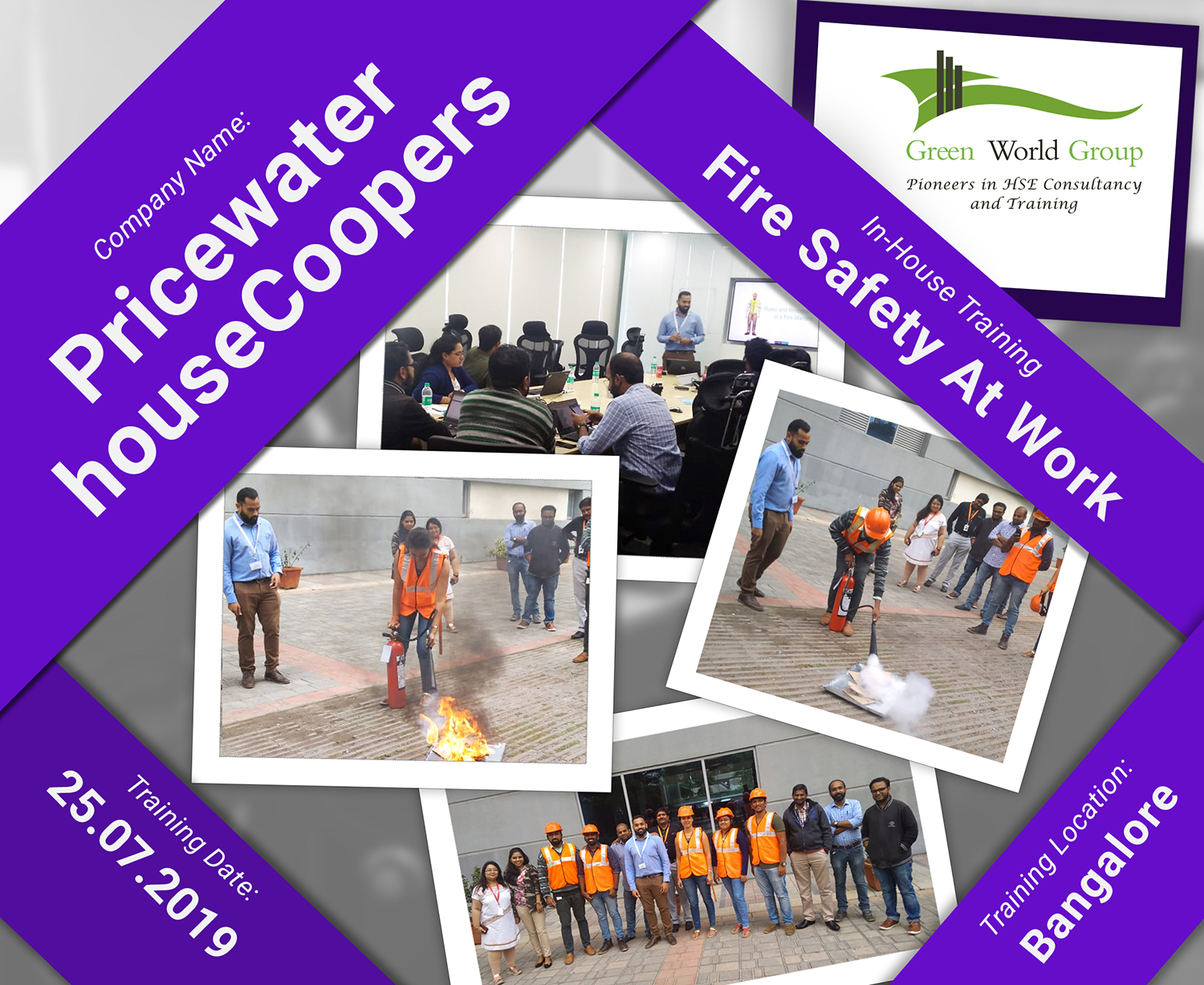 A one-day In-house Training Session was conducted for 13 Fire Marshalls of PricewaterhouseCoopers, Bangalore on 25th July 2019 about the precautions of Fire Safety at Work by Green World Group.
In this training, candidates were trained about basic Fire Safety Precaution and the covered topics are,
Basics and classifications of fire caused by fuel
Concept of the fire triangle and its uses during prevention
Various types, merits, and demerits of Firefighting
Classification and the principles of Fire Extinguisher with live demo explanation of Co2 extinguisher
Explained about the various aspects of Fire Alarm and its usage during emergency
In this session, the topic about evacuation assistance at the event of emergency also explained to the Fire Marshalls, (i.e.)
Ensuring everyone has evacuated the workplace
Assisting of vulnerable persons
Contacting the emergency services
Activities to be carried out at the assembly point among other activities
This slideshow requires JavaScript.
The candidates were very highly enthusiastic and happy to learn the Safety Course with us and moreover, the concern organization awarded us with an appreciation certificate for our Safety Training Service at the end of the session.
About Us:
Green World Group is the leading Safety Consultant & HSE Course provider all over the world; we deliver the Safety training Course to both Students and Working Professionals, also provide all types of accredited international courses such as NEBOSH, IOSH, and ISO 45001:2018 Lead Auditor Course. we offer these Courses through classroom mode, e-learning mode, and for working professionals, we also conduct In-house training classes.
Toll Free 1800 121 4246 | Whats App : +91 9791082789
---