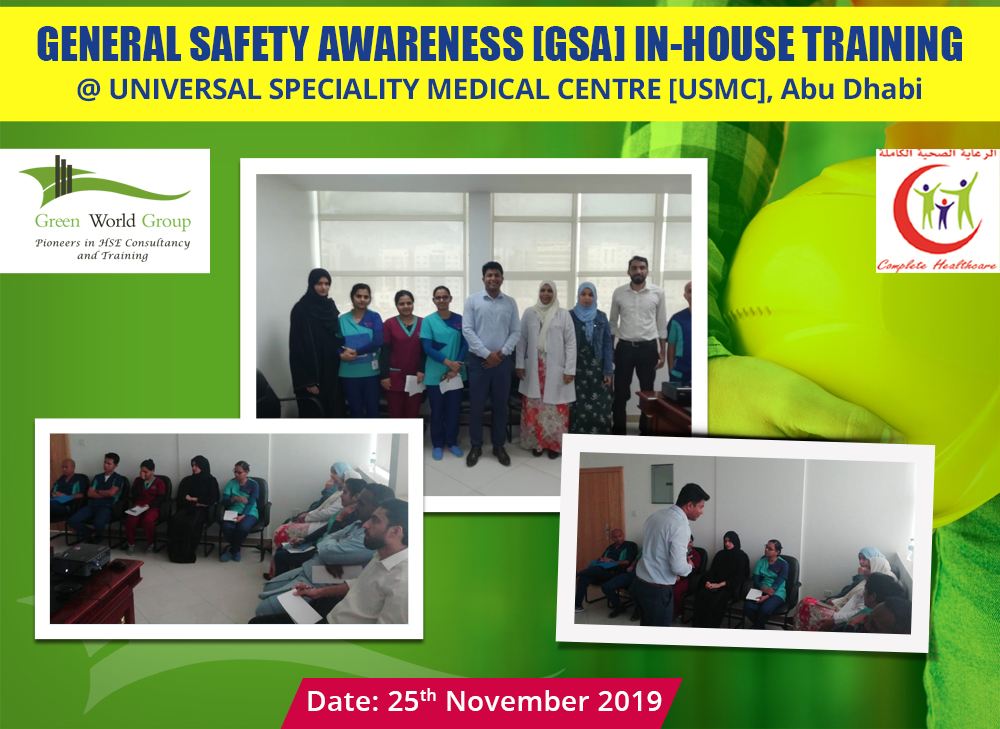 Course

:

 General Safety Awareness


Training Location

:

Mussafah, Shabiaa 9, Mohamed Bin Zayed, Abu Dhabi – United Arab Emirates

Training Date

:

 25th November 2019

Batch Tutor

:

 Mr. Yadu Menon

Website

:

 

www.greenwgroup.ae
A one day training on the topic - General Safety Awareness was conducted at Universal Specialty Medical Center (USMC), Mussafah, Abu Dhabi on 25th November 2019 from 9.00 AM to 12.30 PM for the medical and administrative staff.
The session started off with a general introduction regarding work place safety and followed with the below mentioned topics as per the client's requirements:
Risk Assessment

Fire Safety

Electrical Safety

Noise

Radiation Hazards

Hazardous Substances

Mental Ill-health

Work At height

Slips and Trips

Housekeeping and Personal Hygiene

Confined Spaces

Emergency Procedures and First Aid

Machineries and Tools
The targeted audiences were a group of 10 people from different hierarchy of the organization, including a Doctor (General Medicine), Nurses, Infection Controller of the Premises, Lab Technician, Administrator and Reception Staff. Following the training, an assessment was conducted to check the learners' understanding about the topics covered. Training was concluded with well appreciated manner by Delegates & Hospital Management.
This slideshow requires JavaScript.
---
---
GREEN WORLD SAFETY AND SECURITY CONSULTANCIES LLC
Office #1103, 11th Floor,
Sheikh Rashid Bin Saeed Street,
NBK (National Bank of Kuwait) Building,
Al Karamah – Abu Dhabi.
Tel :
+971 26454914
, Mobile :
+971 559949371
Email:
info@greenwgroup.com