NEBOSH course in visakhapatnam
Green World Group is the world leading occupational health and safety Management consulting and training institute in India, UAE, Angola, Nigeria and Oman Now GWG is offering for Nebosh Course in Vizag with IOSH MS &  55 UK certification – COSHH, Environmental Awareness and Risk Assessment.
Limited period only!!
Join Nebosh IGC and Get IOSH MS +  55 UK certification free.
Course Fee: INR. 49,999/- NEBOSH IGC with IOSH & Safety Media's ROSPA and CPD approved  55 UK certification.
Course Date: 02th October to 15th October 2014
Last Date for Registration: 13th September 2014.
[ Special Discounted offer Only for those who register before 13th September 2014
gets
Nebosh IGC + IOSH MS + Safety Media's 55 UK certification at 49,999/- ]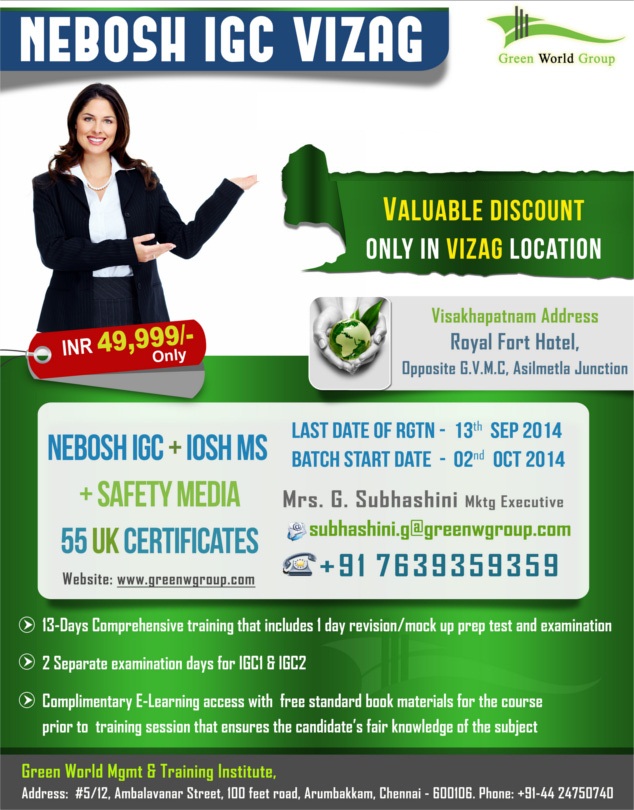 NEBOSH International General Certification course is one of the most valuable certification for health and safety engineering. Its aims are to provide specialized knowledge in health and safety management, through skilled training about awareness assessment prevention in risk and hazards. Nebosh course in vizag coaching through green world group improvement the potentiality of the skilled individual to professionals.
Course timing:
9:30 AM – 4:30 PM (Lunch & Refreshment will be provided during class hours)
Course Venue: Vizag
Contact Details:
Ms.Subhashini  | Mob: +91-7639359359.
Marketing Executive
Green World Group Management consultant & Training Institute,
5/12, Amabalavanan Street, Arumbakkam, Chennai – 600106
Ph: 044 24750740, Cell: 07639359359.