Green World Group's Splendid offers by Govt of India, a Specialist qualification for people in offshore oil and gas industry.
Green World Group is the best educational safety training course provider and consultant which is providing UK approved Safety certification courses in India, UAE, Saudi Arabia, Nigeria, Angola and Oman.
UNBELIEVABLE OFFER WITH UNLIMITED TRAINING HOURS'
JOIN NEBOSH IGC & GET 4 UK HSE COURSES FREE!!!
NEBOSH IGC
EMS – Environmental Management & Sustainability – ISO 14001:2015( UKAF,CPD-UK )
HAZWOPERM – Hazardous Waste Operations and Emergency Response Management – (CPD UK Certified)
MOC – Management of Change in Process Safety- (CPD, UK Certified)
BBSM – Behavior Based Safety Management – (CPD, UK Certified)
SAR 3999/-
UNLIMITED TRAINING UNTILL YOU PASS ALL THE PAPERS
BATCH DETAILS :
jubail weekend : 08th DEC'17 – 12th FEB'18
jubail evening : 03rd DEC'17 – 03rd JAN'18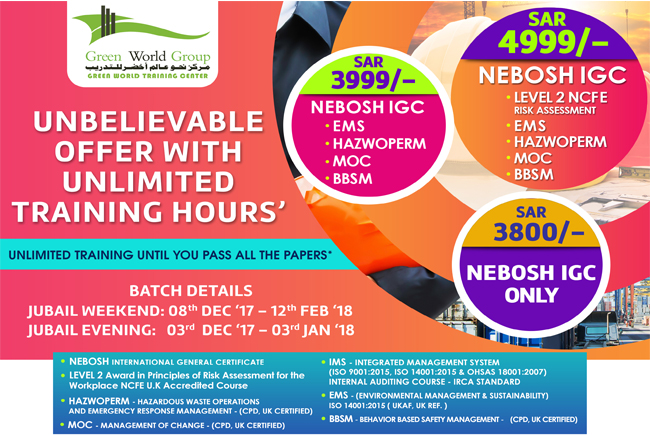 ---
Contact
Mr. Arunachala Pandiyan
(Assistant Manager – Sales & Marketing – KSA)
apandiyan.t@greenwgroup.com
+966 505744304
---
Green World Group Training Center
# 613, Business Tower
#101, King Abdul-Aziz Street,
Jubail city, Kingdom of Saudi Arabia,
Tel # +966 13 3638442.
---
Nebosh course in Jubail