The NEBOSH International General Certificate in Occupational Health & Safety provides the practical knowledge and skills which are necessary to implement in workplace to maintain safety. It is developed for multinational organizations of major sectors.This course address health and safety in the workplace based on international standards and specific local needs. It provides the knowledge of health and safety management, identifying potential hazards and risks and much more.
Enroll yourself now in National Examination Board for Occupational Safety and Health – International General Certificate
This certificate is minimum & mandatory qualification forpeople who wishes to start career in Health, Safety and environment management. It is regarded as the starting point of Health and Safetycareer. This certificate level qualification is internationally recognized and provides a general strong understanding of health and safety issues and its other various aspects.
The steps to acquire NEBOSH IGC might be quite tedious, but if you have proper information, it will be less tedious.
This can be achieved through classroom training method /Distance learning via virtual class room training. The choice of choosing the mode depends upon the level of your proficiency.
It is recommended to choose class room mode of learning for people with no field experience on health and safety.
You are supposed to choose the NEBOSH accredited course provider
Do consider the below things before enrolling yourself in NEBOSH IGC: 
Choice of your course provider – This should be based on information by your own research about the course provider or else you can choose based on recommendation of others who have done NEBOSH course already. A good course provider will have good candidate feedback and support.
Mode of training – Either class room training or distance learning. This can be chosen according to your profession.
Create a time table for reading and preparation -This helps in targeting the goal and achieving it successfully.
Inducing safety training courses from junior to senior level:
Health and Safety in any organization is a foundation for accomplishing high performance, also the high morale among employees. NEBOSH IGC does not just only concentrates in covering the set of workplace risk and methods of control. It also consists of international standards for safety and health management with composed of International Labor Organization (ILO) codes of practice.
People like Supervisors, managers and other staff members throughout the world can take up this NEBOSH IGC as it provides the abilities and knowledge for satisfying health and safety obligations of all country in any kind organization.
This study program is ideal for people starting their career in health and safety by providing a sound basis for the further progression to NEBOSH International Diploma (IDip).
---
Green World Group's Special offer for Nebosh IGC training in Mumbai at only and get with IOSH Managing Safely certifications absolutely free of cost.
Green World Group is the finest educational safety training course provider and Management consultant which is conducting the Safety training courses like NEBOSH, IOSH, HABC, HACCP, IRCA Lead auditor, Diploma in Offshore safety, Diploma in Fire engineering & Safety Management, Diploma in Construction Safety, Diploma in Industrial Safety and etc.
for more details on other hse courses please click here: Safety Training in Mumbai
Enroll NEBOSH IGC with GWG & Attain Globally Approved Dual Level-3 HSE Qualifications !!
NEBOSH IGC – MUMBAI @ Get Free Training Until You Pass The Exam !
Click to know the next NEBOSH batch date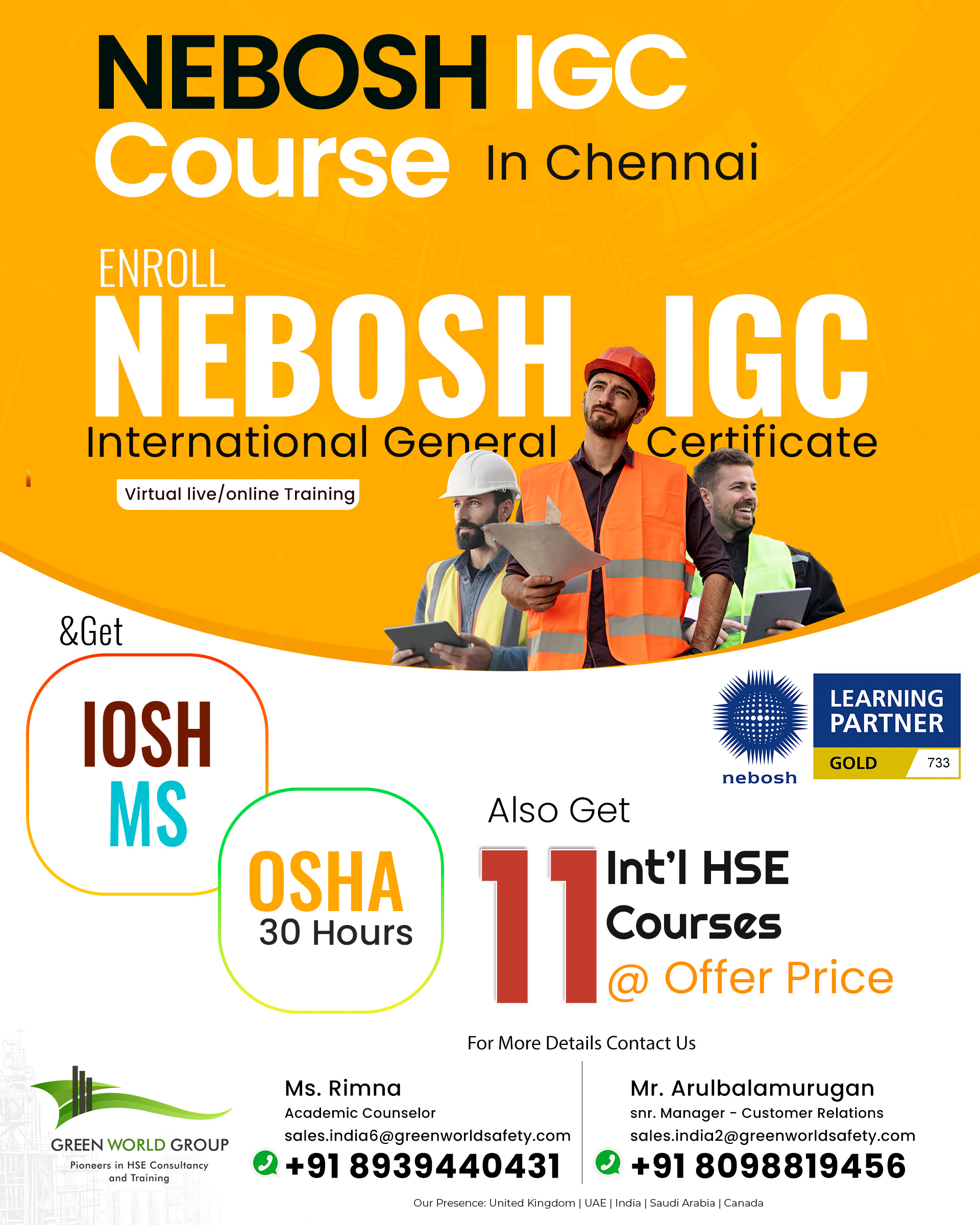 ---
For Enquiry & Enrollment:
Toll Free 1800 102 0416 (South India) | 1800 121 4246 (North india) | Whats App : +91 9791082789
---
For other safety courses Offer and Details Please Click: Safety course  in Mumbai
---
Academic Counsellor
Miss. Sahar Khanzada
sahar.k@greenwgroup.com
Mob:
+91 7208518616
---
Green World Management Consultants & Training Institute
Unit No. F- 215, 02nd Floor, Tower No. 07,
International InfoTech Park,
Vashi Station Complex,
Navi Mumbai – 400705
Tel :+022 27814626.
info.india@greenwgroup.com
Email: info.india@greenwgroup.com