Green World Group is the leader in Safety training institute which is
conducting UK approved HSE certified
courses in across the world. GWG is the finest educational safety training course provider and consultant which is conducting UK approved safety certification courses in India & abroad. Limited Seats are available!!
Enroll your seat now..!! 
Nebosh course in Chennai
As there are more number of Nebosh course providers in Chennai. Till now Nebosh IGC has a huge number of registrations as well as it is one of the international qualifications that have a wide range of career opportunities in Health and Safety field. Nebosh IGC is the best course for fresher to kick starts their career as well as it's the most needed course for people those who are experienced. Qualification to get this course is that minimum knowledge in English. Nebosh IGC is suitable for the professionals like Managers, Supervisors and employees who need more knowledge in health and safety field. Interested peoples will get this coaching by effective classroom or by interactive e-learning
enquiry now 
nebosh  igc course fees in chennai
and excellent combo offer now.
This course will provide you the complete legal requirements or standards that are needed in health and safety field. Also, it will give a practical application of the topics covered in Nebosh IGC course. Nebosh IGC will provide benefits such as Safer work place Interactive learning with excellent tutor support Get unlimited training until you get pass Confidence to face the exam by providing all the needed resources and Global reorganization Once you successfully completed the Nebosh course in Chennai you will become a qualified person to apply jobs like Health and safety officer, safety advisor and risk assessor. Also you can upgrade your carrier by doing courses like Nebosh International Diploma or NEBOSH International Technical Certificate Oil & Gas. When you complete this course we will become a HSE specialist or Advisor Hence, Nebosh IGC provides you exceptional platform for your career.
Ask our Nebosh course fees in chennai with excellent combo offers by paying a less amount. If you want to get this combo offer reach Green World Group. As we have a decade of experience in providing safety education to HSE professionals. Nebosh IGC will provide benefits such as Safer work place Return on Investment (ROI) Assurance and Global reorganization When you fruitfully finished the Nebosh training in Chennai you will become a skilled individual to put on jobs like HSE officer, safety  engineerand risk assessor. Also you can promote your future carrier by joining safety  courses like NEBOSH International Diploma or Occupational Safety health International Diploma (OSH Dip).When you  finish the OSH Diploma we will developed a health and safety expert or Consultant. Hence, NEBOSH IGC delivers you excellent stage for your safety career. As nebosh course fees in chennai is delivered with outstanding combo offers by paying a fewer amount. If you need to catch this combo offer reach Green World Group. As we have a decade of knowledge in providing health and safety education to HSE specialists.
Enroll NEBOSH IGC with GWG & Attain Globally Approved Level-2 HSE Qualifications with additional Exciting FREE International HSE Certificates !!
MOC – Management of Change in Process Safety
BBSM – Behavior Based Safety Management
First AID – (KHDA- DUBAI GOVT Approved)
Fire Safety- (KHDA- DUBAI GOVT Approved)
COSHH – Control of Substances Hazardous to Health (COSHH)- (KHDA- DUBAI GOVT Approved)
HAZWOPERM- Hazardous Waste Operations and Emergency Response Management CPD UK Certified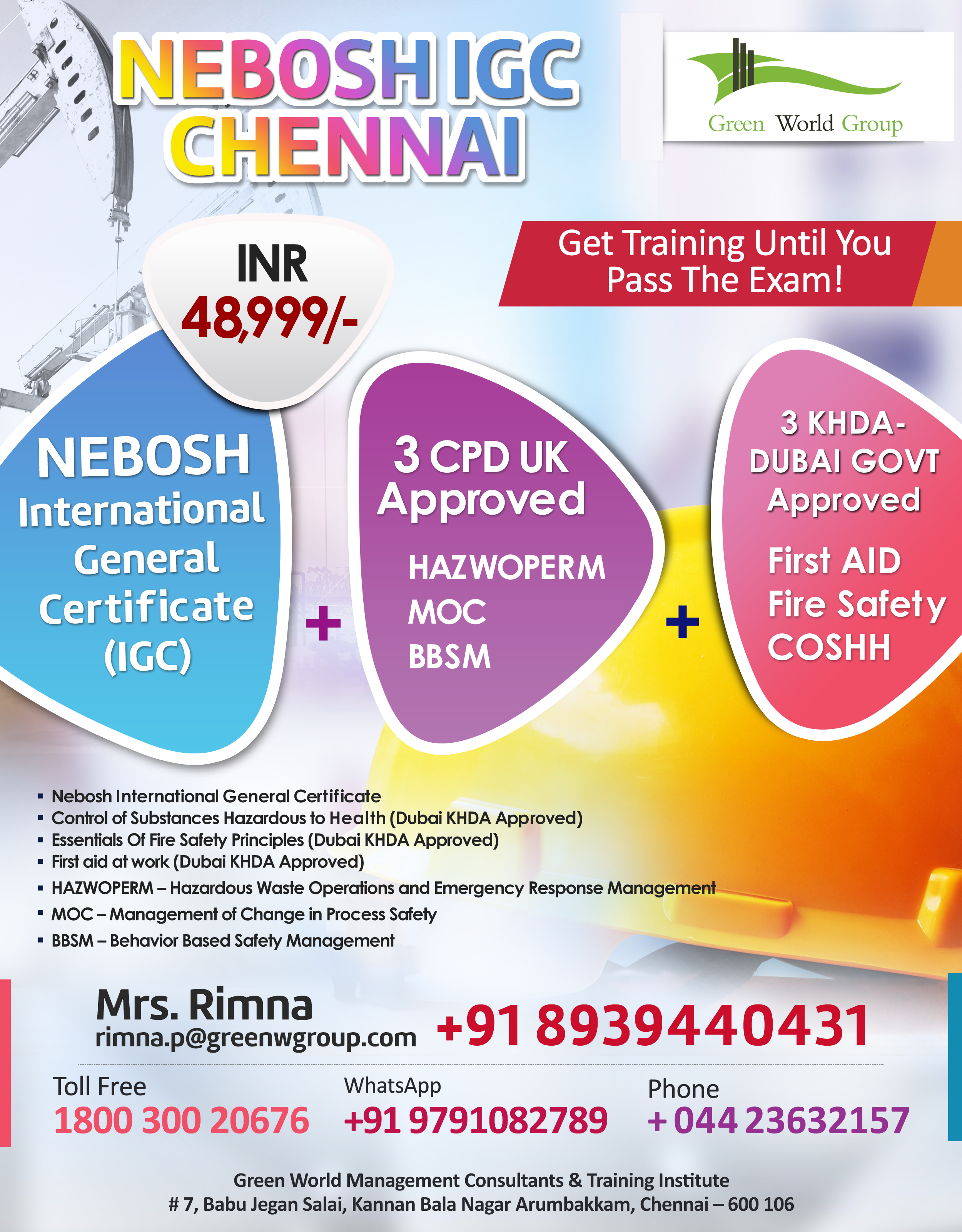 ---
For Enquiry & Enrollment:
Toll Free 1800 300 20676 (South India) | 1800 121 4246 (North india) | Whats App : +91 9791082789
---
Mrs. Rima
Academic Counsellor
rimna.p@greenwgroup.com
Mob: +91 8939440431
---
Green World Management Consultants & Training Institute
Old no 598 B, New No 828,
Poonamallee High Road,
Arumbakkam,
Chennai – 600 106
Tel :044 23632157 | 044 48561333