12 Days Full Time NEBOSH IGC  Course Spl for working class personnel @ Patna
NEBOSH-IGC Course  – Patna, Bihar (India)
NEBOSH IGC Regular Classes in Patna
| | | | |
| --- | --- | --- | --- |
| Courses | Fees INR | Upcoming batch | Last Date of Enrollment |
| NEBOSH IGC |         Rs 49,999 INR |              01st Apr 2015 |           13th Mar 2015 |
For Details Contact: +91 8420399404, Email: priya.b@greenwgroup.com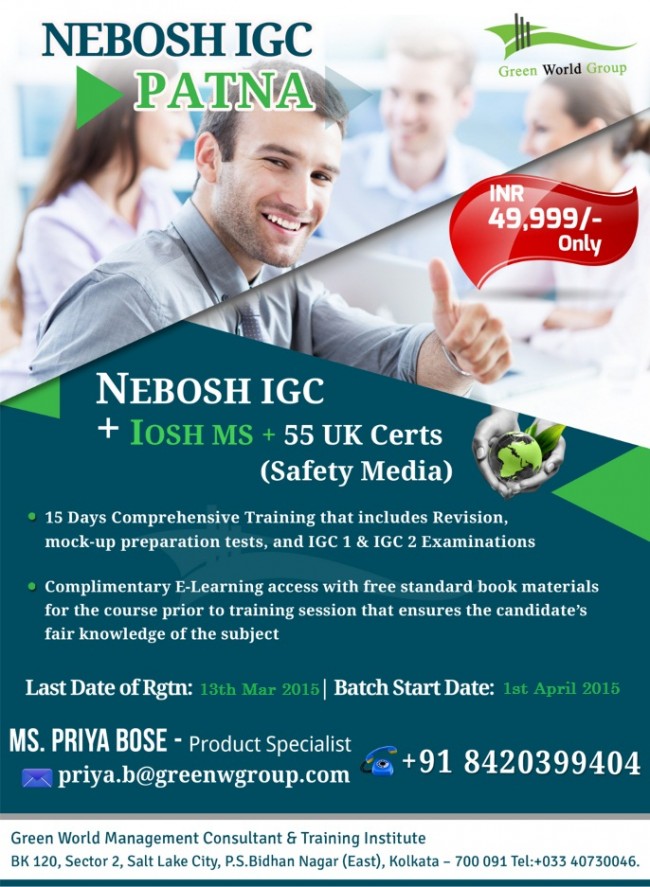 The NEBOSH International General Certificate in Occupational Safety & Health is for personnel with health & safety responsibilities e.g. managers, supervisors, safety officers & who need a grounding & recognized qualification in occupational safety & health. It is also beneficial for those wanting to further their career in the HSE field or those who wish to enhance their HSE knowledge.Who Should Attend?The NEBOSH International General Certificate in Occupational Safety and Health is a globally recognized health and safety qualification from an established independent examination board with over 25 years experience in providing up to date and relevant examinations.
NEBOSH, The National Examination Board in Occupational Safety and Health, is registered in United Kingdom (www.nebosh.org.uk)
What are the benefits for the organization?
The NEBOSH International General Certificate will benefit multinational organizations working to international standards who are seeking to implement good health and safety management across all areas of their operations. Ensuring that line managers have a sound understanding of the principles of managing risk is a key building block of an effective safety culture.
Course Contents:
Health and Safety Foundations, Setting Policy for Health and Safety, Organizing for Health and Safety, Promoting a Positive Health and Safety Culture, Risk Assessment, Principles of Control, Recording and Reporting of Events, Accident Investigation, Monitoring, Review and Audit, Movement of People and Vehicles Hazards and Control, Manual and Mechanical Handling Hazards and Control, Work Equipment Hazards and Control, Electrical Hazards and Control, Fire Hazards and Control, Chemical and Biological Health Hazards and Control, Physical and Psychological Health Hazards and Control, Construction Activities Hazards and Control.
FOR MORE INFORMATION CONTACT:-
Kolkata – Office
|Mrs.Priya Bose| Marketing Executive | Green World Management |
Email:  priya.b@greenwgroup.com|Website:www.greenwgroup.com |
Phone:  Mobile: +91-8420399404 / +91-9566944184
Office Address:
Green World Mgmt Consultants & Training Institute
Address: # BK 120, Sector 2, Salt Lake City,
P.S.Bidhan Nagar (East),
Kolkata – 700 091.
Tel: +033 40730046.
Email: info.india@greenwgroup.com