Warm Greetings from Green World Group!!!
Green World Group is the pioneer safety educational training institute for across the world. GWG proudly announces special Deal of the Day offers for NEBOSH IGC Course in Dubai.
Green World Group is now offering for Nebosh IGC in Abu dhabi
NEBOSH IGC – DUBAI & ABUDHABI
UNTIL Nov 15th 2017
GET FREE TRAINING UNTIL YOU PASS THE EXAM !!
4 FOR THE PRICE OF 2
---
Refer Your Friends & Get 1 HSE Course Free!!!
---
NEBOSH International General Certificate (IGC)
HAZWOPERM – Hazardous Waste Operations and Emergency Response Management – 30 Hour online program
EMS – Environmental Management & Sustainability – ISO 14001:2015 (UKAF, UK REF.)
Risk Assessment (NCFE U.K Course) – Level 2 Award in Principles of Risk Assessment for the Workplace NCFE U.K Accredited Course
Hurry-Up This Offer Closes On : 15TH NOV 2017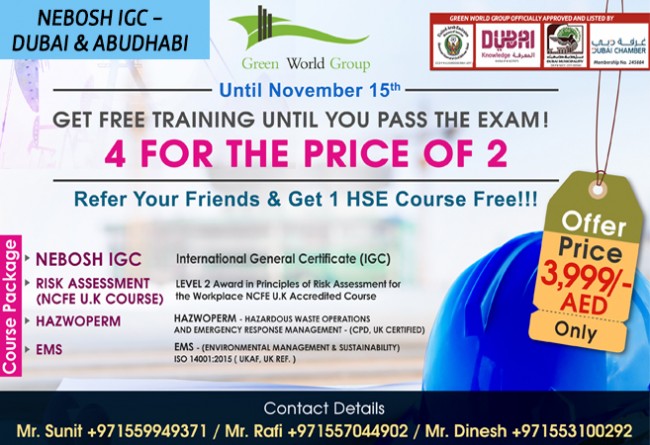 ---
Green World Safety and Security Consultancy LLC
Suite #102,
First Floor, Sapphire Tower,
Near Dnata, Deira, Dubai PO Box -83127
Phone No: +971-04-2698807
Call Us on +971553100292
Email us at info@greenwgroup.com
---
ACADEMIC COUNSELLOR – DUBAI
Mohamed Rafi
Mob: +971 55 7044 902
mohamed.r@greenwgroup.com
ACADEMIC COUNSELLOR – ABU DHABI
Sunit Gill
Mob: +971 55 9949 371
sunit.g@greenwgroup.com
Email: info@greenwgroup.com
Website: www.greenwgroup.ae
---