The NEBOSH International General Certificate in Occupational Health and Safety is a recognized qualification worldwide that has been developed by the UK's National Examination Board of Occupational Safety and Health. Delegates study for this qualification in many countries, including the Middle East, South Africa, India, China, Australia, the West Indies and South East Asia.
The NEBOSH International General Certificate is designed for managers, supervisors and employees based outside the UK who require a broad knowledge and understanding of health and safety principles and practices.
The certificate gives insight into international standards and management systems, to help delegates comply with workplace health and safety responsibilities within their organizations, in all parts of the world. The NEBOSH International Certificate is popular with candidates starting a career in health and safety and is the gateway for further study, such as the NEBOSH International Diploma.
The NEBOSH International Certificate qualification meets the academic requirements for Technician Membership (Tech IOSH) of the Institution of Occupational Safety and Health (IOSH) and Associate Membership (AIIRSM) of the International Institute of Risk and Safety Management (IIRSM).
700th BATCH OFFER !!
Join
NEBOSH IGC @ AHMEDABAD 

& Get

Level-2 Award in Principles of Fire Safety for the Workplace, NCFE-UK 

Adding On…

RoSPA UK Approved ACCIDENT INVESTIGATION + HAZWOPERM, CPD UK + First AID + Fire Safety + COSHH (KHDA- DUBAI GOVT Approved)




At lowest cost affordable to candidate when compared with other providers in India!
GET FREE TRAINING UNTIL YOU PASS THE EXAM !
INR 51,999/-
Last date Of Reg : 03rd Feb 2018
Level 2 Award in Principles of Fire Safety for the Workplace, NCFE-UK
HAZWOPERM – Hazardous Waste Operation and Emergency Response Management - CPD UK Certified
Accident Investigation- RoSPA Uk Approved
First Aid at Work - KHDA DUBAI GOVT Approved
Essentials of Fire Safety Principles - KHDA DUBAI GOVT Approved
Control of Substances Hazardous to Health (COSHH) - KHDA DUBAI GOVT Approved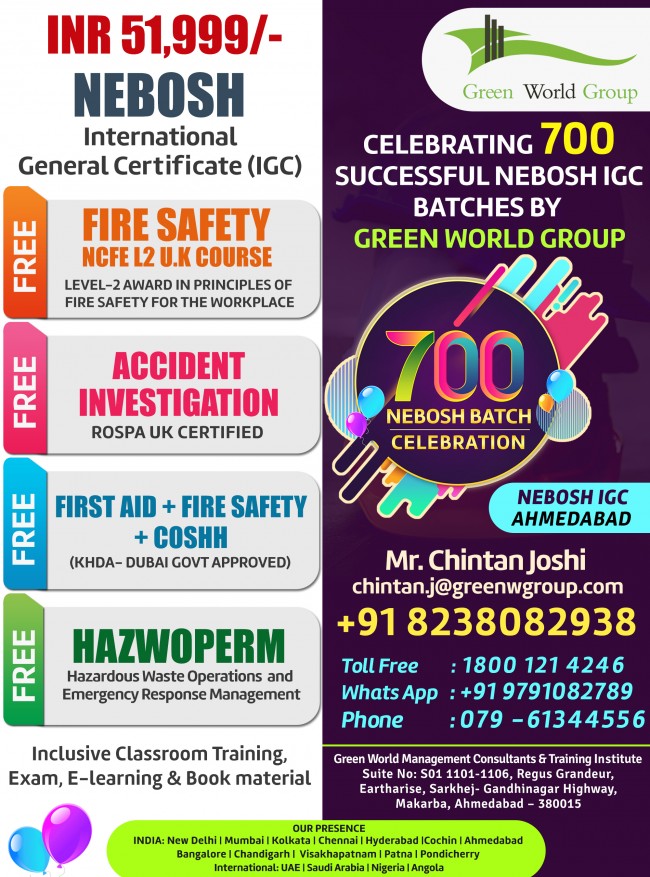 ---
The Training NEBOSH IGC Schedule for 2013 is:
BATCH START DATE : 17th Feb 2018 in Surat – Gujarat,
Last Date of Registration: 03rd Feb 2018
For More Details Dont hesitate to Contact Us: http://www.greenwgroup.com
---
For Enquiry & Enrollment:
Toll Free 1800 300 20676 (South India) | 1800 121 4246 (North india) | Whats App : +91 9791082789
---
GREEN WORLD MANAGEMENT CONSULTANTS & TRAINING INSTITUTE
Suite No: S01 1101-1106, Regus Grandeur,
Eartharise, Sarkhej- Gandhinagar Highway,
Makarba, Ahmedabad – 380015
Tel : +91 (0)79 -61344556
Mob : +91 8238082938.
E-mail: info.india@greenwgroup.com
---
CONTACT DETAILS
Mr. Chintan Joshi
Academic Counsellor
Email: chintan.j@greenwgroup.com
Mobile: +91 8238082938