A new day a new challenge, with our Arabic speaking delegates the session started with brief introduction of FIVE participants from IRAQ working at Bohai Drilling Engineering Company Limited. The batch advanced with overview of course requirements and the benefits to learners in pursuing the certification on how it develops their skills & competence in the field of occupational health & safety.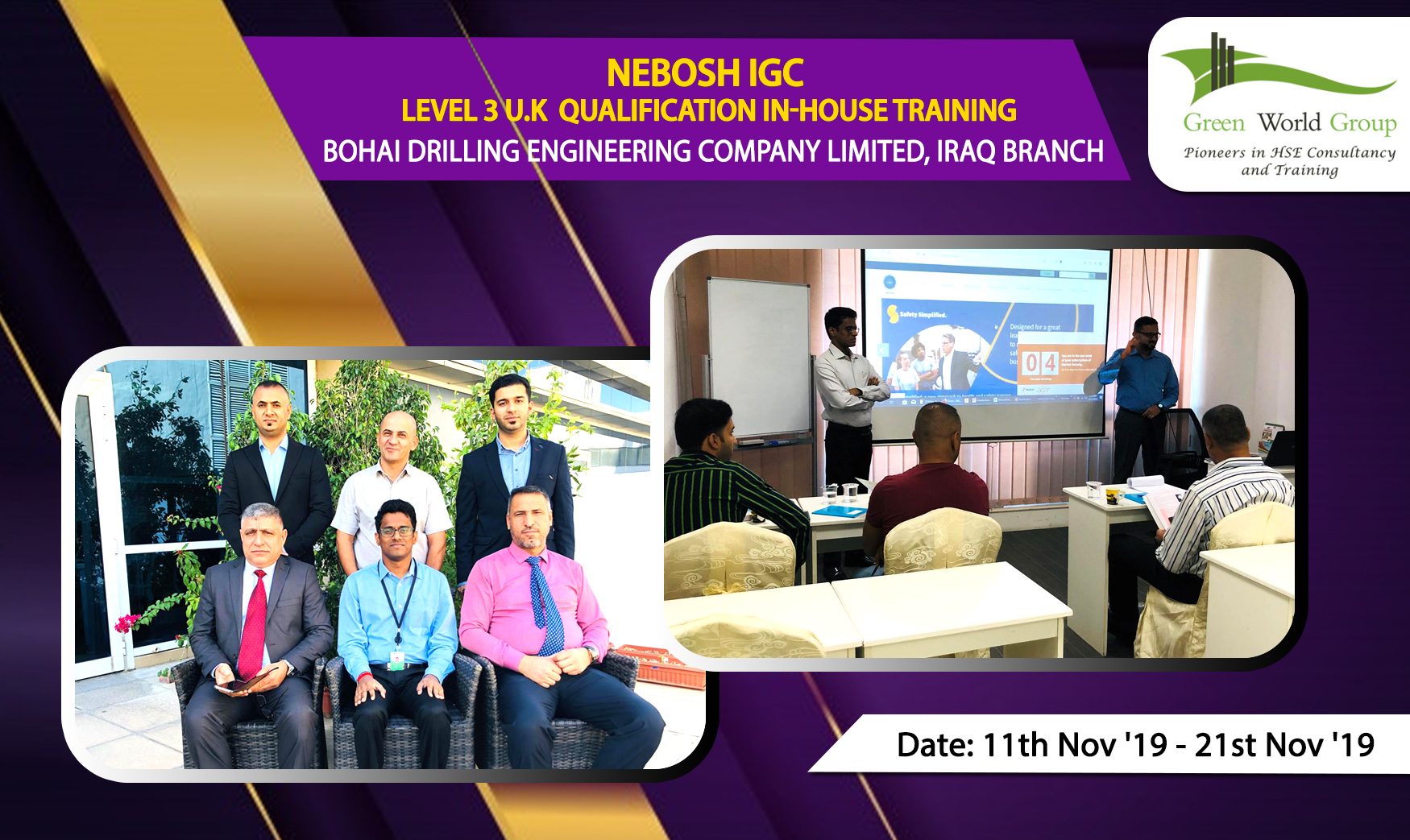 The learners are briefed on the availability of 'HSE leaflets in Arabic' from HSE website & 'English to Arabic technical glossary' for course providers to aid their learning. The focus of training shifted to Unit IG1 wherein more discussions had been in topics such as safety management system, permit to work system and emergency preparedness.
With the recently introduced October 2018 specification, the Unit IG2 report structure has been given a new makeover in line with 'Five steps of Risk Assessment'.
The learners being from oil company we had to start unit 2 with element 7 (Chemical & Biological Hazards) and progressed into elements covering topics on Noise, Vibration, Fire, Electricity, Transport, Lifting Equipment. Starting from Day 6 the second part of the day was spent on preparing risk assessment with me overseeing have they chosen a suitable workplace with enough scope to be able to tackle this assessment properly. The final day was wisely spent on revision with a mock test conducted on IG1 to make certain their anxiety to exams are put away and practicing the key topic questions.

---
---
GREEN WORLD SAFETY AND SECURITY CONSULTANCIES LLC
Office No. 510, 5th Floor (Old FAB Building),
Opposite Madinat Zayed Shopping Center,
Muroor Road, Next to Tasheel Building,
Abudhabi, UAE.
Tel :
+971-2-6454767
, Mobile :
+971 55 9949371
Email:
info@greenwgroup.com