course offers!!..
SUMMER SPECIAL BONANZA OFFER FROM GWG !!
NEBOSH IGC – NEW DELHI
Pay for NEBOSH IGC & Get 5 International HSE UK Courses worth Rs.51,000/- Free !!
Course Details:
JOIN – NEBOSH (IGC) International General Certificate
and GET these below courses FREE
IMS Integrated Management System (ISO 9001:2015, ISO 14001:2015 & OHSAS 18001:2007) INTERNAL AUDITING COURSE – IRCA STANDARD
HAZWOPERM – HAZardous Waste OPeration and Emergency Response Management, CPD UK Approved
MOC – Management Of Change in Process Safety, CPD UK Approved
BBSM – Behavior Based Safety Management, CPD UK Approved
First Aid Course – RoSPA UK Approved
INR 28,999/-*
Valid Till : 27th MAY 2017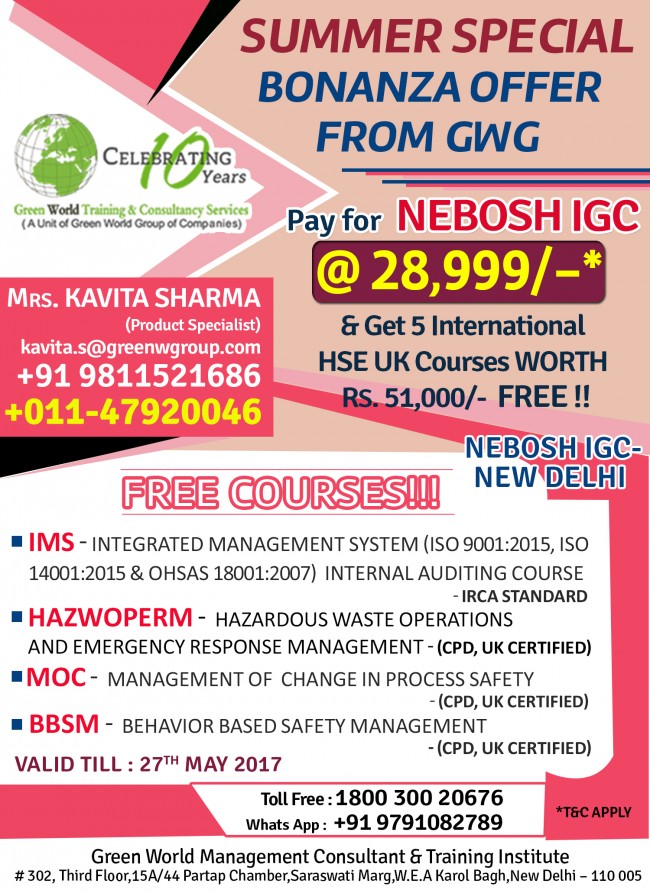 NEBOSH International General Certificate in Occupational Health & Safety at Green World Group.
NEBOSH International General Certificate deals with offering a robust foundation in the ethics and practice of health and safety management with the goal to furnish skilled individuals to become specialists in the health and safety industry. With extensive training and guidance on all the parameters of NEBOSH IGC, a professional can Identify hazards in the workplace and tactically carry out risk review, document results, re-evaluate procedures and create a recommendations report for management. NEBOSH IGC helps to cultivate, sponsor & communicate an effective health and safety culture at the workplace.
Mode of class: Regular
Highlights
Experienced trainers
Effective course materials
Successful training methodology
International standard class rooms
Course Materials – NEBOSH IGC text book.
NEBOSH International General Certificate in Occupational Health & Safety at Green World Group.
The NEBOSH International General Certificate provides an excellent foundation in occupational safety and health, helping those who study it manage risk more effectively. The NEBOSH International Certificate is based on international standards and is suitable for people in any industry sector.
The NEBOSH International General Certificate course is split into three units of study, each of which is assessed separately:
Unit IGC1: Management of International Health and Safety
Unit IGC2: Control of International Workplace Hazards
Unit IGC3: Workplace-Based Practical Assessment
IGC 1: Management of International Health & Safety
Foundation in Health & Safety
Policy
Organizing for Health & Safety
Promoting a positive health and safety culture
Risk Assessment
Principles of Control
Monitoring, Review and Audit
Occupational Incident and Accident Investigation, Recording and Reporting.
GC 2: Control of International workplace hazards
Movement of people and vehicles – Hazards & control
Manual & Mechanical Handling – Hazards & control
Working Equipment Hazards and control
Understanding your responsibilities
Electrical Hazards and control
Fire Hazards & control
Chemical and biological health hazards and control
Physical and psychological hazards and control
Construction activities – hazards and control
Visit the website today to find out more , or give us call to discuss your options with one of our expert consultants.
Feel free to contact for further clarifications and reserve your place, Call :
Ms. Kavitha Sharma |Product Specialist
Mob: +91 9811521686
kavita.s@greenwgroup.com
Green World Management Consultants & Training Institute
# 302, Third Floor,15A/44 Partap Chamber,
Saraswati Marg,W.E.A Karol Bagh,
New Delhi – 110 005
Tel :+011 47920046
info.india@greenwgroup.com
Email: kavita.s@greenwgroup.com
Website: www.greenwgroup.co.in, www.greenwgroup.org..
INDIA| SAUDI ARABIA | UAE | OMAN |NIGERIA | ANGOLA|
"Safety First" is "Safety Always."