Which Safety Course is Better IOSH or NEBOSH?
Both the IOSH and NEBOSH are similar by means of awarding bodies. They set syllabus and other criteria like practical course work etc.of globally well recognized safety qualifications.
The IOSH and NEBOSH provide several qualifications in various levels suitable for all kinds of industries. But the NEBOSH courses are more focused on industry sector.
The IOSH and NEBOSH are popular and perfect if your main role is in health and safety, for any industry. Many companies want their employees to have NEBOSH or IOSH qualification to work in health and safety field. It is suitable for managers, supervisors etc.
NEBOSH qualification covers strong knowledge in various parts of health and safety like health and safety management, risk analyzing and audit, strategies to be carried out during emergency, identifying work place hazards and much more regarding health and safety, which makes the candidates safety professional , who can create a safe ambiance among the workplace.
Completion of NEBOSH course helps in gaining the IOSH membership.
What is the Difference between IOSH and NEBOSH?
NEBOSH
IOSH
National Examination Board in Occupational Safety and Health
Institution of Occupational Safety and Health
NEBOSH doesn't offer any membership
Anyone can become an IOSH member after completing NEBOSH
UK-based independent examination board delivering vocational qualifications in health, safety & environmental practice and management.
World's biggest professional health and safety membership
The course is for Managers, Supervisors and Employees who needs a wider knowledge in risk management and health and safety principles and practices.
It is designed to get managers up to speed on the practical actions they need to take to handle health and safety in their teams.

NEBOSH Qualifications

NEBOSH IGC
NEBOSH International Diploma
NEBOSH HSE Certificate in Process Safety Management
NEBOSH Health and Safety at work

IOSH Qualifications

Working Safely
Managing Safely
Key Benefits:
10 days of classroom based training delivered by Experienced and Certified instructor
An Interactive and disciplined learning method
Training Consists of Lecturers, Videos, discussions, activities, assignments and sharing of professional experiences among delegates and trainer.
Delegates are guided by our expert Trainer who is dedicated to maintain standards of lacks individual.
Tutors support will available throughout the course of study.
Free Telephone Support
The latest up-to-date course materials, yours to keep after your course.
08+ years of experience in delivering quality training.
Your qualification certificates delivered safely and securely direct to your door.
Other HSE courses in mumbai please click here: Safety Training in Mumbai
800th BATCH OFFER !!
NEBOSH IGC – MUMBAI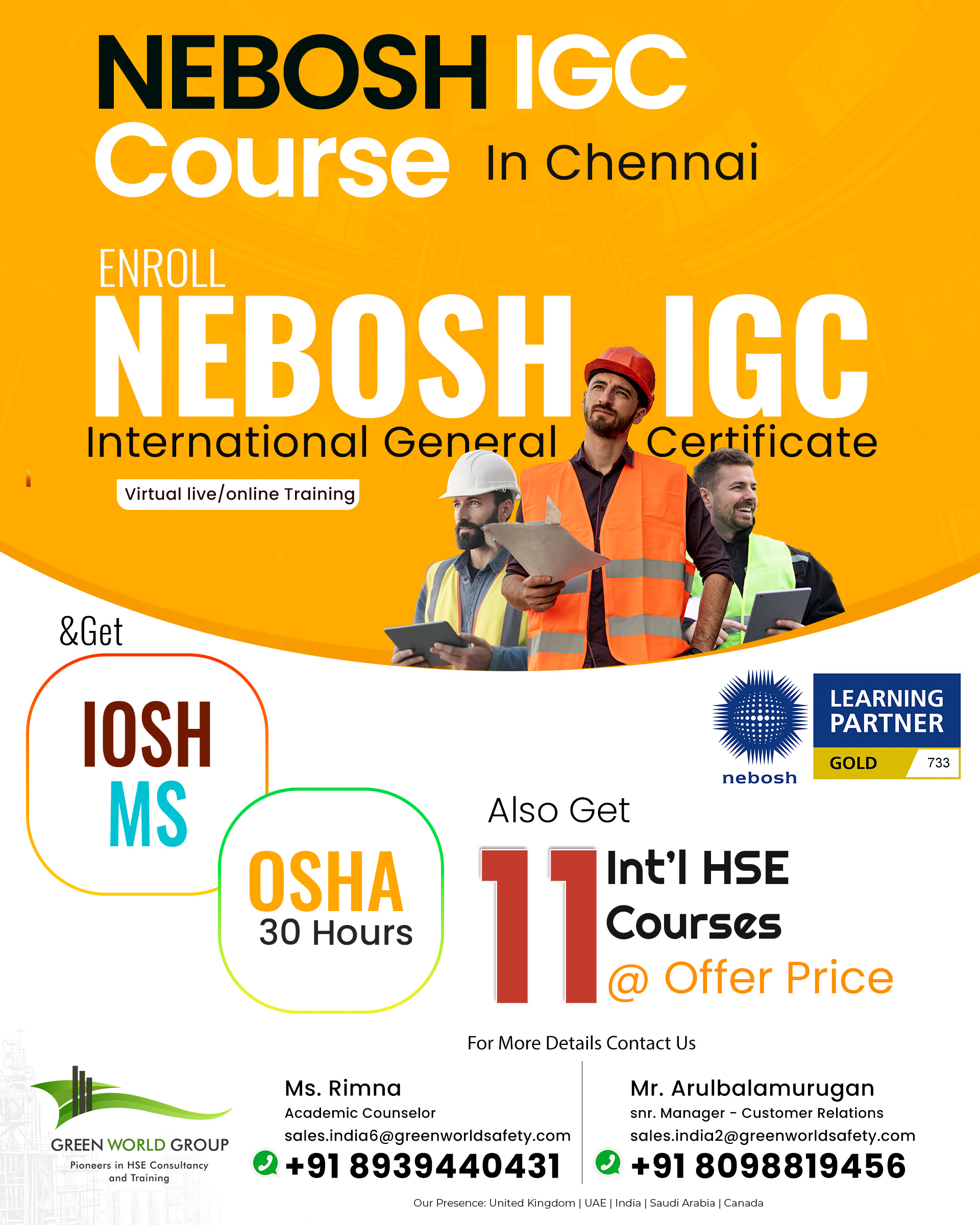 ---
GREEN WORLD MANAGEMENT CONSULTANTS & TRAINING INSTITUTE
Unit No. F- 215, 02nd Floor, Tower No. 07,
International InfoTech Park,
Vashi Station Complex, Navi Mumbai – 400705
Tel : 022 27814626
Mob : +91 7208518616
E-mail: info.india@greenworldsafety.com
---
CONTACT DETAILS
Miss. Sahar Khanzada
Academic Counsellor
sahar.k@greenwgroup.com
+91 7208518616
---
For Enquiry & Enrollment:
Toll Free 1800 102 0416 (South India) | 1800 121 4246 (North india) | Whats App : +91 9791082789
---
Email: infoindia@greenwgroup.com
Website: www.greenwgroup.com