There exists no doubt in that there is commitment towards their work and industry to the safety professionals. But passion alone will never pay the bills. When the career is planned, it is quite important to know that, where the qualification will take you and what are the things you need to acquire to move further. Usually the salary of the people in safety field is higher when compared with other job sector as they work without minding the time, location etc. Many of their work may be in off-shore, on -shore, or in location outer city, and also they care of their organization and people at work place, when the work place and people at work place are safe, the productivity increases and the reputation among clients and shareholders rapidly increases. These are the reasons behind the high package of safety officer. Here you more about Safety Officer Courses in Delhi
Is NEBOSH a good qualification for safety officer job?
NEBOSH courses are globally recognized and are renowned as a high rated qualification in occupational health and safety and risk management system. NEBOSH holders gain a range of benefits along with its qualification. And they have the capability of identifying risk, hazard and control measures of it. If a safety has high standard of safety measures at workplace, the employer may be free from prosecution, litigation, reputation loss etc. Because of lesser number of accidents or incidents. As the NEBOSH IGC is a level 3 qualification, which will be the initial step to begin the career in health and safety, provides necessary knowledge to carry out workplace assessment and also provides an opportunity to take up further study (NEBOSH iDip)offered by NEBOSH in Occupational Health and Safety.
GWG, a leading health and safety institute in Delhi provides occupational health and safety courses in various locations of India and other parts of the world. The first institute to complete 800 NEBOSH IGC batches in India provides various courses like NEBOSH,IOSH, CPD approved courses, RoSPA accredited HSE courses ,National diploma courses etc. which meets up the requirements of health and safety management.
NEBOSH in Delhi is can be taken up via class room training /online mode, which suites all people of different background.
NEBOSH OFFER
On account of the 800th Batch celebration, GWG provides free HSE professional courses for the candidate who takes up NEBSOH course. Offers by GWG are as follows: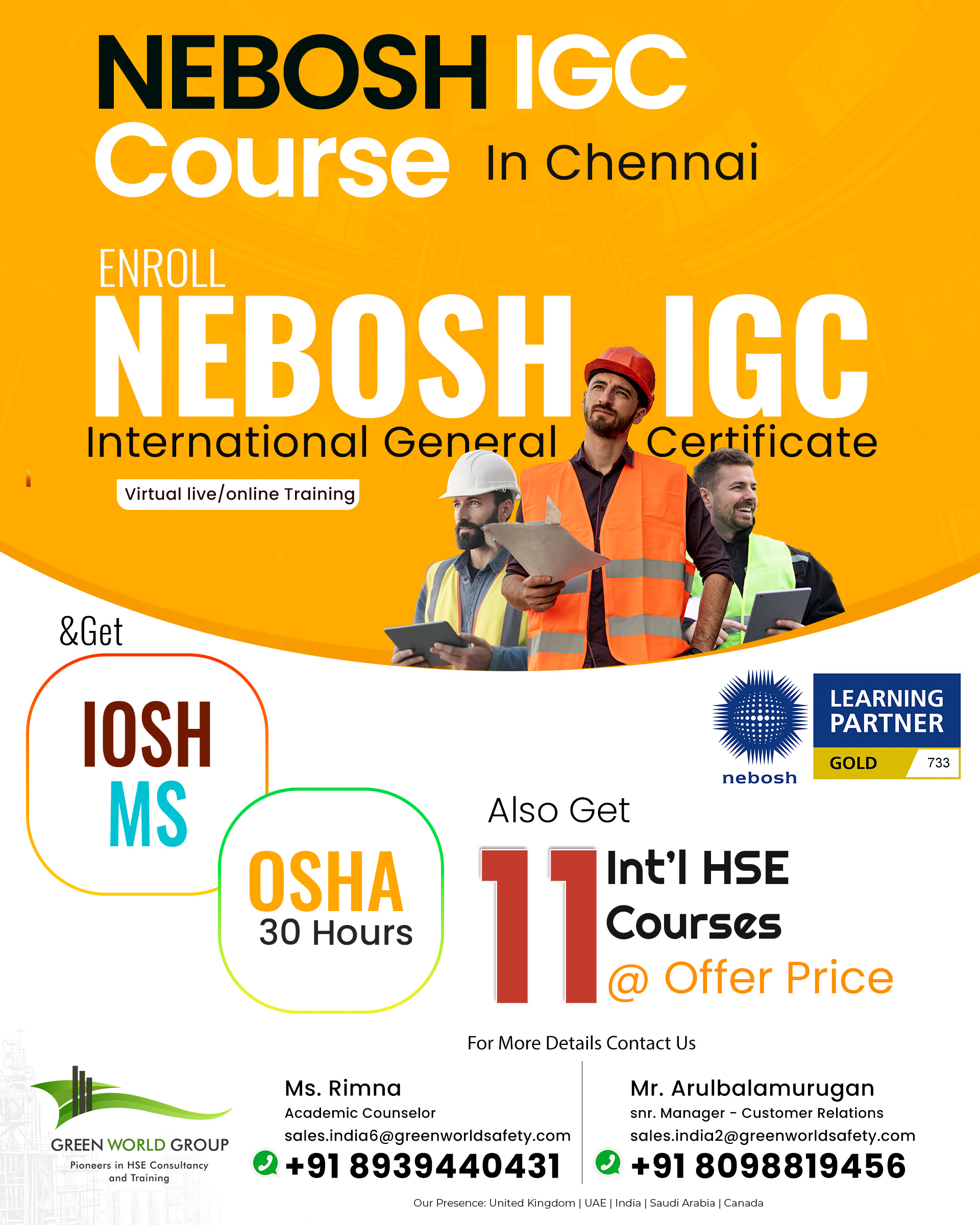 ---
For Enquiry & Enrollment:
Toll Free : 1800 300 20676 (South India) 1800 121 4246 (North india)
Whats App : +91 9791082789
---
Mrs. Kavita Sharma Academic Counsellor
Email: kavita.s@greenwgroup.com
Telephone: +91 9811521686
---
Green World Management Consultants & Training Institute
# 302, Third Floor,
15A/44 Partap Chamber,
Saraswati Marg,
W.E.A Karol Bagh,
New Delhi – 110 005.
Tel: 011 47920046.