NEBOSH  training course in Cochin :
Green World Group is now providing for New special Offer for Nebosh IGC (International General certification) course in Cochin and Get free certifications IOSH Managing Safely
Green World Group is the world leading safety management consulting service and training institute which is conducting the safety certification courses.
NEBOSH IGC – KOCHI
GET FREE TRAINING UNTIL YOU PASS THE EXAM !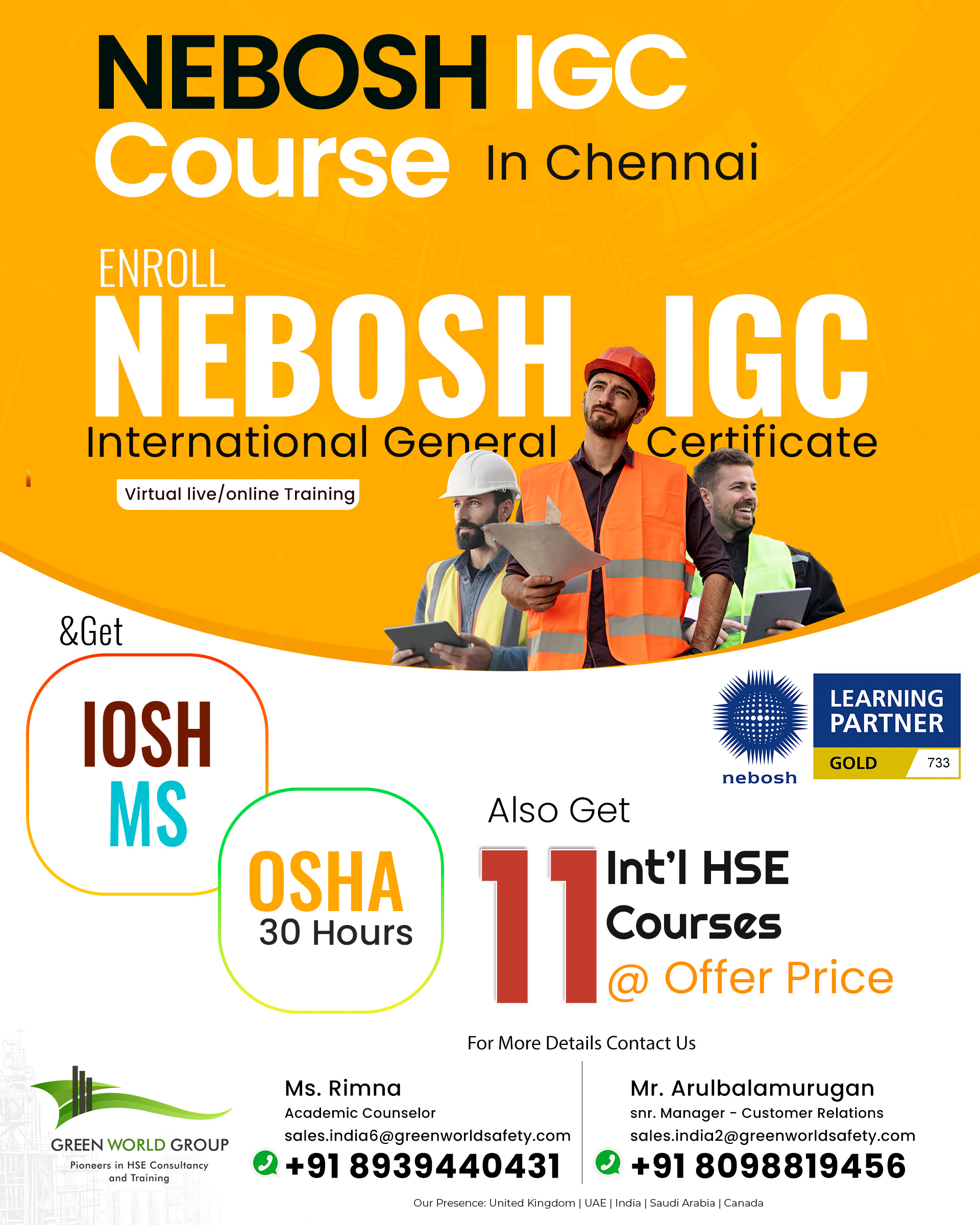 Only Limited Seats.. Hurry Up for Early Booking CLICK HERE TO ENROLL
---
What does NEBOSH IGC International General Certificate offer?
NEBOSH International General Certificate deals with offering a robust foundation in the ethics and practice of health and safety management with the goal to furnish skilled individuals to become specialists in the health and safety industry.
With Effective Coaching & guidance on all aspects of NEBOSH IGCenables candidates to Identify hazards efficiently & carry risk assessment, As well as he/she can make documentation, become capable to re-evaluate & recommend the management the needed measures. NEBOSH IGC inculcates effective health & safety culture in the candidates.
How to enroll for the certification
Regular Class room:
You can enroll for NEBOSH Certificate Block release that includes 10 days' tuition from our qualified expert tutor.
Nebosh Distance Learning (via Online virtual class room)
We also provide NEBOSH distance learning / via virtual class room online. Study offline for a duration of 2 months. You can easily enroll for a virtual class room from anywhere, having a flexibility for appearing the exam.
Further Progression:
A highly recommended entry NEBOSH qualification level course to the NEBOSH International Diploma qualification.
Course Content
The International General Certificate syllabus consists of two units: focusing on risk management (Unit IGC1) and controlling workplace hazards (Unit IGC2).
Assessment is by two written examinations and a workplace-based practical assignment (Unit IGC3). Our comprehensive development program includes mock assessments (for both written and practical).
IGC 1: Management of International Health & Safety
Foundation in Health & Safety
Policy
Organizing for Health & Safety
Promoting a positive health and safety culture
Risk Assessment
Principles of Control
Monitoring, Review and Audit
Occupational Incident and Accident Investigation,Recording and Reporting.
IGC 2: Control of International workplace hazards
Movement of people and vehicles – Hazards & control
Manual & Mechanical Handling – Hazards & control
Working Equipment Hazards and control
Understanding your responsibilities
Electrical Hazards and control
Fire Hazards & control
Chemical and biological health hazards and control
Physical and psychological hazards and control
Construction activities – hazards and control
---
For Enquiry & Enrollment:
Toll Free 1800 102 0416 (South India) | 1800 121 4246 (North india) | Whats App : +91 9791082789
---