Do you want to get your NEBOSH Certificate in Occupational Health and Safety?
It's the right platform to start If you're serious about becoming a safety professional or expanding your career in the HSE field. NEBOSH certificates are typically obtained by those who already have some health and safety responsibilities but want to specialize in the topic and gain additional expertise.
What is NEBOSH?
NEBOSH refers to National Educational Board in Occupational Safety and Health. It is a self-governing organization that provides vocational training in health, safety, and environmental management. NEBOSH does not run courses; they delegate that responsibility to specialists like us.
The NEBOSH course falls under one of the most respected qualifications, which ensures knowledge of Occupational Health and safety management along with risk assessment techniques for Safety professionals. Nowadays, various organizations in India have started recognizing HSE-certified employees to develop hazard-free work culture. The NEBOSH Certified Safety professionals have a special demand compared to other international certifications. It also helps to raise the competency of all levels of safety professionals to kick-start their HSE careers.
What is NEBOSH Certification?
NEBOSH qualifications are globally recognized certifications that represent a high standard of health, safety, and risk management. It helps to accelerate your career progression and highlights your professional characteristics that will attract employers while you are approaching jobs in the HSE sector. Many NEBOSH courses are available which can vary and cater to all levels of staff in various workplaces, which as NEBOSH IGC, NEBOSH PSM, NEBOSH HSW, NEBOSH IDIP, and NEBOSH Incident Investigation.
Benefits of Studying NEBOSH Courses
It provides the perfect platform for working professionals to start their careers in Health and Safety sectors.
This certification attracts good pay to employees working across any industry.
NEBOSH course helps to highlight your CV as you are a qualified Safety professional.
The professionals who complete the NEBOSH course are in high demand in the global marketplace.
The training aids in regulating safety officers by assisting them in understanding and upholding the need for occupational health and safety improvements, putting new ideas into practice regarding their responsibilities, and streamlining the organization's contractor management.
It offers information on how to spot imperative organizational changes and carry them out with the least disruption to the workplace.
To advance in your HSE profession, you should value this NEBOSH training as a one-time investment with better financial rewards.
Who can Study for NEBOSH certification
This NEBOSH International General Certificate is best suited for the following:
Safety professionals, managers, supervisors, and people are responsible and committed to a healthy and safe workplace.
Individuals intended to have a basic knowledge of health & safety practices.
A person looking forward to growing in their HSE profile career
Freshers in the health and safety profession
All those safety aspirants
Careers / Job Opportunities after NEBOSH Course
The most frequently asked question is How can I get a job after doing NEBOSH?
The career outlook and job opportunities in the fields of Health and Safety are growing rapidly, and the demand for safety professionals is highly praised. Nowadays, every industry in the world started following safety regulations. Therefore, it became mandatory that the organization should hire a certain set of people who have trained in the HSE field.
Whereas NEBOSH is a well-established professional course for Safety experts, individuals can easily gain HSE knowledge at an advanced level. The career path in the safety field is an attractive option for people looking forward to starting their career in the HSE domain. NEBOSH Certificate is a demanded qualification by recruiters, as 90% of Overseas HSE Job adverts requisite is NEBOSH Qualification
Job Vacancies for NEBOSH Qualification are
Safety Officer
Safety Manager / supervisor
Safety Specialist
Safety Consultant
Assistant safety officer
Safety Engineer
HSE training Facilitator
HSE Manager
Management Specialist
Opportunity across a wide range of sectors
Sectors where HSE professionals are needed:
Oil & Gas
Construction
Auto Mobile
Telecom
Defense
Electrical & Electronics, and more….
Jobs with a Good Pay Scale
For qualified fresher with NEBOSH qualification – 2 to 4 lakhs per annum approx. pay may vary depending on qualification & experience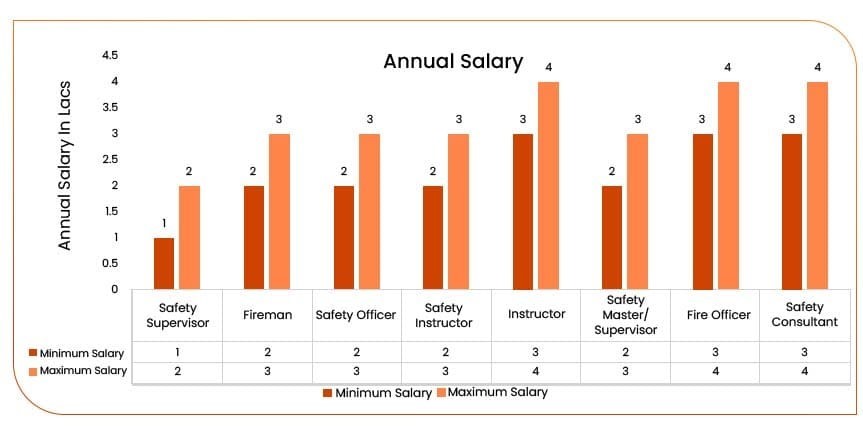 To Achieve this Trusted Qualification, You need the Right Platform to Enhance Your Career Dream!
Green World Group!
Green World is one of the leading most prominent Health & Safety Training providers serving Nearly 195 Countries, we have trained 1400+ NEBOSH batches, which shows our expertise in providing the best quality NEBOSH education. We have a qualified panel of tutors providing state-of-the-art teaching methods, imparting required HSE skills & knowledge to our students. Our Intensive Training programs include Theory with real-time scenario examples, practicals, and regular Mock Exam.
GWG's Count of Success in Numbers!
1350+ – NEBOSH Batches and Counting
46,394 – Committed IGC Student Registrations
1,34,009 – Confident Learners till Date
195 – No. of Countries Training Delivered
1,151+ – No. of Projects Delivered
6,716 – Exclusive Training Batches Delivered
2,68,068 – Portfolio of Courses Availed by GWGians
13.004 – Million Hours Enjoyed in Training Delivery
84,535 – National Diploma & IOSH Student Certifications
1769 – Successful Bright Minds Placed Globally by GWG
Our Popular Courses
---
Ask Your Queries
---