Offshore occupations involve hosts of risks and dangers as workers need to be protected and saved from risks, accidents and health issues. Diploma in Offshore Safety makes delegates acquire necessary skills to provide total protection to workers, analyze and remove threats, re-align the work to reduce risks, introduce and impose safety standards and conduct safety audits to minimize potential dangers, accidents and losses.
Green World Group Special offer for Diploma in Off shore safety course in India, this course is initiated by Govt of India that deals with Occupational Safety issues associated with Offshore work activity.
There are four theory papers and a practical assessment: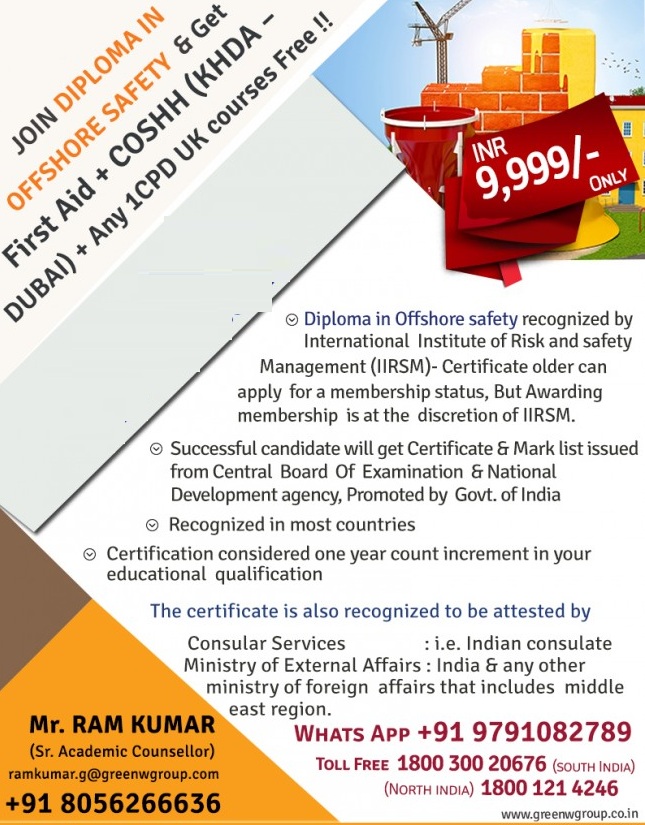 PAPER I – BASIC SAFETY ENGINEERING
PAPER 2 – OCCUPATION HEALTH AND SAFETY
PAPER 3 – FIRE PREVENTION AND CONTROL
PAPER 4 – OFF SHORE SAFETY.
---
For Enquiry & Enrollment:
Toll Free 1800 300 20676 (South India) | 1800 121 4246 (North india) | Whats App : +91 9791082789
---