Green World Group:
Green World Group, founded in 2005, is a Middle East based organization providing services on Health, Safety & Quality consultancy & Training, Recruitment & Selection of highly qualified/experienced manpower. Our team of health and safety professionals have expertise in specialist training courses, designed principally keeping in mind the current trends in skill development and training. They have experience and a proven-track record in delivering practical and relevant solutions that cater to the global audience.
The Head office of GWG is based in Dubai and our branches are located in India, Angola, Nigeria, Oman, Philippines, United Kingdom and Iran.
With quality as the focus of our training provision, GWG provides eminent training facilities to our students and clients, making sure they understand every significant business function. Our training portfolio includes training on Health and Safety, Occupational Health, Environmental Management, People development, HR and employment law for managers, leadership and Management and other business-critical elements. We also provide certification courses like NEBOSH International General Certificate, NEBOSH International Technical Certificate in Oil and Gas Operational Safety, IOSH and HABC.
NEBOSH IGC
NEBOSH International General Certificate in Occupational Health & Safety at Green World Group.NEBOSH International General Certificate deals with offering a robust foundation in the ethics and practice of health and safety management with the goal to furnish skilled individuals to become specialists in the health and safety industry. With extensive training and guidance on all the parameters of NEBOSH IGC, a professional can Identify hazards in the workplace and tactically carry out risk review, document results, re-evaluate procedures and create a recommendations report for management. NEBOSH IGC helps to cultivate, sponsor & communicate an effective health and safety culture at the workplace.
The NEBOSH International General Certificate provides an excellent foundation in occupational safety and health, helping those who study it manage risk more effectively. The NEBOSH International Certificate is based on international standards and is suitable for people in any industry sector.
The International General Certificate syllabus consists of two units: focusing on risk management (Unit IGC1) and controlling workplace hazards (Unit IGC2). Assessment is by two written examinations and a workplace-based practical assignment (Unit IGC3). Our comprehensive development programme includes mock assessments (for both written and practical).
Mode of class: Regular
No of days: 11 days
Time: 09.30 am to 05.00 pm
Course fee: INR 48,999/-* Only

The above fee includes NEBOSH registration and examination fees and refreshments.
850th BATCH OFFER !!
Join NEBOSH IGC @ New Delhi 

At lowest cost affordable to candidate when compared with other providers in India!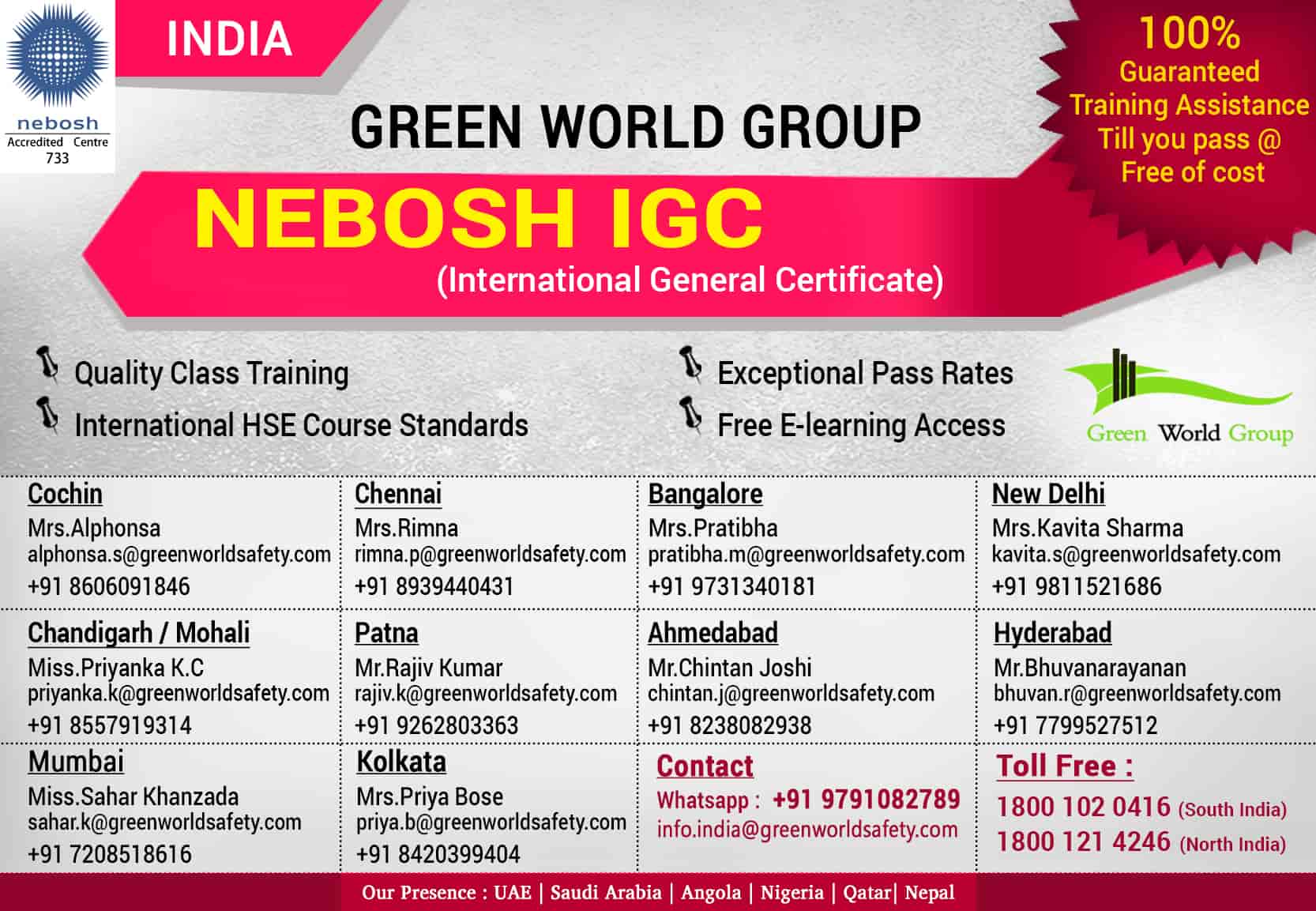 Highlights:
• Enrolled NEBOSH IGC INR 49,999/-*
• Experienced trainers
• Effective course materials
• Successful training methodology
• International standard classrooms
Course Materials – NEBOSH IGC text book.
OUR POPULAR SAFETY COURSES:
---
---