The following tips help you in clearing NEBOSH with high marks:
• Examiner's intention is to give you marks, not to reduce.
NEBOSH does not provide any negative mark for wrong answers and the appropriate answers will be rewarded with good marks, so try to deliver the answers with confidence.
• Never forget to Attend Revision course
Attend the revision tests conducted by your course provider (GWG), which tells you're in which level of preparation and get the papers corrected from the tutors, gives an idea about the exam and the way to approach it.
• Answer to the question what is asked: not by the way you feel.
Read the question properly, understand it and then start answering to the question never give irrelevant answers to the question, i.e. don't give answers what you feel about the question asked, it will not gain you marks.
• Make use of the command words properly
Read the question at least twice to know the command word and understand the question and then start answering to the question, respond to the question according to the COMMAND WORD, which gives good score.
• Do refer your hand written notes for revision
Refer to the notes, which you have written during study time, helps in recalling and remembering the key points on the point of exam view. Instead of reading the whole book before exam, revising the notes helps in catching up the ideas.
• Be prepared ever
Be prepared with pens, watch and other necessary materials, needed for exam. And make travel arrangements before the day of exam in order to be relaxed on the day of exam. Know well your date and venue of exam and be early to the exam hall which helps to get rid of exam fear.
• Answer to the past year question papers
Practising with the previous year question paper with time constrain helps in facing the exam easily, because time management is most important in NEBOSH exam , as you will have to write more.
Why GWG?
With 12 years of successful experience in delivering NEBOSH and other health and safety courses in India, KSA,UAE, Nigeria and Angola , Green World Group celebrates its 800th batch with many offers which are cost – effective and free professional courses provided with the NEBOSH course in Delhi helps the candidates in their career development . GWG with expert HSE tutors provides courses via regular class room mode, E-Learning, Virtual learning, Distance mode which gives the students the sound knowledge in health and safety management to become HSE professional.
Green World Group's offer on NEBOSH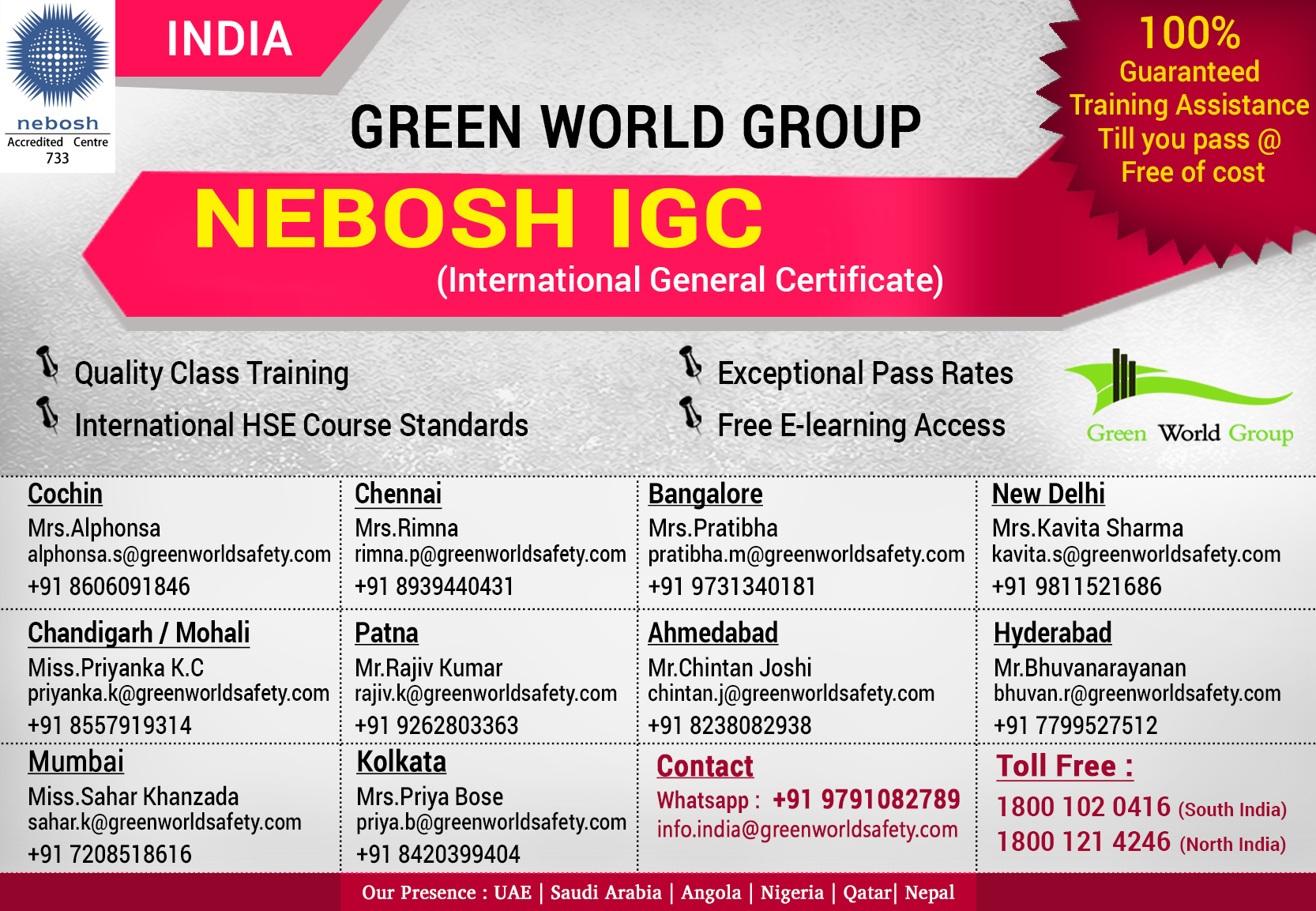 ---
For Enquiry & Enrollment:
Toll Free :
1800 300 20676 (South India)
1800 121 4246 (North india)
Whats App : +91 9791082789
---
Mrs. Kavita Sharma
Academic Counsellor
Email: kavita.s@greenwgroup.com
Telephone: +91 9811521686
---
Green World Management Consultants & Training Institute
# 302, Third Floor,
15A/44 Partap Chamber,
Saraswati Marg,
W.E.A Karol Bagh,
New Delhi – 110 005.
Tel: 011 47920046.