Diploma in fire safety course :
Green World Group provides splendid offer for Diploma in Fire engineering and Safety Management course in Dubai, UAE.  This course is initiated by Government of India and specially designed for Fire Watch Manager in the field and Rescue service Dept. Green World Group is the highest educational safety training provider and management consultant which is conducting the UK approved HSE certification courses like Nebosh, IOSH, HACCP, HABC, IRCA lead auditor course, ADOSHEM, Dip in Offshore safety course & Diploma in Fire engineering and Safety management courses etc.
Diploma in fire safety course helps students and employed to gain practical understanding and skills on protecting workplaces from unexpected fire and thus ensuring total control over safety procedures, regulations and practices. The safety diploma is recognized by all types of industries and enterprises. Students are taught on various aspects of fire safety methods, standard protocols, latest gadgets and protective gears, regulations and legislations, fire safety management techniques and procedures to conduct fire audit.
Course Fee: AED 2000/-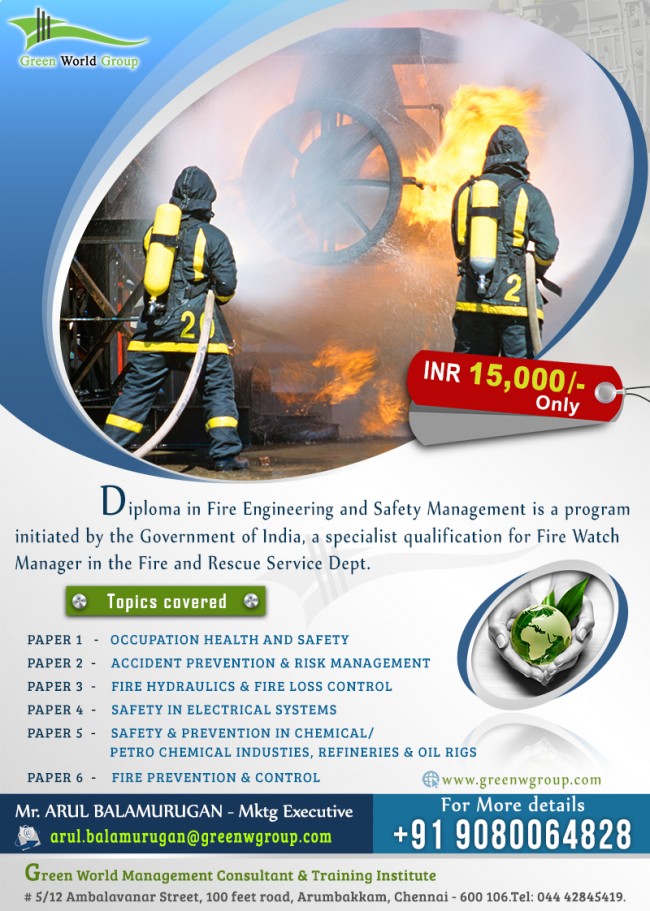 For More Details Please Contact:
Mr. Arunachala Pandiyan | Product Specialist
Mr. Sunit Gill | Marketing Executive
Green World Management Consultants LLC
Suite # 101/102 First Floor, Sapphire Tower,
Near Dnata, Deira, Dubai Po Box: 83127
Tel : +971-42528805 | Mobile : +971557044902 | +971 55 9949371
Website : http://www.greenwgroup.com | http://www.greenwgroup.ae