1. Attend revision Tests:
A revision test conducted by your course provider is much more important than your revision time, because when your mentors /tutors correct the papers, will give you the do's and don'ts during exam. This also gives an idea in which you should revise more.
2. Know about NEBOSH IGC:
The international general certificate is divided into three units, the first two of which, IGC1 and gc2 are written exam. And the gc3 is practical assessment (report submission based on real time scenario)
Each unit  lasts for  two hours

Each unit consists of 10 short answers, and 1 long answer. 
The short answers are of 8 marks each and the long answer is of 20 marks.
Keep tracking the time in order to get rid of running out of time.
All questions are compulsory. 
Read More

>>

Nebosh IGC Course Online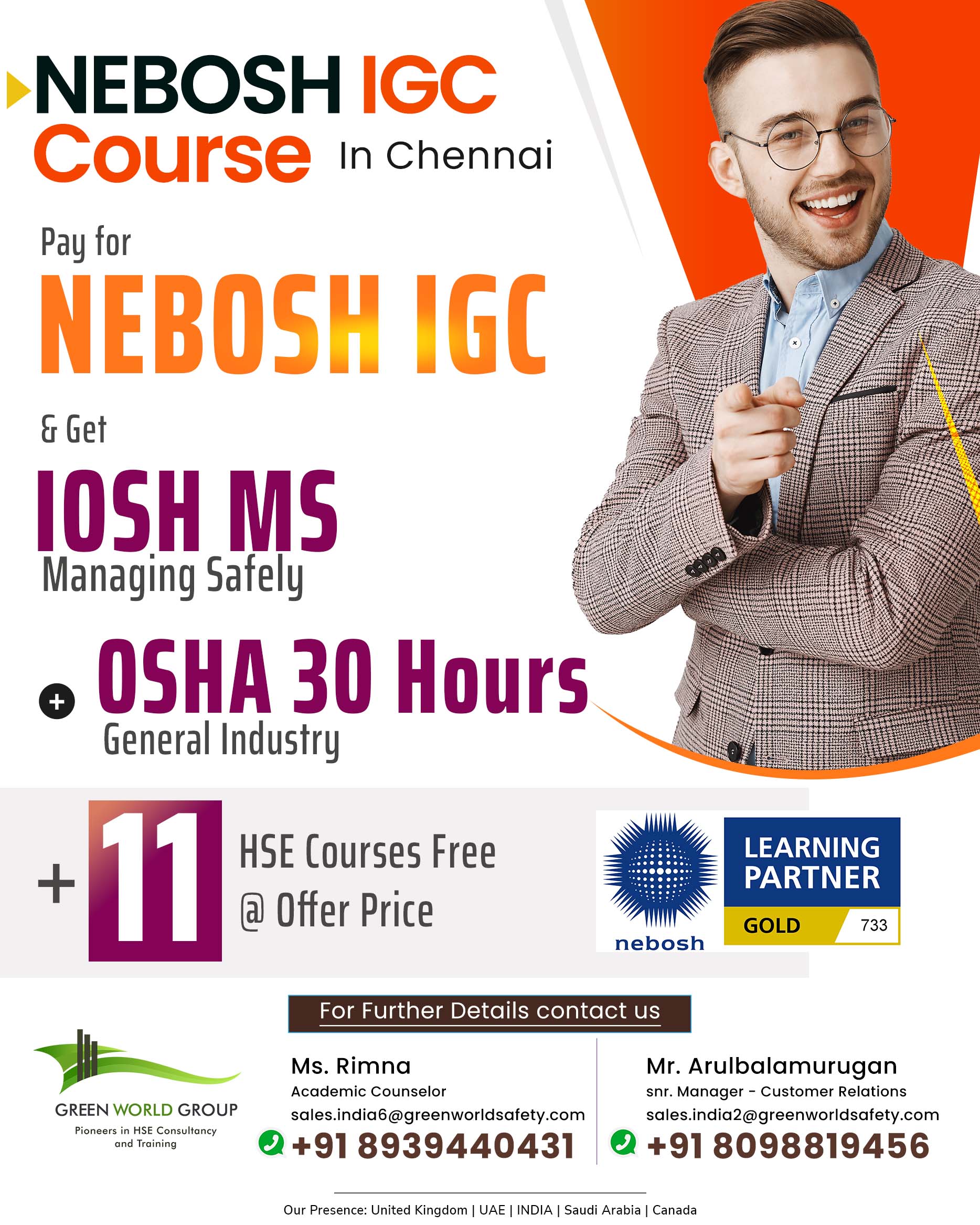 You can study the NEBOSH Course online from anywhere in the world with the help of a digital medium (computer/laptop/other smart devices with internet support).
3. Create a list of central topics:
Try to watch you tube videos of these central topics—which gives long lasting image on your memory. Keep watching videos for some weeks. More than studying the same topics for number of times, this saves your time much more when comparing with studying.
4. Prepare self notes:
Do prepare a self-notes by your own ,in order to keep  in touch with the key points and hints
Use this during the time of

NEBOSH classes and during exam preparation
5. Understand the usage of keywords in NEBOSH exams:
NEBOSH has set a number of keywords in the exam technique, for assessing the candidate's level of understanding in particular question.
Understand the usage of keywords which is much  essential to score high marks in exam
Keywords you should remember are as follows,
6. Use mind mapping strategy:
Once you are done with one chapter, prepare mind maps for each chapter to remember the answers, it will absolutely help in revision time, saves the time and it also boosts your mark in exam.
7. Make use of MNEMONICS technique:
It is an excellent technique which will help to remember the key points and it prevents from loss of information if any during exam.
Example: to remember the types of guards in machines:
Fiat – fixed guard, interlocked guard, adjustable guard , trip switch.
Every chapters of NEBSOH has number of MNEMONICS which are more  important in your exam preparations .
8. Do remember that the examiner is looking to give you points
As NEBOSH has no negative marking system, you no need to worry about, if you answer a question wrongly .but remember that the wrong answers will be allocated with no marks. For appropriate answers you will be marked with good scores. Make sure that the writing is legible, clearly numbered answers.This make the examiners to correct the paper easily. Try to answer the questions which you are more confident, it leads to good score and answer to question least known at the end. 
9. Condense your notes as the date approaches:
Make use of your self- prepared notes before the exam time. I.e. During revision time.Which makes to concentrate more on highlighted topics.Instead of learning the whole book. Use revision cards, which helps you to sort out this.
10. Be prepared always:
Never get tensed for exam and throw away the anxiety. Double check with the necessity things like pens, watches, etc. And assure the date, time, venue of the exam. Make travel arrangements to go for exam center before the day of exam. So that you can be free and relaxed on the day of exam.
11. Make use of previous year question papers to practice your exam technique:
Make revision with the previous year question papers with time constrain which helps to face the examination with more confidence. This is one among the best way to understand how much you have learnt and what to revise more. This acts like mock exam, helps you manage time effectively during exam.
---
Enroll NEBOSH IGC with GWG & Get Free Training Until You Pass The Exam
NEBOSH IGC – MUMBAI
Green World Group is the largest safety training provider and conducting UK approved Nebosh International certification courses and providing some other courses like IOGC, Nebosh IDiploma, IOSH course, Lead auditor course certified courses and all.
10 days comprehensive training. Complimentary E-elarning access for the course prior to start of training session that ensures the candidate has a fair knowledge of the subject. Result oriented approach to training with quality based HSE scenarios. Limited seats are available. Book your seat now!! for more offers and courses at mumbai please click: safety training in mumbai
For Enquiry & Enrollment:

INDIA +91 9791082789 | UAE +971 55 7044902 | SAUDI ARABIA +966 50 5744304 | Toll Free 1800 1020 416
---
For other safety courses Offer and Details Please Click: Safety course in Mumbai
---