The constant evolution of safety challenges experienced by industries across the world despite following all recommended safety regulations and practices has necessitated frequent revival of safety standards by International organizations like ISO and member countries to prevent recurring workplace accidents, industrial disasters and loss of precious lives.
Several ISO standards have been proposed, and implemented in the past by employers with some of them becoming obsolete today exposing workers to various dangers, hazards and health risks.
ISO 45001:2018 is the most recent ISO standard proposed to enhance management systems of occupational health and safety whose primary goal is to reduce occupational diseases and injuries.
Though the new standard is based on the outgoing Occupational Health and Safety Assessment Series (OHSAS) 18001 and also conventions, standards and guidelines a of the International Labour Organization, ISO 45001:2018 has some additional elements which will become operational over the three years migration period by 2021.
Importance of ISO 45001 Lead Auditor training
ISO 45001 lead auditor training is provided to individuals and working professionals from organizations in and around Dubai. The course intends to train delegates to use their skills and knowledge in introducing ISO 45001 standards in workplace environments thereby ensuring safe and congenial atmosphere for workers. ISO 45001 is the new international safety standard which helps organizations to form framework of management system that provide effective control of work-related illness and injury to workers. The lead auditor training to workers helps enterprises to upkeep reputation in their business while providing safe and healthy work environment for workers which in-turn can augment productivity.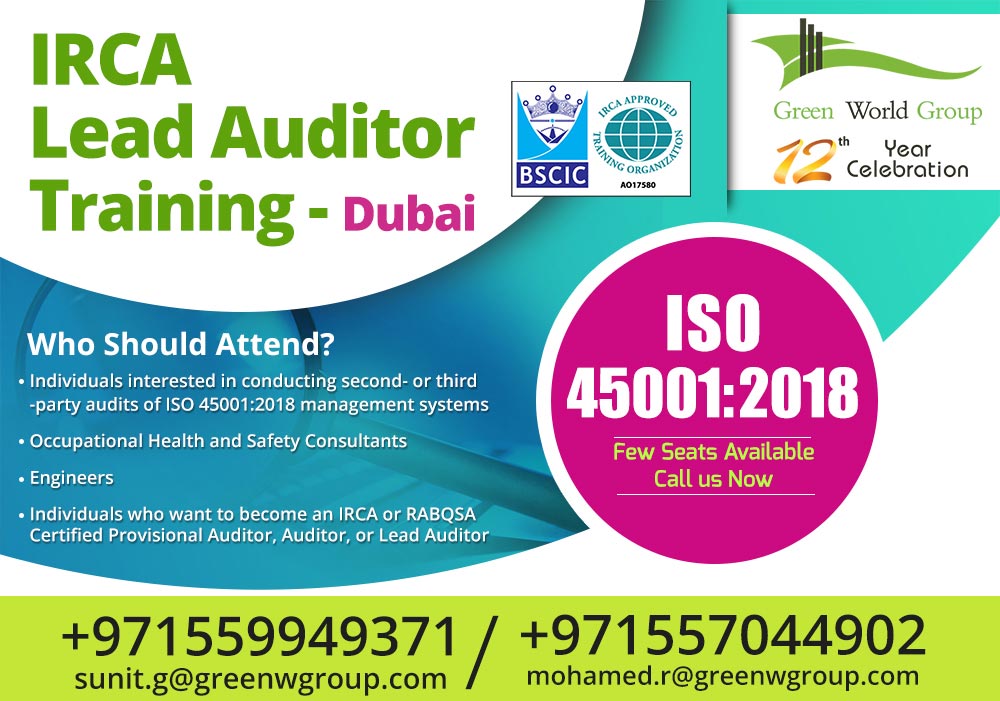 Best place to do ISO 45001:2018 lead auditor course in Dubai
Delegates willing to be trained for ISO 45001:2018 lead auditor course in Dubai, should know the fact that very few institutions in the world, who have international reputations, offer training for ISO 45001 certification.
Green World Group, an internationally known educator and trainer of various popular occupational safety and health certifications, should be the ideal place in Dubai to get quality ISO 45001 lead auditor training which can equip candidates with necessary skills and knowledge to audit any organization on ISO 45001 standard needs and provide necessary guidance to meet ISO 45001 safety levels.
As organizations need to implement ISO 45001 safety standard, those who have completed ISO 45001 lead auditor course can look for great career progression as they can be absorbed by prestigious organizations as lead auditors or independent safety advisors who can ensure workplaces meet prescribed safety standards thereby reducing the number of accidents, near misses, injuries, loss of skilled workers, shutdowns, production loss and hefty insurance payouts.
Candidates with lead auditor certification can be able to provide quality process management in meeting the prescribed ISO 45001:2018 standards. ISO 45001 certification has become necessary for all companies around the world to keep up their reputation. Candidates who have successfully finished ISO 45001 lead auditor course with Green World Group can look to begin their career anywhere in the world as lead auditor and help organizations meet ISO 45001 certification standard.