For Any Enquiry On Nebosh Courses Click Here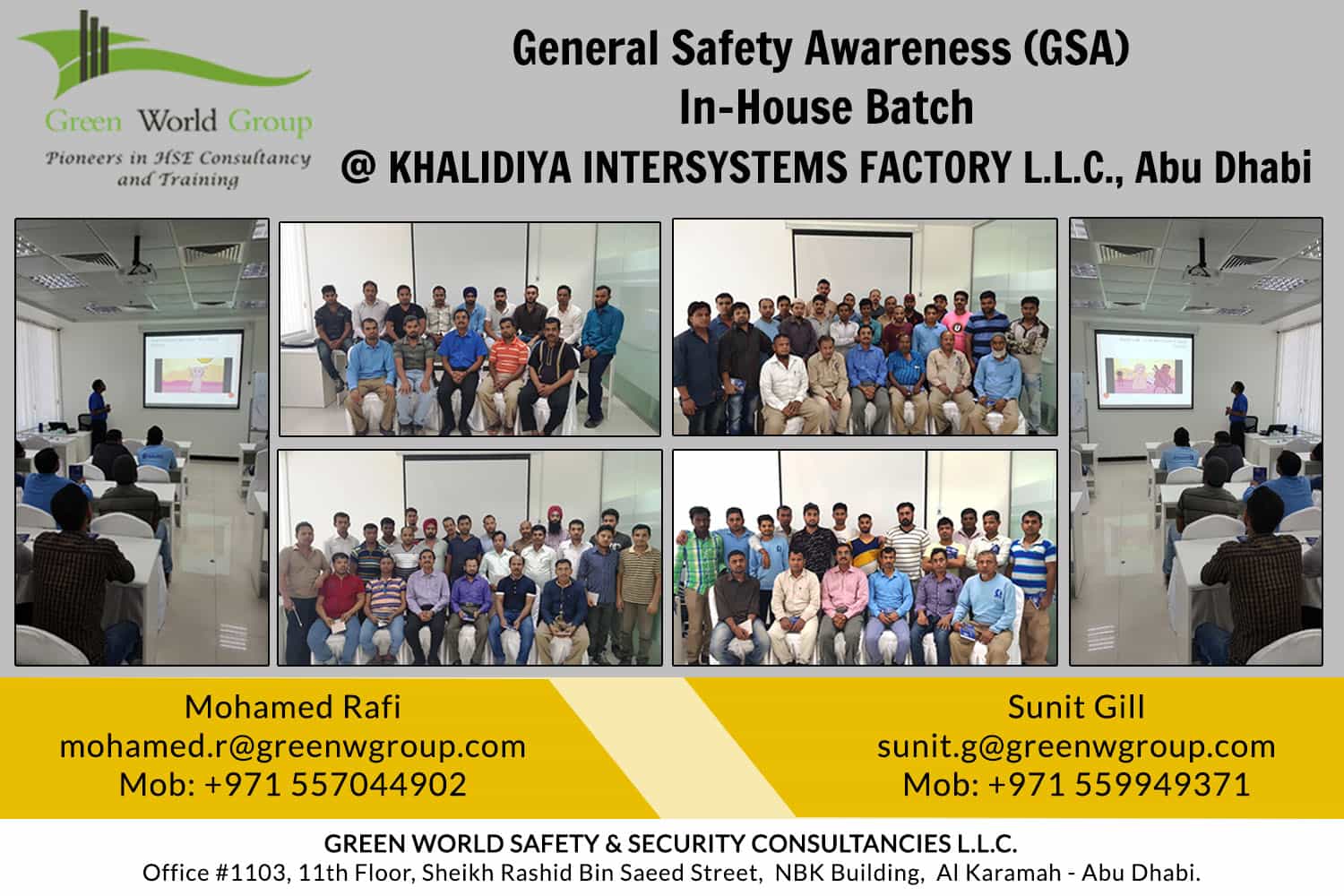 Click here to Know Upcoming batch at UAE
---
Green World Group's General Safety Awareness In-House training for the employees of KHALIDIYA INTERSYSTEMS FACTORY L.L.C, ABUDHABI.
Green World Group conducted the In-House training program on 19th, 20th, 23rd and 24th June 2019 with qualified tutor to train the employees to know about the importance of General Safety in Industries.
General Safety Awareness (GSA) is all about recognizing the duties and responsibilities of the employees to prevent accidents in any type of industries and educating the required skills in health and safety.
Green World Group plays a major role in Creating Safety Training Awareness throughout the world and, produced thousands of Safety Professionals in the last 13 years.
Green World Group is a world's top most leading health and safety institute with worldwide presence in UAE, KSA, Nigeria, Angola, and India
In India our branches are located in heart of places like Chennai, Mumbai, Bangalore, Kolkata, New Delhi, Chandigarh, Ahmedabad, and Patna.
We provide various National and International health and safety courses such as NEBOSH International General Certificate (IGC), NEBOSH International Diploma (IDIP), Fire and Safety, IOSH Managing Safely, RoSPA approved HSE courses, Lead Auditor training courses, NCFE courses, etc…
Study mode
Green World Group offers the courses through classroom, Distance learning, or Virtual learning mode. InCompany Training – Training Courses can also delivered at your workplace at the convenient schedule, so you can save your travelling time and cost.
---
---
GREEN WORLD SAFETY AND SECURITY CONSULTANCIES LLC
Office No. 510, 5th Floor (Old FAB Building),
Opposite Madinat Zayed Shopping Center,
Muroor Road, Next to Tasheel Building,
Abudhabi, UAE.
Tel :
+971-2-6454767
, Mobile :
+971 55 9949 371
Email:
info@greenwgroup.com