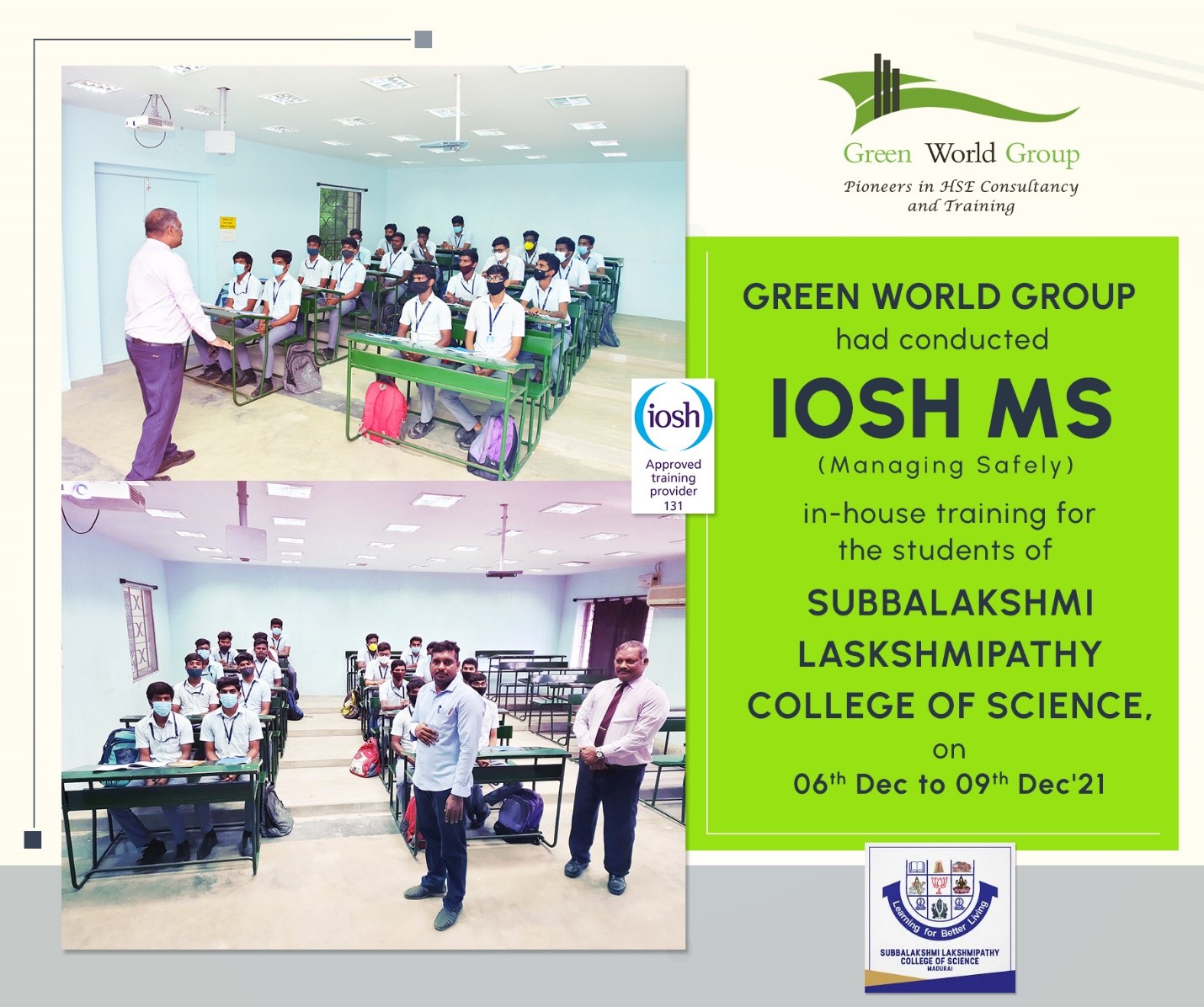 Green World Group, the leading provider of HSE Training and consultation services, provides a wide selection of worldwide health and safety courses via Virtual/ Live Sessions, and In-House Sessions. Safety Professionals and those who want to pursue a career in occupational health and safety, as well as safety professionals who want to learn more about a certain subject, can engage in corporate courses with Green World Group.
"Green World Group has a presence in 195 Countries"
From the 6th December 2021 to the 9th December 2021, a group of delegates from SUBBALAKSHMI LAKSHMIPATHY COLLEGE OF SCIENCE Madurai, successfully completed IOSH- Managing Safely In-House Corporate training from Green World Group. This was led by our distinguished tutor, Mr. Senthil Nathan, who has extensive expertise in this Department. GWG has successfully completed the last 3 Batches.
Subbalakshmi Lakshmipathy College of Science is a Self-Governing College in Madurai. The National Assessment and Accreditation Council assessed and re-accredited them with a B+ Grade (NAAC). They were Awarded UGC Recognized Degrees.
What is IOSH-Managing Safely
IOSH Managing Safely covers the essentials of Health and Safety in Workplace for all the Employees. IOSH- Managing Safely is Developed for everyone, in any industry, wherever in the World. It Includes all the information you ought to work with safe and securely. IOSH – Managing Safely Certificate is well-known and recognized across the world.
Why IOSH- Managing Safely from Green World Group?
Green World Group's Experienced Instructors and specialized competence in IOSH Managing Safely qualifications, together with their commitment to making health & safety local and international laws reach all verticals, help individuals obtain a better understanding and abilities relevant to HSE Standards.