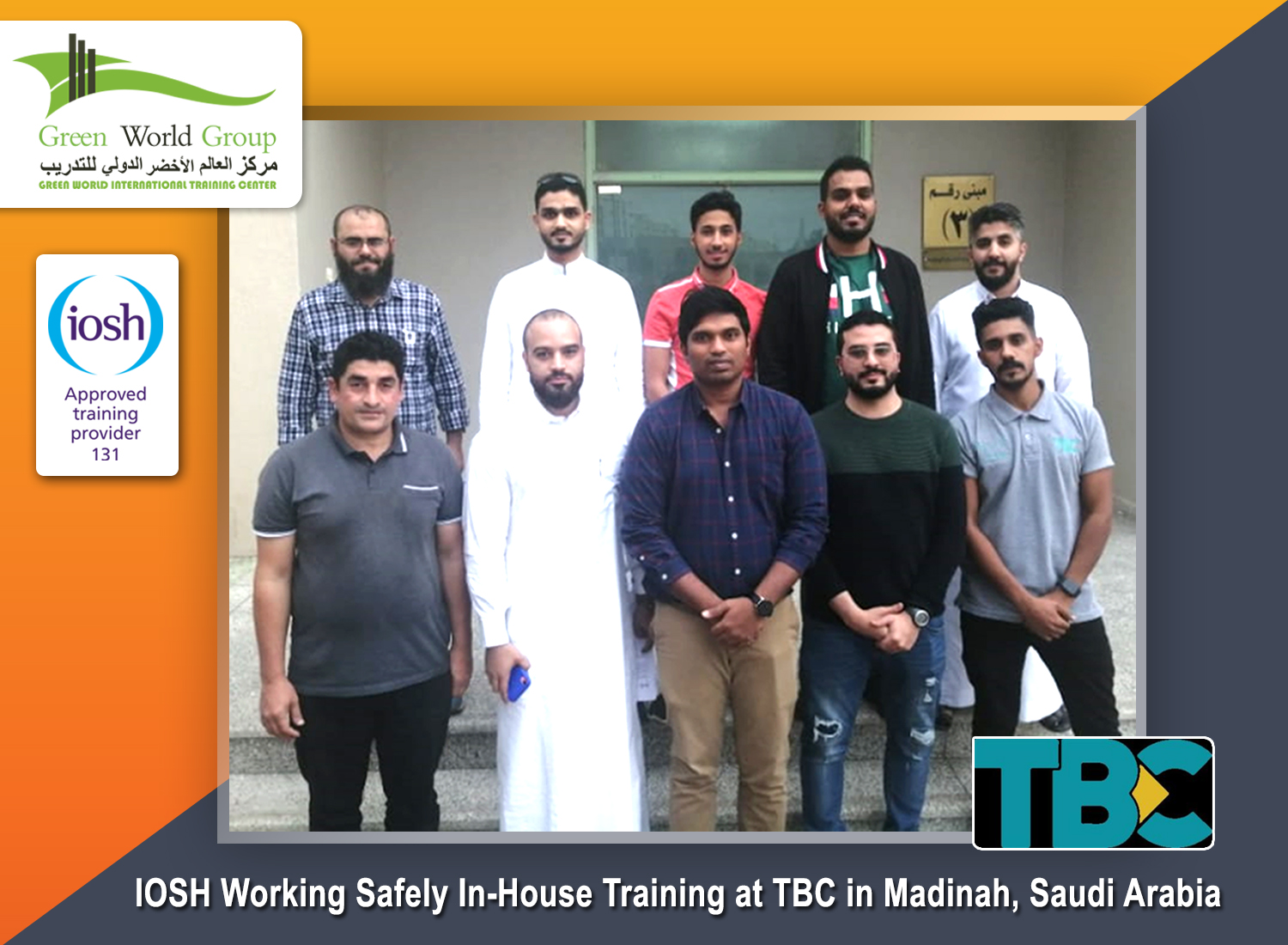 "Intellectual growth should commence at birth and cease only at death"
― Albert Einstein
On cue with this amazing statement by one of the greatest minds in the history of mankind, in Green world we always believed to set the bench mark in training and development field in Saudi Arabia. And this particular training is no different to our motto and belief. The training was on IOSH – Working Safely in an organization called TBC in Madinah.
TBC undertakes the projects of school and educational buildings and administrative facilities of the Ministry of Education, and offers its tenders and award of the same in accordance with its regulations. In addition, the company provides buildings, signs its contracts and supervises it including engineering and operational works, maintenance and development, which contributes to the dedication of the Ministry of Education to carry out its main activities. TBC operates and manages several programs of Ministry of Education with 637 educational facility serving over 289,000 students across the Kingdom.
The company's activities include designing, constructing, executing and supervising the educational buildings and supporting facilities. It also provides all services ranging from consulting administrative and planning services up to maintenance, rehabilitation, equipment and furnishing.
As a part of the Kingdom's Vision 2030, TBC is also working on several initiatives such as the development of special education programs, early childhood programs and improving school safety, as well as the development of gyms for girls under the initiative of improving quality of life.
The training started with the Basic concepts of health and safety, the statistical analysis and went in depth of the risk assessment concepts and the risk control measures that needs to be implemented. Finally, the implementation of health and safety in the workplace followed by the monitoring aspects were all discussed during a lively session. Post this we had an assessment and a practical risk assessment project to ensure the trainees understood all the concepts.
---
For Enquiry & Enrollment:
Mr. Arunachala Pandiyan – (Assistant Manager – Sales & Marketing – KSA)
Phone
Mail Us
---