About Green World Group:
Green World Group which was found in 2005, is a Middle East based company providing services on Health, Safety & Quality consultancy & Training, Recruitment & Selection of highly qualified / experienced manpower. We also provide services in construction management & supervisory support & inspection services along with Third party Certifications. We are the leading professional services company working in the public and private sectors to deliver change and raise performance. The company's successful growth has been built on the ability of our staff to achieve results and the high reputation this has created with clients.
Our people are leaders in the industry, creative problem solvers and innovative thinkers from diversified backgrounds. Together they collaborate to help you transform your business into high performing business
GWG is the leading training course provider of comprehensive range of safety courses like Nebosh International General Certificate, NEBOSH International Technical Certificate in Oil and Gas Operational Safety,IOSH Managing Safely,Working Safely, Advance diploma in Occupational Health, Safety, Environmental Management approved by Govt of India and certification programmes from United Kingdom and United States which are globally recognized.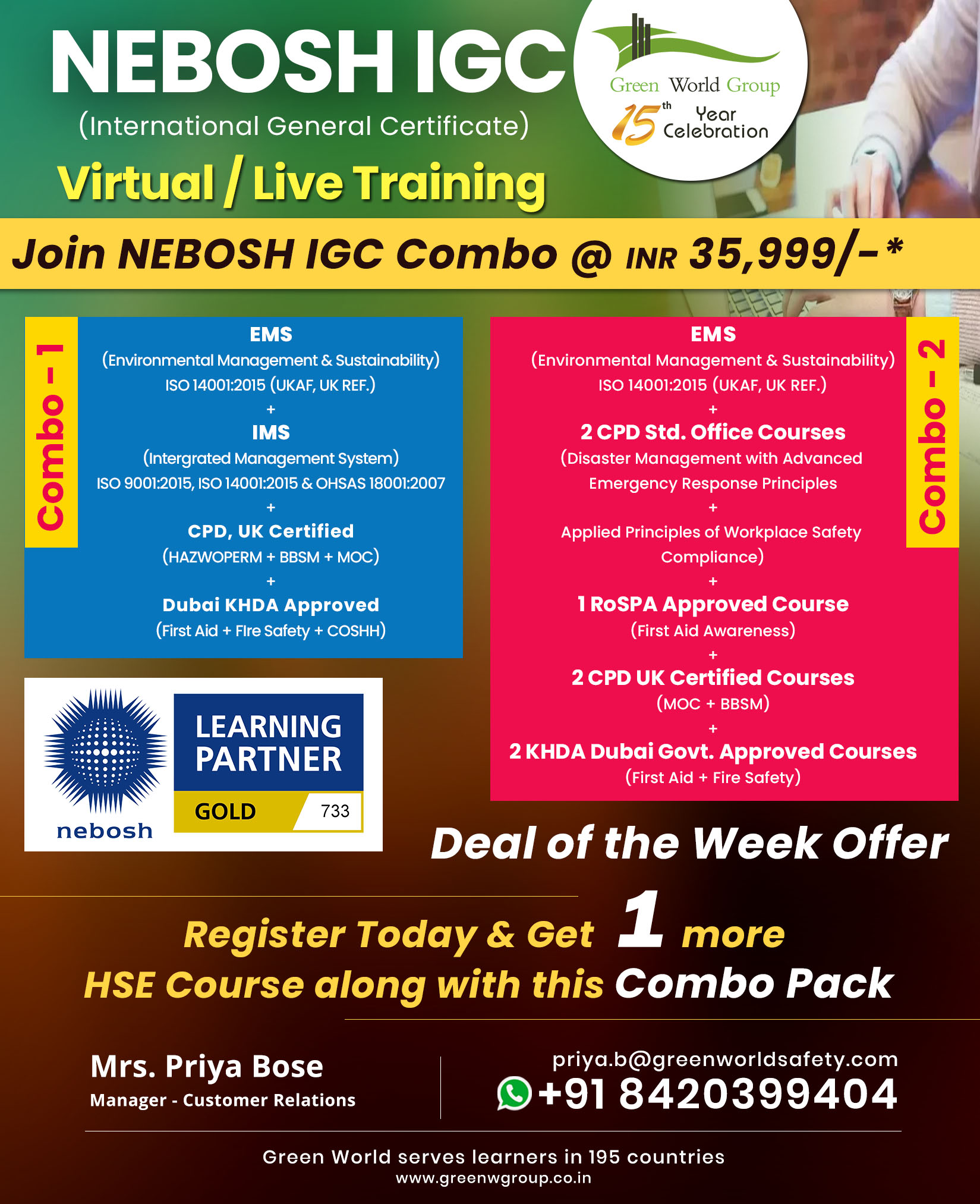 NEBOSH IGC
Is the NEBOSH International General Certificate for me?
The NEBOSH International General Certificate provides a sound introduction to the basics of occupational health and safety. It looks at the management of health and safety and a wide variety of workplace hazards. The NEBOSH Certificate has been designed for managers, supervisors and employee representatives and is ideal for anyone who wants to establish a career in health and safety.
Anyone can enroll on the NEBOSH Certificate programme.
Ways to Study the NEBOSH Certificate
NEBOSH Certificate Block release – 10 days' tuition from one of our expert tutors
NEBOSH Certificate Distance learning – complete the course at your own pace within 2 month
Ease your way into your NEBOSH Certificate…
If you're not sure if you're ready for a full NEBOSH Certificate, why not just enroll for a single unit? You will receive a certificate from NEBOSH and you can go on to complete the second unit (and achieve the full NEBOSH Certificate qualification) at any time in the following 5 years.
About Nebosh
NEBOSH (The National Examination Board in Occupational Safety and Health) was formed in 1979 as an independent examining board and awarding body with charitable status. We offer a comprehensive range of globally-recognised, vocationally-related qualifications designed to meet the health, safety, environmental and risk management needs of all places of work in both the private and public sectors.
Courses leading to NEBOSH qualifications attract around 30,000 candidates annually and are offered by over 400 course providers in 80 countries around the world. Our qualifications are recognised by the relevant professional membership bodies including the Institution of Occupational Safety and Health (IOSH), the International Institute of Risk and Safety Management (IIRSM) and the Institute of Environmental Management and Assessment (IEMA).
NEBOSH examinations and assessments are set by its professionally qualified staff assisted by external examiners; most of whom are Chartered Safety and Health Practitioners operating within industry, the public sector or in enforcement.
Our technical standards are overseen by a Qualification and Technical Council with representatives drawn from national institutions.
In addition, NEBOSH maintains Investors in People (IIP) status and is also an ISO 9001:2008 registered organisation.
What does the qualification cover?
The NEBOSH International General Certificate (IGC) covers the principles relating to health and safety, identification and control of workplace hazards and the practical application of this knowledge. The IGC syllabus takes a risk management approach based on best practice and international standards, such as the International Labour Organisation (ILO) codes of practice. Local laws and cultural factors may form part of the study programme where relevant and appropriate.
The International General Certificate is also suitable for those embarking on a career in health and safety, providing a valuable foundation for further professional study.
No previous health and safety knowledge is required. However it should be noted that the examination is offered, and must be answered, in English, and that the course includes a requirement to write a short report, which must also be in English. NEBOSH recommends that candidates undertaking the NEBOSH International General Certificate should reach the equivalent of a scoring of 6.0 or higher under the International English Language Testing System (IELTS).
The qualification is divided into three units, each of which is assessed separately:
Management of international health and safety (IGC1)
Control of international workplace hazards (IGC2)
International health and safety practical application (IGC3)
IOSH Managing Safely
IOSH With Green World Group
Is the IOSH Managing Safely course for me?
Managing safely is for managers and supervisors in any sector, and any organisation. It's designed to get managers up to speed on the practical actions they need to take to handle health and safety in their teams.
What will you get out of it?
What you need to know – and are perhaps reluctant to learn about – in a refreshingly informal way.
Managing safely won't turn delegates into safety experts – but it will give them you knowledge and tools to tackle the health and safety issues you' responsible for. Importantly, it brings home just why health and safety is such an essential part of their job. Successful delegates are awarded an IOSH Managing safely certificate.
Ways to Study the IOSH Working Safely Certificate
IOSH Managing safely Block Release – 4 day's tuition from one of our expert tutors
About IOSH
The Institution of Occupational Safety and Health (IOSH) is the Chartered body for health and safety professionals. With more than 37,000 individual members, we're the biggest professional health and safety organisation in the world.
We're committed to cutting down the number of people who die or are made ill by what they do for a living. Across the world, two million people die every year as a result of health and safety failures. In the European Union alone, someone dies every three and a half minutes.
We think that when it comes to health and safety, only advice from qualified, experienced and skilled professionals will do. That's why one of our main roles is to maintain high standards.
We're the voice of the profession, and lobby governments on policy and law. We accredit qualifications for our members, give guidance, develop resources and run courses and events to help them in their work.
We recognise that health and safety isn't just down to the experts. We work with a range of organisations to raise awareness – and standards. And we develop training for schools and businesses, and run campaigns that are relevant to millions of working people.
IOSH was founded in 1945 and is a registered charity.
Managing safely Cert
Maging safely is for managers and supervisors in any sector, and any organisation. It's designed to get managers up to speed on the practical actions they need to take to handle health and safety in their teams.
What the course covers
Introducing Managing safely
Assessing risks
Controlling risks
Understanding your responsibilities
Identifying hazards
Investigating accidents and incidents
Measuring performance
Protecting our environment
Join for NEBOSH IGC @ Patna
Venue:
Nebosh Training Institute & Exam Centre, Patna
Hotel Windsor,
ExhibitionRoad,
Patna, Bihar – 800001.
India
Course duration : 10 days
Course fees : 49,000
Class duration : 9 a.m. to 4 p.m.
Join NEBOSH with Green World Group and get the best price. !!!!
For Enquiry & Enrollment,
Ms. Neha Mahto
# Training Coordinator
No:17, Pragara Street, Karaikal – 609602 | Puducherry State | India |
Tel: +914368 220046 | Mob: +91 9324148531 | +91 9324148531 |
Email: neha.m@greenworldsafety.com
Website: www.greenwgroup.com