Green World Group is now providing  special Offer for
Green World Group is the world leading safety management consulting service and training institute which is conducting the safety courses.
Green World Group (ISO 9001 Quality Accreditation center):
Only Limited Seats.. Hurry Up for Early Booking
GET FREE TRAINING UNTIL YOU PASS THE EXAM !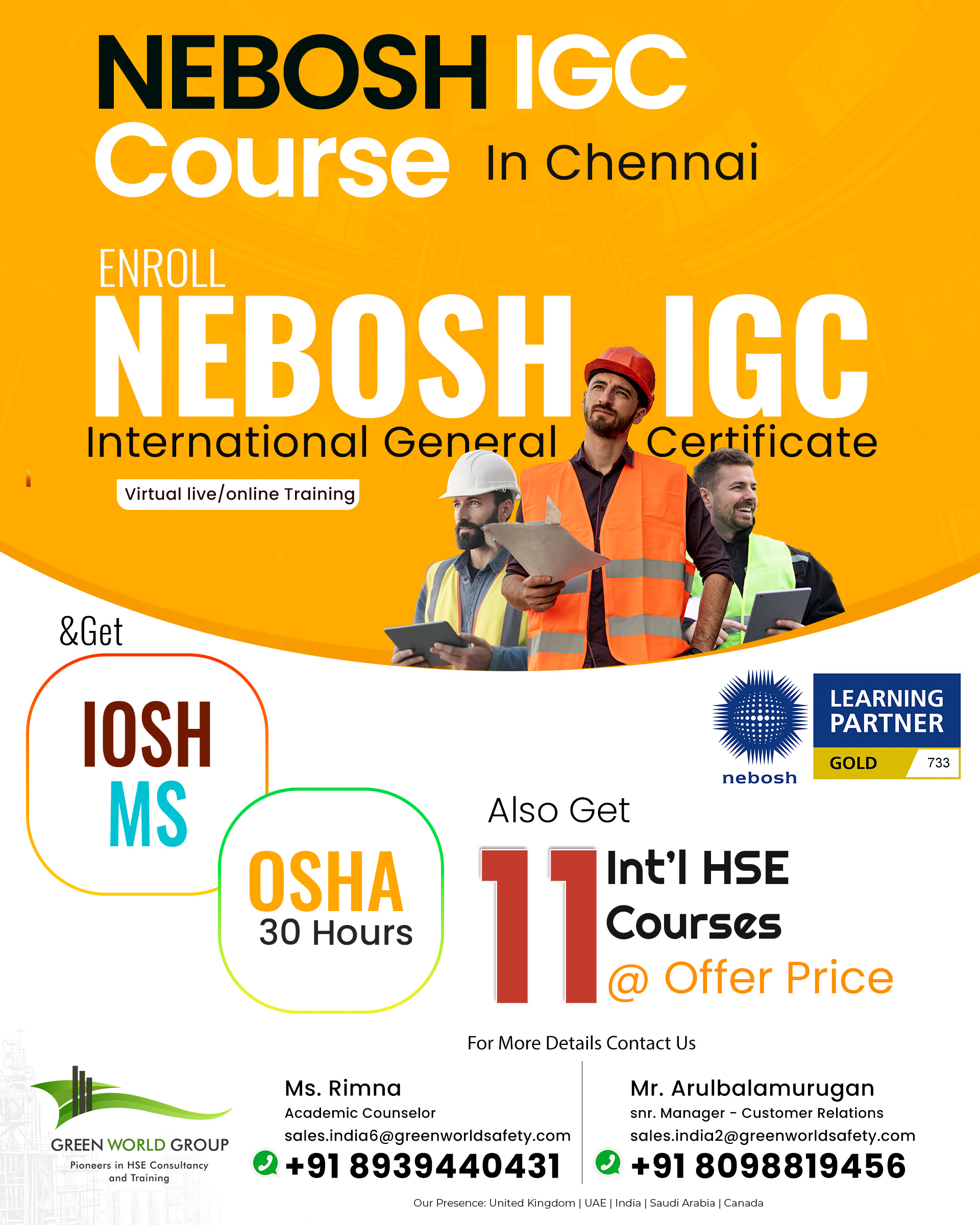 ---
Green World Group, founded in 2005, is a Middle East based organization providing services on Health, Safety & Quality consultancy & Training, Recruitment & Selection of highly qualified/experienced manpower. Our team of health and safety professionals have expertise in specialist training courses, designed principally keeping in mind the current trends in skill development and training. They have experience and a proven-track record in delivering practical and relevant solutions that cater to the global audience.The Head office of GWG is based in Dubai and our branches are located in India, Angola, Nigeria, Oman, Philippines, United Kingdom and Iran.
With quality as the focus of our training provision, GWG provides eminent training facilities to our students and clients, making sure they understand every significant business function. Our training portfolio includes training on Health and Safety, Occupational Health, Environmental Management, People development, HR and employment law for managers, leadership and Management and other business-critical elements. We also provide certification courses like NEBOSH International General Certificate, NEBOSH International Technical Certificate in Oil and Gas Operational Safety, IOSH and HABC.
NEBOSH International General Certificate in Occupational Safety & Health:
Course Overview:
The NEBOSH International General Certificate is designed for managers, supervisors, worker representatives and others who require an understanding of health and safety principles and practices. Candidates are likely to be employees of large organisations operating outside the UK, or of multinational companies already working to international standards but who need to adapt these to accord with local needs and practice.
The syllabus omits specific reference to any national legal requirements but, instead, focuses on international standards, in particular ILO codes of practice. In common with the national award, however, the syllabus is structured according to a recognised management framework.
The NEBOSH International General Certificate course is split into three units of study, each of which is assessed separately:
• Unit IGC1: Management of International Health and Safety
• Unit GC2: Control of International Workplace Hazards
• Unit GC3: Workplace-Based Practical Assessment
RESERVE YOUR SEATS:
Ms. Alphonsa
ACADEMIC COUNSELLOR
Mob: +91 8606091846
alphonsa.s@greenworldsafety.com
---
Green World Management Consultants & Training Institute
Room no.5-14, 42/1686, G-2, 5th Floor,
Empire Building, Old Railway Station Road,
Ernakulam – 682031. Kerala.
Tel: 0484 4033901.
Email: info.india@greenworldsafety.com
Website: www.greenwgroup.com
---
For Enquiry & Enrollment:
Toll Free 1800 102 0416 (South India) | 1800 121 4246 (North india) | Whats App : +91 9791082789
---
Stay connected:
INDIA | UAE | SAUDI ARABIA | OMAN | NIGERIA | ANGOLA