Dear Candidates,
Greetings from Green World Group LLC,
Green World Group which was founded in 2005, is a Middle East based company providing services on Health, Safety & Quality consultancy & Training, Recruitment & Selection of highly qualified / experienced manpower. We also provide services in construction management & supervisory support & inspection services along with Third party Certifications. We are the leading professional services company working in the public and private sectors to deliver change and raise performance. The company's successful growth has been built on the ability of our staff to achieve results and the high reputation this has created with clients.
Our people are leaders in the industry, creative problem solvers and innovative thinkers from diversified backgrounds. Together they collaborate to help you transform your business into high performing business
GWG is the leading training course provider of comprehensive range of safety courses like Nebosh International General Certificate, IOSH Managing Safety, Advance diploma in Occupational Health, Safety, Environmental Management approved by Govt of India and certification programmes from United Kingdom and United States which are globally recognized.
We are the leading IOSH, NEBOSH, OSHA training provider.
GWG offers both training and consultancy solutions across the Middle East, India and worldwide on an in company or public course basis or distance learning
Hence we will not compromise in quality, deliverance and procedures given by NEBOSH/ IOSH /OSHA.
Our wide range of products include:-
IOSH Managing Safely
NEBOSH International General Certificate
Advance Diploma in Occupational Safety, Health and Environmental Management – Distance Learning – Duration One Year, Promoted by Government of India
OSHA – 30 Hours Programme
Name of the Award – NEBOSH International General Certificate
Mode of Training – Full time (8.30 A.M to 5.30 P.M)
Course Fee
Ø      Nebosh -45,000. ( 1050 USD)
Course Duration – 11 Days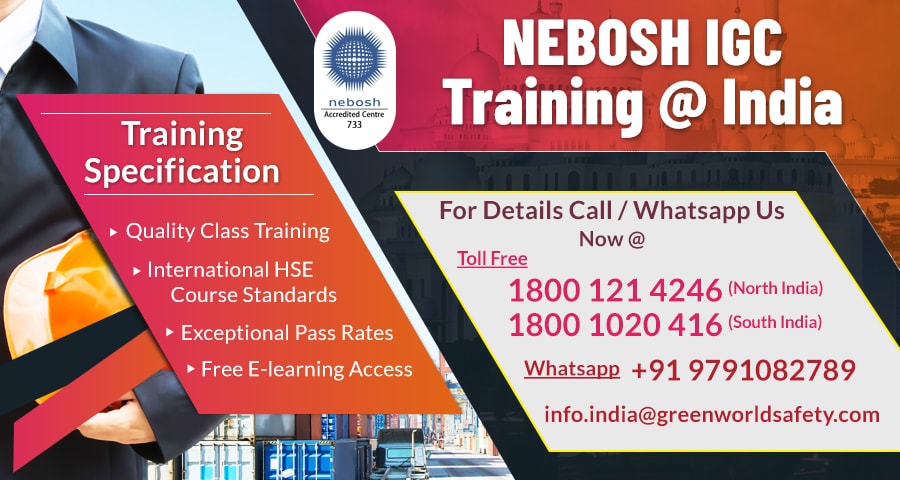 Posted on:12/09/2011