Safety training Nebosh course in Riyadh
Riyadh offers excellent condition for workers of various industries. As a fastest growing region in the Saudi Arabia, Riyadh caters to industries which offer challenging work conditions. These work conditions can vary from hazardous, risky to unhealthy, and companies do take care of their employees by following all necessary safety regulations and standards.
There is a huge market for health and safety managers in Riyadh as industries look for well certified and experienced professionals to safeguard their workers and properties from disasters and accidents. Safety professionals must be known about safety standards to instruct their works and have to learn Nebosh course in Riyadh.
One of the most sought after qualifications which companies look at the resumes of prospective HSE professionals is NEBOSH International General Certificate (IGC), which is a highly recognized safety certification offered by the U.K-based board.
Why to become Health and Safety experts?
With industries bursting at the seams across nations, safety concerns are driving most of the industry owners to look for managers or professionals to make work environment safer and healthier for their employees. There has been a huge demand in the recent past for HSE professionals in both developing as well as developed nations. In Riyadh, health and safety experts are used to create congenial work environments for workers attached with various industries.
Where to study safety and health course?
This question haunts everyone who aspires to take up safety training course at a genuinely reputable institution. Though there are thousands of institutions offer various safety courses, you should look for an institution which should offer internationally recognized certification, excellent coaching, great ambiance, well-researched course material, flexible study timing, opportunity to seek employment abroad and finally, perfect career guidance. All these and more, students can expect at Green World Group, a well-known HSE educator and advisory board having branches across the globe.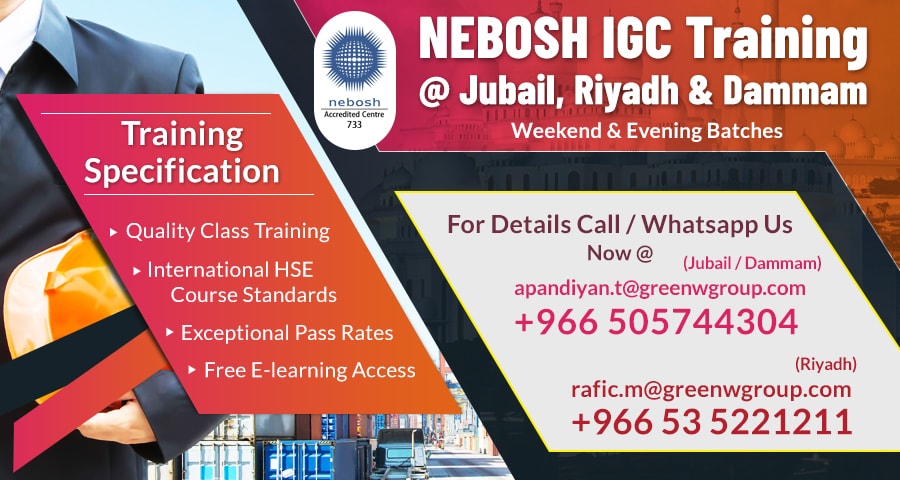 Why NEBOSH at GWG?
HSE courses available at GWG in Riyadh are NEBOSH, ADOSHEM, IOSH and also several government supported diploma courses to suit the needs of workers and students. These courses, recognized by employers in Riyadh, are carefully conceived taking into account various occupational hazards and safety standards, employee intakes, future demands, and career prospects.
NEBOSH course in Riyadh is one of the most sought-after safety officer courses due to its popularity and great employment potential across the world. Green World Group in Riyadh offers NEBOSH IGC, which is a stepping stone for those who wish to pursue career in occupational safety. The safety training offers all aspects of workplace safety standards and regulations and trains them to handle all safety and health issues in real time work environments.
As for qualification for NEBOSH IGC, it can be studied by anyone who has an inclination towards handling or managing safety and health issues at workplaces. Hurry! Make a decision now to become a HSE professional tomorrow!
Study Safety Certification courses with Green World Training Center.
For further Contact:
Mr. Mohamed Rafic
rafic.m@greenwgroup.com
+966 53 5221211
info.saudi@greenwgroup.com