Certification and we are providing E-learning access!!
Nebosh course in Green World Group
GET FREE TRAINING UNTIL YOU PASS THE EXAM !
Read More

>>

Nebosh IGC Course Online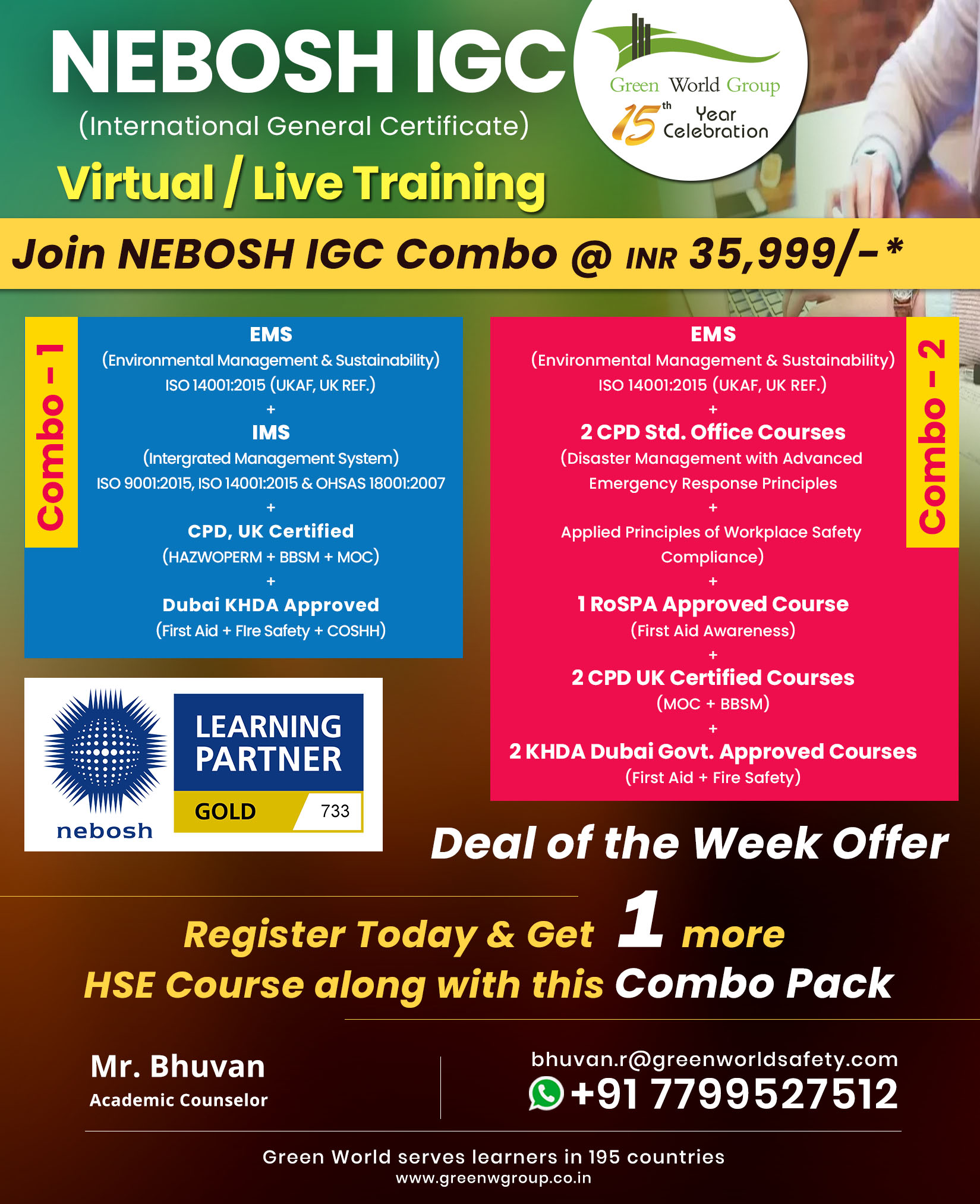 Certification:
On successful completion of written exam (IGC1 and IGC 2 – 45% and above) and a practical assessment (IGC 3 above 60%) certificate will be issued by NEBOSH (U.K) in 16 weeks from the date of examination.
NEBOSH (International General Certificate)
TheNEBOSH course in visakhapatnam covers the principles relating to health and safety, identification and control of workplace hazards and the practical application of this knowledge. The IGC syllabus takes a risk management approach based on best practice and international standards, such as the International Labour Organization (ILO) codes of practice. Local laws and cultural factors may form part of the study programme where relevant and appropriate.
Safety Topics
Five steps to risk assessment
This is not the only way to do a risk assessment, there are other methods that work well, particularly for more complex risks and circumstances. However, we believe this method is the most straightforward for most organisations.
How to assess the risks in your workplace?
Follow the five steps in our leaflet: Five steps to risk assessment
Identify the hazards
Decide who might be harmed and how
Evaluate the risks and decide on precaution
Record your findings and implement them
Review your assessment and update if necessary
Don't over-complicate the process. In many organizations, the risks are well known and the necessary control measures are easy to apply. You probably already know whether, for example, you have employees who move heavy loads and so could harm their backs, or where people are most likely to slip or trip. If so, check that you have taken reasonable precautions to avoid injury.
If you run a small organization and you are confident you understand what's involved, you can do the assessment yourself. You don't have to be a health and safety expert.
If you work in a larger organization, you could ask a health and safety adviser to help you. If you are not confident, get help from someone who is competent. In all cases, you should make sure that you involve your staff or their representatives in the process. They will have useful information about how the work is done that will make your assessment of the risk more thorough and effective. But remember, you are responsible for seeing that the assessment is carried out properly.
When thinking about your risk assessment, remember:
a hazard is anything that may cause harm, such as chemicals, electricity, working from ladders, an open drawer, etc; and
the risk is the chance, high or low, that somebody could be harmed by these and other hazards, together with an indication of how serious the harm could be.
Recognition
 Participants who successfully complete and pass assessment for this program will be issued with an International General Certificate of Occupational Safety & Health. This is a vocational qualification that is recognized internationally and can be used in any industry.
---