Qualifications
Normally the Health and Safety is a best career option for the candidates who finish up their degree in any discipline.
You will need a degree or equivalent, also with some knowledge in health and safety.The NEBOSH International General Certificate by NEBOSH, which provides a wealth of information about health and safety issues.
NEBOSH iDip is one such degree- level qualification
There is a possibility of entering the course without any degree , it will provide you with the combination of health and safety qualification with example.
There exists a introduction course for the people to become a safety advisor.
NEBOSH IGC qualification is essential to get a job in Occupational Health and Safety.
It will be quite good if the candidates has some experience.
Here are some areas given in which if the candidates has some experience.
construction
engineering
manufacturing
risk assessment.
Responsibilities:
A health and safety officers are supposed to
Carry out risk assessments, and find out, how the risks can be reduced.
Plan a safe operational procedure in order to take account of every relevant hazard.
Do regular inspection in site, to

check whether all the procedures are carried out properly

.
Check the working practices are safe and they obey the legislations.
Create strategies for health and safety and the internal policy should be developed.
Lead the In-house training along with all employees and managers , regarding the health and safety issues and risk. 
Have records of every inspection, findings, and other procedure reports which include the improvement techniques.
Track incidents and accidents at workplace and statistics should be produced to managers.
Attend the seminars conducted by Professional HSE Bodies and read the professional journals.
Submit the management reports, newsletters, bulletins etc.
Ensure that

every equipment are installed and maintained safely

.
Handle safely, the hazardous substances like asbestos during the disposal.
Advise on important areas like

fire regulations, hazardous substance, noise, safe guard machinery, occupational disease etc

.
Skills
The following evidences should be shown  :
Good communication skill, to explain and communicate about health and safety with the people of different background and sometimes even presentations.
Since this profession needs a collaborative approach, patience and diplomacy is necessary.
  

Capability of understanding and delivering the complex information

into simple one.
Investigative mind
IT skills
Flexible work approach
Paying attention to detail.
Law and regulations should be understandable and should have interest to follow it.
Physically fit, since the work may be in large scale plants, outdoor site etc.
Career prospects
Some people may have interest in  a particular industry after some years of experience . Areas like oil and gas, off shore, nuclear safety, etc.
If you feel free and happy in working for any organization, and its place of location  , this provides a great progress in your career.
If you have much experience,  you may move to  management of regional and group level . this gives an opportunity of being responsible to a team of advisors. You may also become a consultant , who gives special advice and support to other small industry.
Click to know the next NEBOSH batch date

NEBOSH IGC Batch – Mumbai
Course      : NEBOSH IGC
Batch        : APRIL 2018
TUTOR     : Mr. Sivaji Raghav
Click here to Enrol NEBOSH IGC training in Mumbai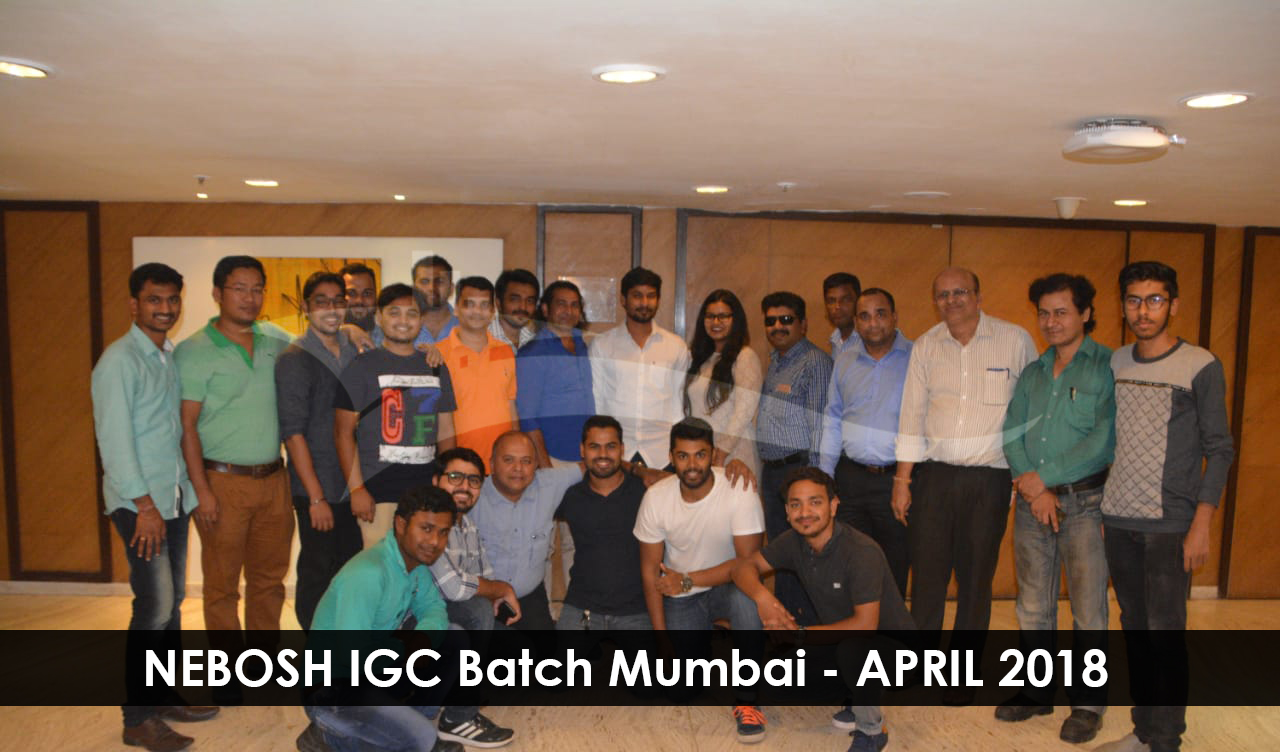 ---
For Enquiry & Enrollment:
Toll Free 1800 121 4246 | Whats App : +91 9791082789
---
Mrs. Priya Bose
Customer Relations – Manager
Mob : +91 8420399404
priya.b@greenworldsafety.com
---
Green World Management Consultants & Training Institute
Unit No. F- 215,
02nd Floor, Tower No. 07,
International InfoTech Park,
Vashi Station Complex,
Vashi, Navi Mumbai – 400 705.
Tel: 022 27814626.