National Examination Board in Occupational Safety and Health is an independent examination board, based on UK delivers vocational qualifications in management of health, safety and environment practices. It does not deliver courses directly instead, It forms the syllabus, examination pattern and other assessment methods and the courses are delivered through NEBOSH accredited providers in Delhi throughout the world. The NEBOSH qualifications are recognized by the world's largest professional body Institution of Occupational Safety and Health (IOSH) , International Institute of Risk & Safety Management (IIRSM), Chartered Institute of Environmental Health (CIEH), the Institute of Environmental Management and Assessment (IEMA). The NEBOSH qualifications range from Level 1 to Level 6.
Related Topic: How to pass NEBOSH IGC
What is Nebosh IGC course?
NEBOSH International General Certificate (IGC) in Occupational Health and Safety is a level 3 qualification by NEBOSH. It is an internationally recognized qualification, which provides a sound knowledge in managing health and safety issues. Risk, hazard management, and its controlling measures and Practical application the knowledge gained. NEBOSH IGC is one of the most wanted and popular qualification across the world for both the employees and employers. As it gives assurance to improve health and safety and boost the business.
Is the NEBOSH International Certificate course for me?
The NEBOSH IGC aims at people working in health and safety, people who wish to create their career platform in health and safety management. It is much suitable for managers, supervisors, and also people with responsibility of health and safety at workplace of all kind of industry. If you have roles and responsibilities in any international organization, this NEBOSH IGC is made for you to implement the safety measures of health and safety. The NEBOSH IGC has 3 Unit: Unit1, 2 are theories and the Unit 3 is practical assessment.
The course covers
The NEBOSH International Certificate is of three units:
Unit IGC1: Management of International Health and Safety
Unit GC2: Control of International Workplace Hazards
Unit GC3: Health and Safety Practical Application
How is the course assessed?
Each IGC1 and GC2 is descriptive exam of 2 hours and GC3 is a 2 hours practical assessment, in which a report should be submitted within few days after the sitting of NEBOSH exam.
Further qualification recognition
After the completion of this course, candidates may apply for the Technical membership of the Institute of Occupational Safety and Health (Tech IOSH).Many people do enjoy, this qualification, as it leads to proceed to NEBOSH International Diploma, to carry out life time career in health and safety.
Why you have to choose Green World Group Delhi?
Since 12 years of successful experience, Green World Group in Delhi provides a high standard of education in health and safety courses like NEBOSH course in Delhi, IOSH, Lead Auditor training courses, ROSPA approved HSE courses, NCFE courses, CPD Certified courses, HACCP food safety courses. With well experienced and qualified HSE tutors .The courses can be taken via: Class room, E-Learning, Virtual learning, Distance education which is suitable for people with different background, students, work going professionals, job seekers, etc.
NEBOSH Offer in GWG
As Green World Group celebrates the 800th NEBOSH batch , offers special packages in providing NEBOSH courses , which is cost – efficient and the free course in packages helps in profession as an additional qualification.
For NEBOSH Offer Click Here: NEBOSH Course Fees in Delhi
---
Nebosh IGC Course Training in New Delhi Batch- Jun'18
Course      : NEBOSH IGC
Batch        : JUNE 2018
TUTOR     : Mr. Sivaji Raghav
Click here to Enrol NEBOSH IGC training in New Delhi
Website: www.greenwgroup.co.in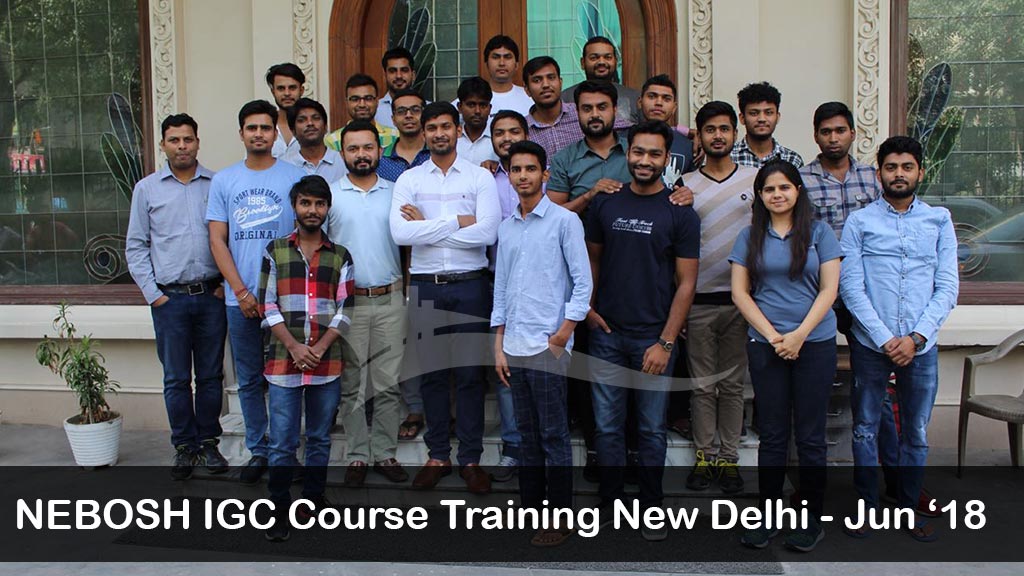 ---
OUR POPULAR SAFETY COURSES:
---
---