NEBOSH IGC DUBAI & ABU DHABI
Green World Group is now offering for Nebosh IGC in Abu dhabi
Green World Group Ramadan Kareem
Exclusive Early Bird Extended Offer!
NEBOSH IGC in Dubai & Abu Dhabi Weekend Classes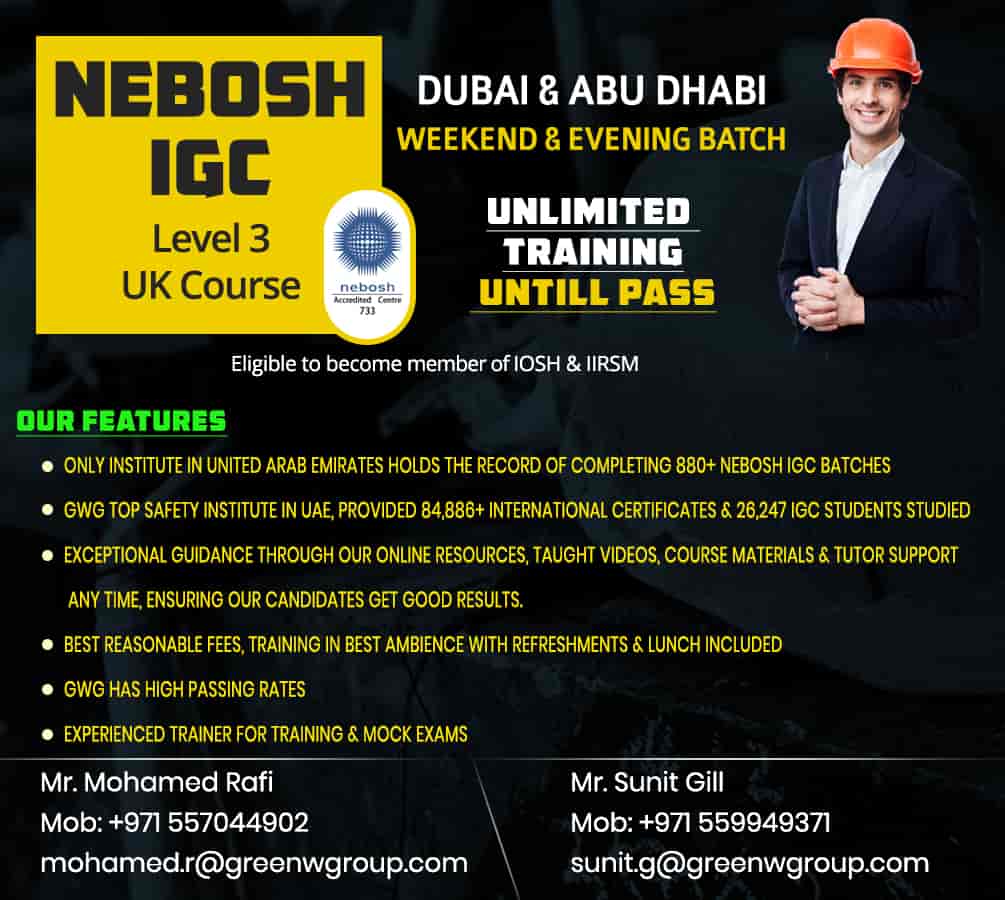 Mohamed Rafi
Product Specialist – Dubai
Mob: +971 55 7044 902
mohamed.r@greenwgroup.comSunit Gill
Product Specialist – Abu Dhabi
Mob: +971 55 9949 371
sunit.g@greenwgroup.com
9th June 2012 Green World Group successfully completed NEBOSH IGC evening batch at Dubai. Totally 15 candidates was participated in NEBOSH IGC training sessions from different leading organization from Dubai & Abu Dhabi
'During the session we provide in-brief the safety system and then refresh the candidates'
Highly interactive all the candidates shared their experiences with respect to safety systems & procedures. Video clips & case studies have been used successfully as a part of training session.
Excepting good percentage of pass result from this batch
Contact Details:
Mr. Mohamed Rafi (Product Specialist) | mohamed.r@greenwgroup.com
+971 55 9949 161
Mr. Sunit Gill – Mktg Executive|Marketing Lead |Green World Management
Email: sunit.g@greenwgroup.com | Mobile:+971 55 9949371
Address: # 101,102 First Floor,Sapphire Tower,Port Saeed,Deira Dubai,U.A.E
Website: www.greenwgroup.ae, www.greenwgroup.org