Dear all,
The National General Certificate is the most widely held health and safety qualification in the UK with over 150,000 people having gained the award since it was launched in 1989.
Who can take NEBOSH General Certificate?
Managers, supervisors and staffs from all types of organizations who need a broad understanding of health and safety issues. The certificate helps them manage risks effectively. Many people take the NEBOSH National General Certificate as a first step in a career in health and safety. It provides a valuable overview, and is a sound basis for further professional study.
"Open the door to safety: awareness is the key! NEBOSH is its destination"
Reasons for workplace safety:
Safety is important at a workplace, also because human resources are the most important resources of an organization.
Safety at a workplace, also known as office safety refers to the safety of this valuable resource of an organization.
Satisfied employees can earn for a company what money can't buy. Human life is priceless. It cannot be made up for, by monetary compensations.
An employer might be able to substitute an employee by another. But, not necessarily his dedication and expertise. That's why it's important for organizations to understand that human resources are its assets.
This is also a reason why employers should cater to workplace safety, and moreover, to the employees' lives.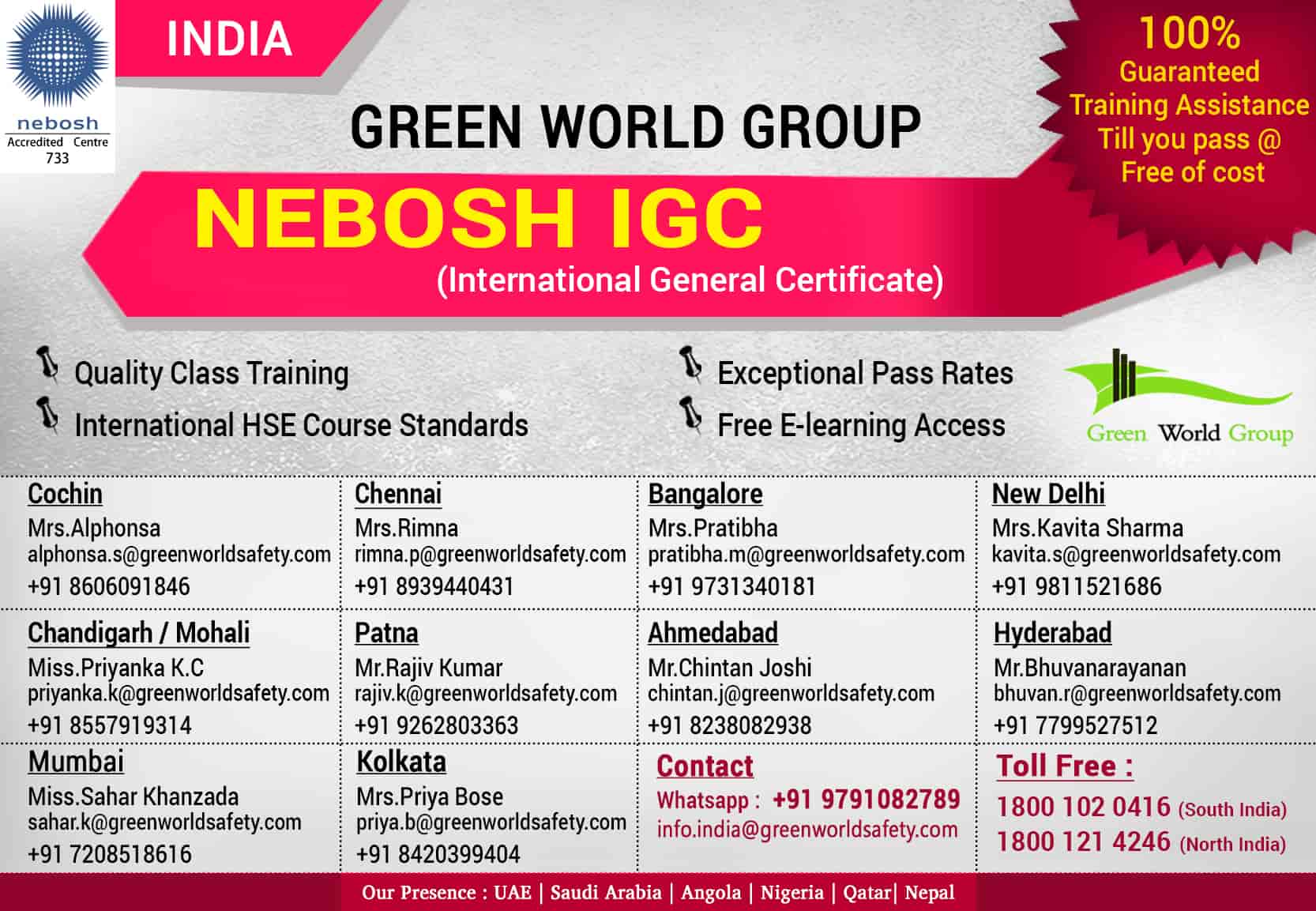 For more Details contact:
Miss. Pratibha | Marketing- coordinator | Green World Management
Address: Solo Cubes, Sanikams building 2nd floor,135, MIG, 60 feet road, 1st Cross Rd, KHB Colony, 5th Block, Koramangala, Bengaluru, Karnataka 560030
Mobile: +91 9731340181
Email: pratibha.m@greenworldsafety.com | Website: www.greenwgroup.com