Green World Group is one of the leading institutions offering internationally repute occupational safety and health courses. Tailor-made for industry workers, managers and supervisors, the institution offers training programme which are not only useful to enhance the knowledge and skills of workers to deal with safety standards at their work places, these courses are also helpful to get a suitable position in HSE industry. Some of the courses offered by GWG are NEBOSH, IOSH, HAZOP, HACCP and safety diploma courses to suit different industrial environments.
NEBOSH-IGC, a renowned HSE course on occupational domain, is formulated and certified by a UK-based independent board. The board doesn't conduct classes or training to desirable candidates but authorize select institutions across the globe to do the same. NEBOSH-IGC course syllabus helps individuals to enhance their skills on workplace safety measures and management.
Green World Group is conducting NEBOSH-IGC in mumbai,India. Students get relevant practical and theoretical understanding of workplace safety and ways to deal with various hazardous situations existing in working environments. The course also helps them to get a suitable job across the world as HSE professionals are in great demand.
For other safety courses Offer and Details Please Click: http://www.greenwgroup.com/mumbai-course-details
Enroll NEBOSH IGC with GWG & Attain Globally Approved Dual Level-3 HSE Qualifications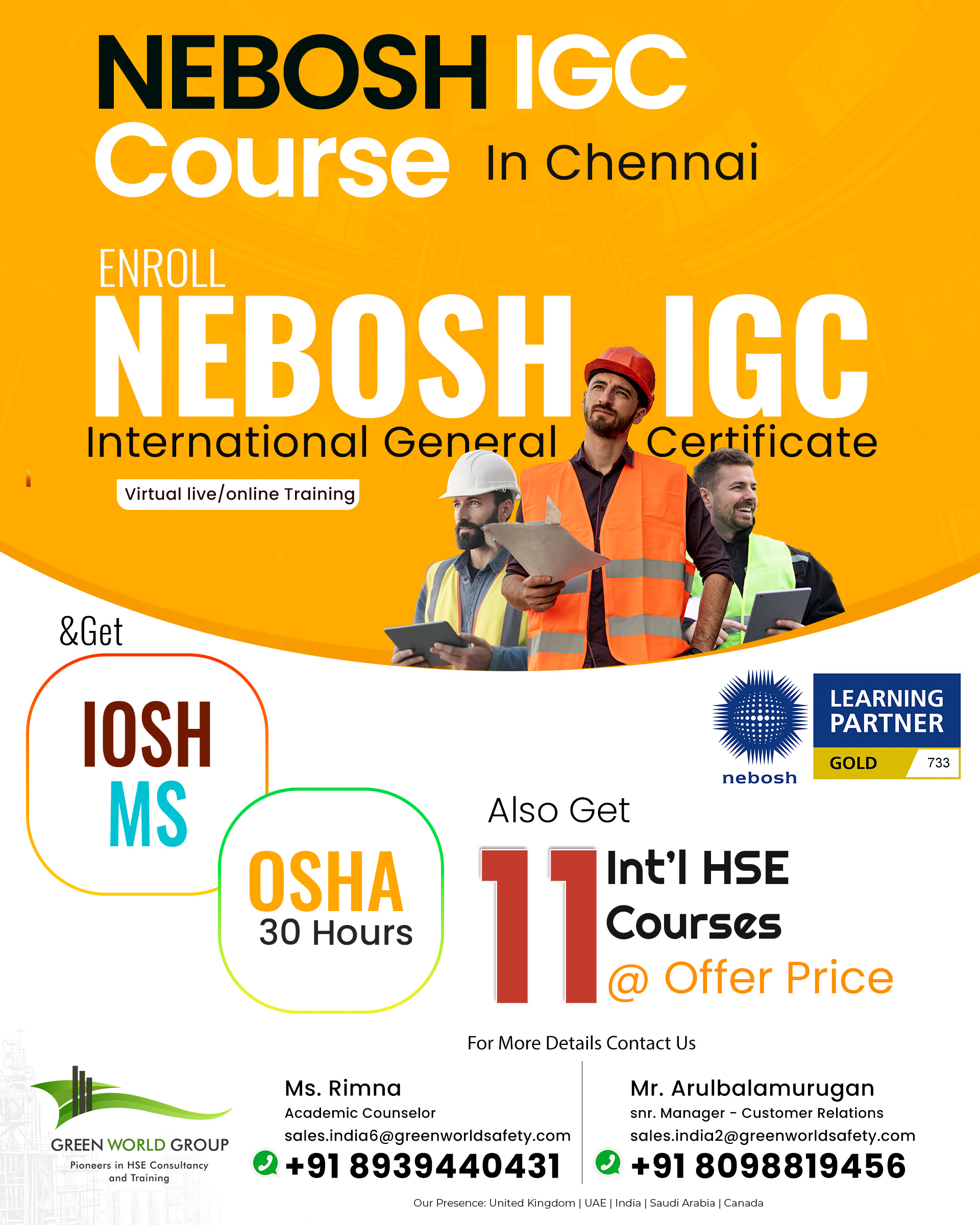 ---
For other safety courses Offer and Details Please Click: Safety course  in Mumbai
Miss. Sahar Khanzada
Academic Counsellor
sahar.k@greenwgroup.com
+91 7208518616
---
Green World Management Consultants & Training Institute
Unit No. F- 215, 02nd Floor, Tower No. 07,
International InfoTech Park,
Vashi Station Complex, Navi Mumbai – 400705
Tel :+022 27814626.
info.india@greenworldsafety.com
info.india@greenwgroup.com
Website: www.greenwgroup.com
---
For Enquiry & Enrollment:
Toll Free 1800 102 0416 (South India) | 1800 121 4246 (North india) | Whats App : +91 9791082789
---