One of the highly revered safety and health courses in the world, National Examination Board in Occupational Safety and Health (NEBOSH), offered by a UK-board, is available with Green World Group education centre in New Delhi. The course is specially designed for workers who are exposed to workplace dangers, risks and health hazards and also for students who want to become HSE professionals.
The 18-days NEBOSH-IGC course can change the career course of students and working professionals in New Delhi as, after the successful completion of course, they will be regarded as occupational safety and health experts and are fit to be inducted as HSE professionals in any kind of industry environments.
NEBOSH IGC helps students to improve their practical and theoretical knowledge on managing workplace safety, and wellbeing and environmental aspects of employees.
As NEBOSH IGC course is internationally well recognised, those who are equipped themselves with NEBOSH certification can be absorbed by employers in India and abroad to manage HSE-related issues. In Delhi, the job prospects of NEBOSH IGC professionals are high as occupational safety and health assumes great significant due to increase in number of workplace accidents.
Employers prefer to appoint them as these professionals come with rich knowledge and skills to handle any type of situation and can take preventive measures to safeguard workers and machinery against disasters and mishaps. Also, NEBOSH-certified workers have bright career prospects than others.
When a student or worker joins NEBOSH-IGC course in Green World Group in New Delhi, a complementary e-learning access is given to ensure that he or she gets basic knowledge on the subject prior to the start of the programme.
Green World Group in New Delhi has been educating and spreading awareness on occupational safety and health among workers belonging to different industries and work environments. Students are given a thorough understanding on occupational safety standards and procedures used to protect men and machinery.
The training programmes are offered to both skilled and un-skilled workers at GWG and participants are taught by tutors who are domain experts in the field of workplace safety and health. Students and workers are provided with state-of-the-art classroom environment and facilities to complete the course within the stipulated period.
Green World Group, with its tailor-made training programmes, has been coaching students across various countries who want to become HSE professionals.
Some of the safety and health courses offered in Green World Group's New Delhi chapter are NEBOSH, IOSH, ADOSHEM, NEBOSH IGC, and also diploma training programmes covering all safety and health aspects of industries in New Delhi. GWG also educates students and workers through e-earning and distance education methods.
700th BATCH OFFER !!
GET FREE TRAINING UNTIL YOU PASS THE EXAM !
INR 48,999/-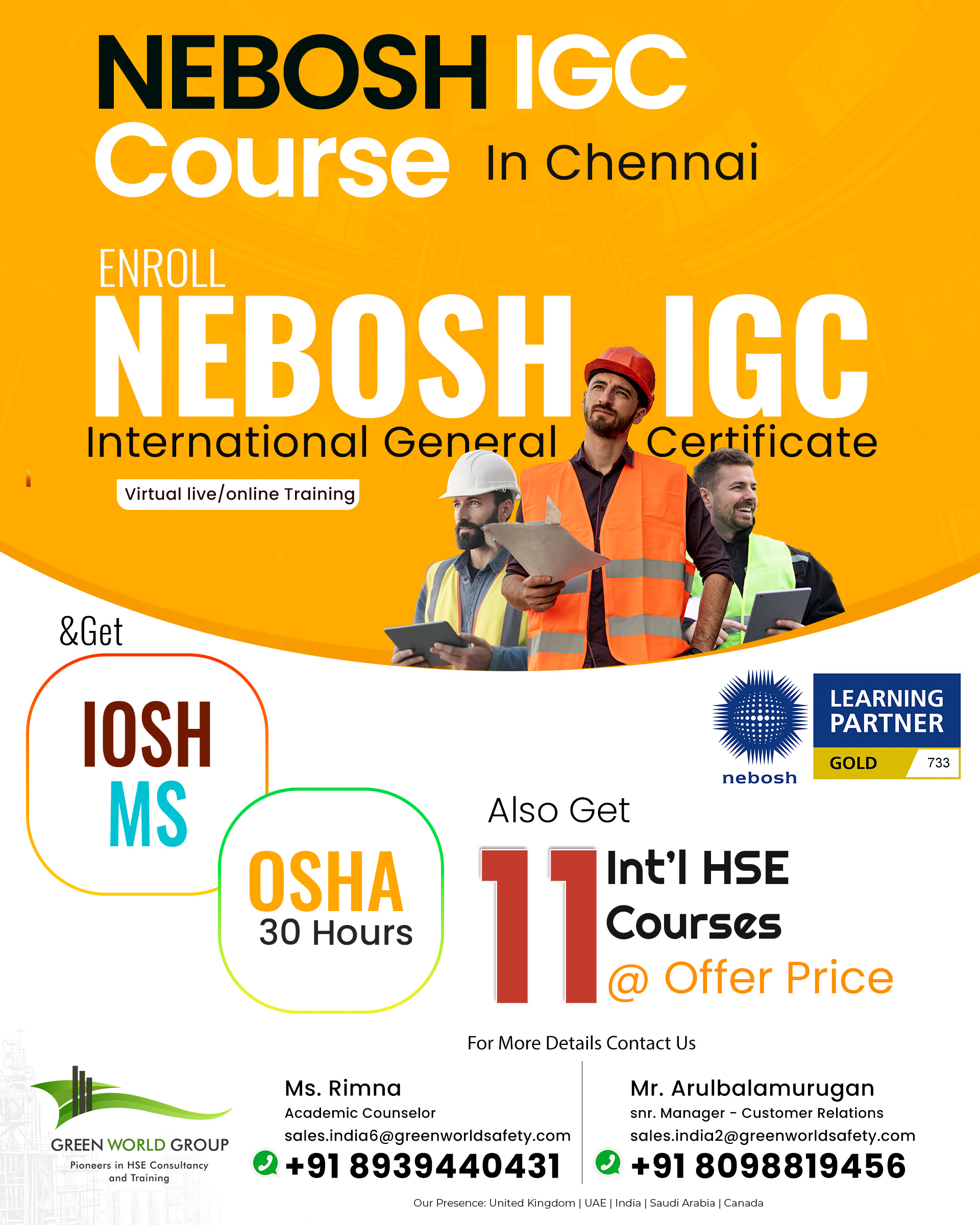 ---
Mrs. Kavita Sharma
ACADEMIC COUNSELLOR
Mob: +91 9811521686
kavita.s@greenworldsafety.com
---
For Enquiry & Enrollment:
Toll Free 1800 1020 416  (South India) | 1800 121 4246 (North india) | Whats App: +91 – 9791082789
---
Green World Management Consultant & Training Institute
# 302, Third Floor,15A/44 Partap Chamber,
Saraswati Marg,W.E.A Karol Bagh,
New Delhi – 110 005
Tel :+011 47920046
info.india@greenworldsafety.com
Email: info.india@greenworldsafety.com
Website: www.greenwgroup.com
---