850th BATCH OFFER !!
NEBOSH Students Career Statistics
The Facts from NEBOSH:
98% of surveyed NEBOSH Students would recommend the qualification to others:
67% cited improved confidence and knowledge.
32% felt they gained more responsibility.
26% consequently found a new job with a different company.
21% received a salary increase.
15% went on to acquire a professional body membership.
11% received a promotion.
7% changed job within the same company.
Reading Between the Lines:
1 in 5 students who took the IGC saw a salary increase.
1 in 10 students received a promotion due to completing their IGC.
A quarter of all IGC students used their qualification to gain employment in a new company.
At lowest cost affordable to candidate when compared with other providers in India!
GET FREE TRAINING UNTIL YOU PASS THE EXAM !
Quality Class Training
International HSE Course Standards
Exceptional Pass Rates
Free E-learning Accessf
Lowest Fees Compared to Other Institute with Lots of Benefit & Features
Click to know the next NEBOSH batch date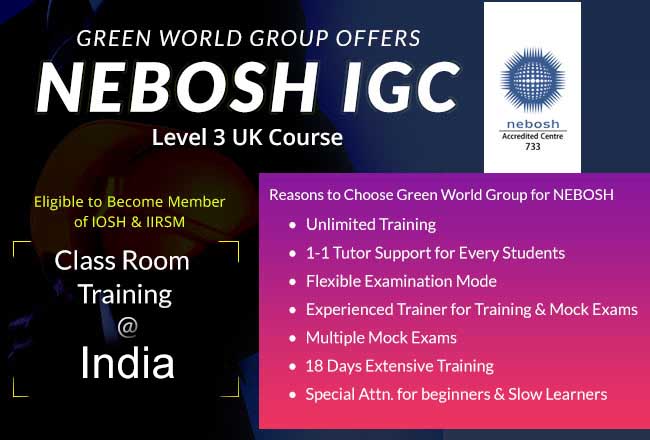 ---
For Enquiry & Enrollment:
Toll Free 1800 102 0416 (South India) | 1800 121 4246 (North india) | Whats App : +91 9791082789
---