The Importance of Workplace Lighting
Safety at work is one of the biggest concerns for any business owner. The lighting of any property can hugely influence personal well-being and health, motivation and performance.
In the workplace lighting has to meet occupational health and safety requirements. What has to be taken into consideration when it comes to office lighting is not just the aesthetics of how the lighting is incorporated into the building but the impact it has on the workers and in turn the business.
The first and most obvious reason for high quality lighting is how light can eliminate workplace trips and falls. The better lit an area is the safer it is, and if all workers can clearly see any hazards the easier it is for them to avoid them.
NEBOSH IGC – Hyderabad
Enroll NEBOSH IGC with GWG & Attain Globally Approved Dual Level-3 HSE Qualificatios !!
Only Limited Seats.. Hurry Up for Early Booking
GET FREE TRAINING UNTIL YOU PASS THE EXAM !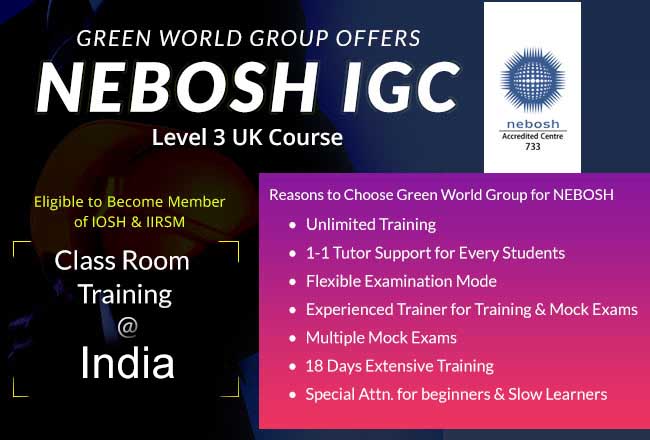 ---
Mr. Bhuvanarayana
bhuvan.r@greenworldsafety.com
+91 7799527512
---
Green World Management Consultants & Training Institute
12-1-22, Basement Floor (Below State Bank of India)
Near Hotel Green Park, Vishakhapatnam – 530002
Tel: 0891 2534838
Email: bernard.y@greenwgroup.com
Website: www.greenwgroup.com
---
For Enquiry & Enrollment:
Toll Free 1800 300 20676 (South India) | 1800 121 4246 (North india) | Whats App : +91 9791082789
---
INDIA| UAE | SAUDI ARABIA | OMAN |NIGERIA | ANGOLA|
Stay Connected:
Visit Us: Facebook Follow Us:Twitter Follow Us:LinkedIn Visit Us:Google Plus