The NEBOSH International General Certificate in Occupational safety and Health is a globally recognized health and safety qualification from an established independent examination board with over 25 years experience in providing up to date and relevant examinations. The NEBOSH International General Certificate has been designed for managers, supervisors, worker representatives and others who require a basic knowledge and understanding of health and safety principles and practices.
The NEBOSH International General Certificate covers a range of workplace hazards and methods of control. It includes international standards for safety and health management including International Labor Organization codes of practice. Local laws and cultural factors may form part of the study program where relevant and appropriate
NEBOSH IGC – DUBAI & ABUDHABI
Two Level 3 U.K Certif ications in One Package
Join with us Today! To become a Level 3 HSE Professional
NEBOSH IGC – Dubai & Abu dhabi
So far we achieved NCFE Level 3 with 100% Result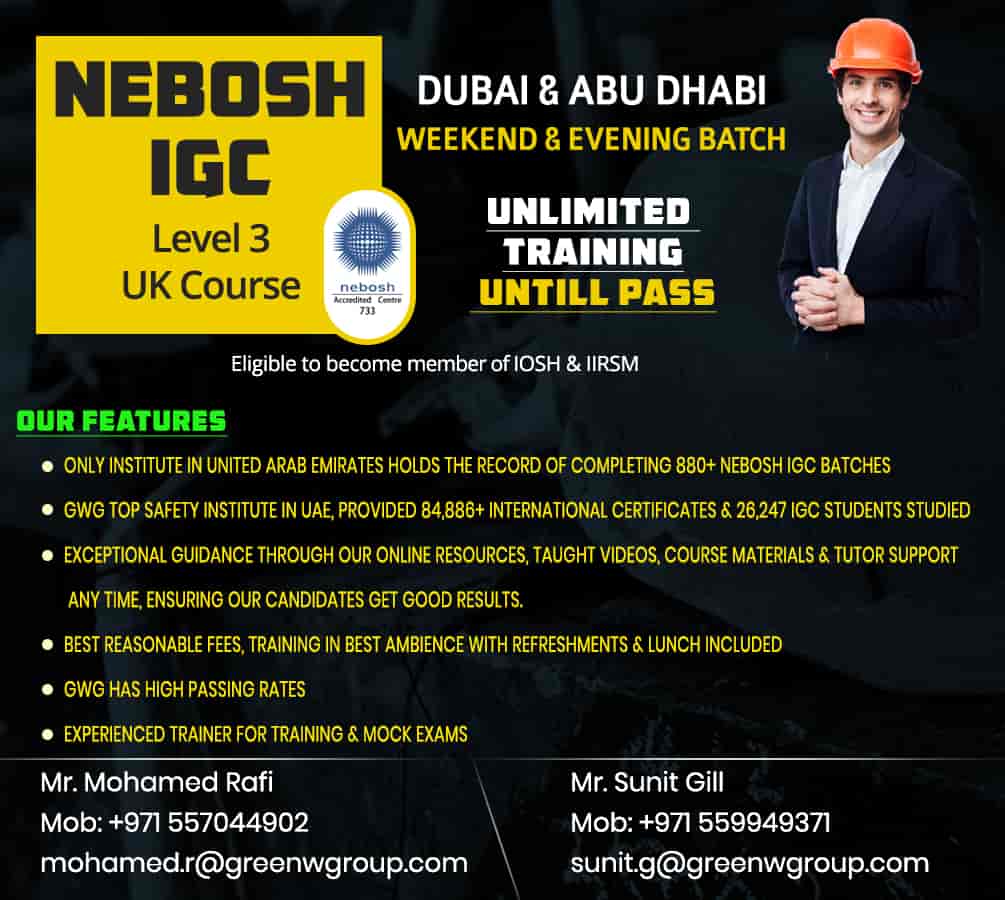 ---
Under IGC 1 following topics will be covered
Ø       Foundation in Health & Safety Ø       Policy Ø       Organizing for Health & Safety Ø       Promoting positive Health & Safety Culture Ø       Risk Assessment Ø       Principles of Control Ø       Monitoring, Review & Audit Ø       Occupational Incident and Accident, Recording and Reporting.
 Under IGC 2 following topics will be covered
Ø       Movement of people & vehicles – Hazards & Control Ø       Manual & Mechanical Handling – Hazards & Control Ø       Work Equipment – Hazards & Control Ø       Electrical Hazards – Hazards & Control Ø       Fire – Hazards & Control Ø       Chemical & Biological Health – Hazards & Control Ø       Physical & Psychological Health – Hazards & Control Ø       Construction Activities – Hazards & Control
Green World Safety and Security Consultancy LLC
Suite #102,
First Floor, Sapphire Tower,
Near Dnata, Deira, Dubai PO Box -83127
Phone No: +971 42698807
Call Us on +971 557044902
Email us at info@greenwgroup.com
---
ACADEMIC COUNSELLOR – DUBAI
Mohamed Rafi
Mob: +971 557044902
mohamed.r@greenwgroup.com
---
ACADEMIC COUNSELLOR – ABU DHABI
Sunit Gill
Mob: +971 559949371
sunit.g@greenwgroup.com
Website: www.greenwgroup.ae
INDIA| UAE | OMAN |NIGERIA | ANGOLA
Website: www.greenwgroup.ae, greenwgroup.org
---