NEBOSH Exclusive OFFER!!!
At lowest cost affordable to candidate when compared with other providers in India!
GET FREE TRAINING UNTIL YOU PASS THE EXAM!
Click to know the next NEBOSH batch date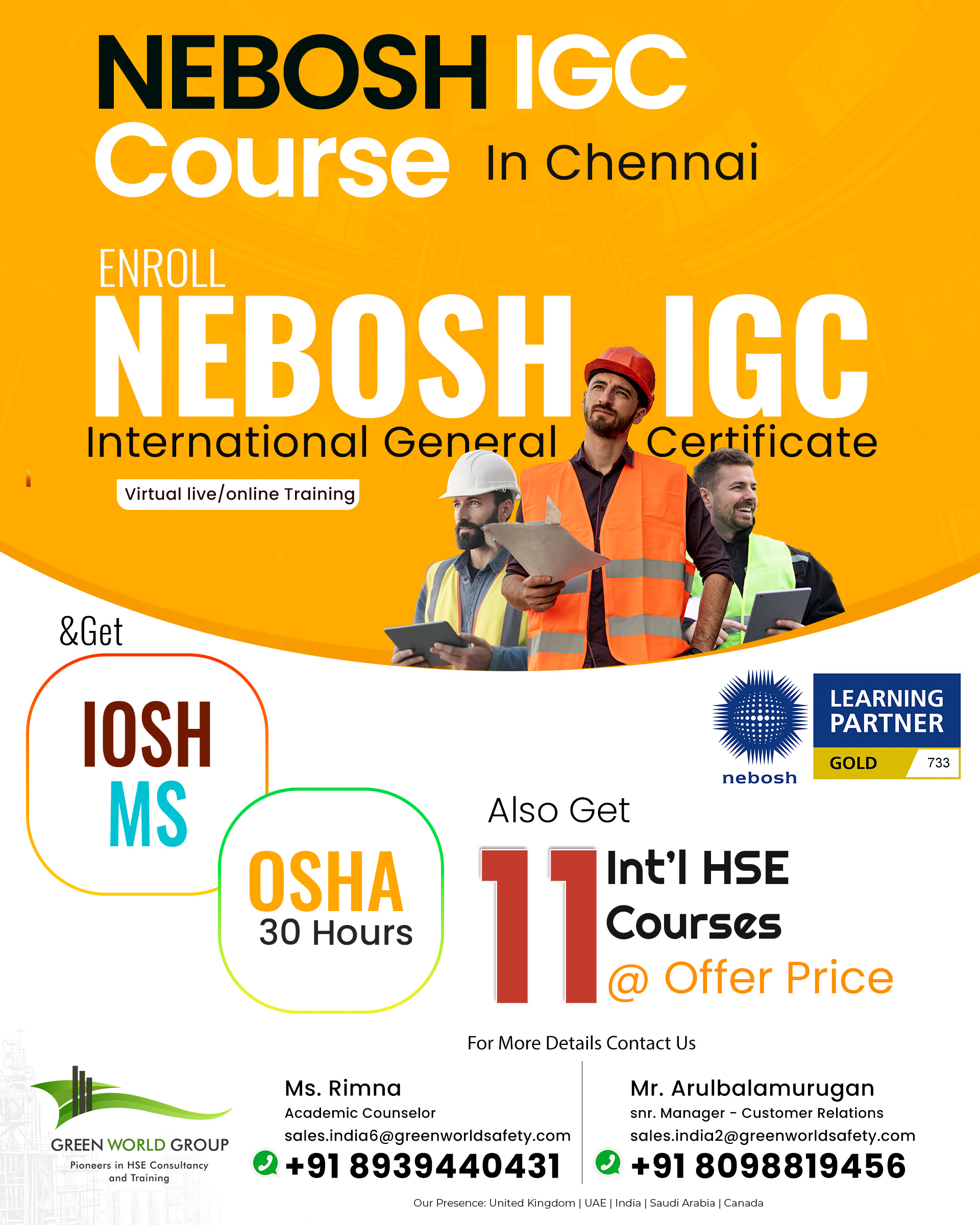 ---
Just few seats available!!
NEBOSH IGC contains three units:IGC1,GC2,GC3, in which these three units should be accessed independently.
Each of the two units IGC 1 and IGC 2 will comprise a number of elements:
Unit IGC1 – Management of international health and safety
1. Foundations in health & safety
2. Policy
3. Organising for health & safety
4. Creating a positive ambiance in workplace
5. Risk assessment
6. Principles of control
7. Monitoring; review and audit
8. Occupational incident and accident investigation, recording and reporting
Unit IGC2 – Control of international workplace hazards
1. Movement of people and vehicles – hazards and control
2. Manual and mechanical handling – hazards and control
3. Working equipment hazards and control
4. Electrical hazards and control
5. Fire hazards and control
6. Chemical and biological health hazards and control
7. Physical and psychological hazards and risk control
8. Construction activities – hazards and control
Unit IGC3 – International health and safety practical application
1. Assess a candidate's ability to conduct a safety inspection of a workplace and identify its hazards.
2. After identification of the hazards, prepare a report to management to convince them to take appropriate remedial actions to rectify the hazards.
Unit Assessment (Exam)
Units IGC1, GC2 and GC3 are each assessed by a 2-hour examination. All questions are compulsory. To be awarded the certificate from NEBOSH UK, candidates must successfully complete (pass) all these Units.
Further Recognition
The International General Certificate qualification meets the academic requirements for Technician Membership (Tech IOSH) of Institution of Occupational Safety and Health (IOSH) and Associate membership (AIIRSM) of the International Institute of Risk and Safety Management (IIRSM). Membership is subject to meeting Tech IOSH and IIRSM requirements.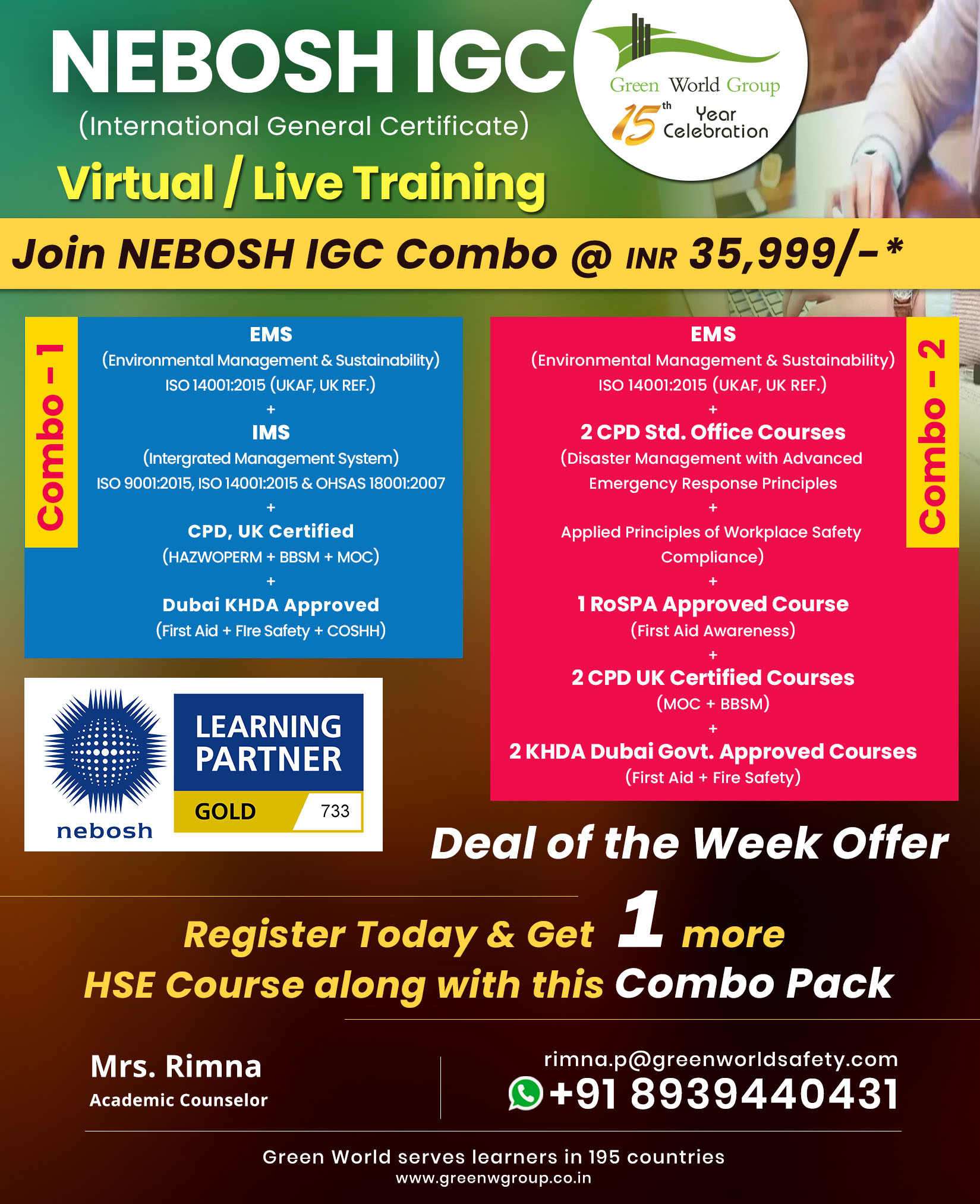 What is the IOSH Managing Safely?
IOSH Managing Safely course is a basic qualification in safety and health for managers and supervisors in all organisations. The goal is to assure, the safety requirements are being appreciated by all employees from line managers and enable others to know -how their own safety materials in various departmenpts. introducing new controls or implementing changes as appropriate to make their workplace safer.It provides not just managers and team leaders, but also employees the knowledge they need to ensure safety in the workplace and to help prevent accidents
Safety at work is fundamental to the success of any business. Managers , supervisors  and employees who have a sound knowledge of safety principles are essential.
Course Objectives
Upon attendance, the course will provide delegates with the knowledge and tools to tackle the health and safety issues for which they are responsible. Most importantly the course demonstrates just why health and safety is such an essential part of the job role.
In order to increase the safety measures with high standards and maintaining it among the people at workplace, it is done by means of encouraging , making it easier and practicing it in good manner.
The IOSH  Managing Safely course covers the health and safety management basics. The knowledge gained from the course facilitates effective and safe management, which is in line with best practice.
By the end of the course delegates will have acquired capabilities to:
apply basic management principles to safety and health issues
recognise safety and health hazards in the workplace
ensure that adequate health and safety training and supervision of staff is provided
identify what actions should be taken when incidents involving injury or damage occur
Ensure that adequate information, training and supervision are provided for employees.
communicate effectively on safety and health issues
IOSH Managing Safely Course Assessment

Assessment of the Managing Safely IOSH course will be done by:
An objective (short answer) test
A practical assessment in the workplace
Every candidate must prepare a report on real time scenario risk assesment.All questions are compulsory.On successful completion of the IOSH Managing Safely course and the assessed work, candidates will receive their IOSH Managing Safely certificate.
For more information about our courses and offers or to join for IOSH Managing Safely course, please contact the below address :
OSHA 30 – HR. CONSTRUCTION OUTREACH TRAINING COURSE
The OSHA 30 Hour Construction Industry Outreach Training course is a comprehensive safety program designed for anyone involved in the construction industry. Specifically devised for safety directors, foremen, and field supervisors; the program provides complete information on OSHA compliance issues. OSHA recommends Outreach Training Programs as an orientation to occupational safety and health for workers covered by OSHA 29 CFR 1926. Construction workers must receive additional training, when required by OSHA standards, on specific hazards of the job. Upon successful completion of the course, participants will receive an OSHA 30-Hour Construction Outreach Department of Labor course completion card within 4-6 weeks
Learning Outcomes:
Locate OSHA Standards references applicable to specific hazardous conditions and practices (Introduction to OSHA Standards)
Recognize the aspects of 1926 Subpart C (General Safety and Health Provisions)
Implement preventative measures for accidents in their workplace (Subpart D- Occupational health and Environmental Controls)
Describe types of personal protective equipment (PPE), and the requirements for use in OSHA standards (Subpart E- Personal Protective Equipment)
Understand the requirements for fire protection in the workplace (Subpart F- Fire Protection and Prevention)
Identify types of rigging equipment used to protect employees (Subpart H- Rigging; Subpart N- Cranes and Rigging)
Identify the critical health and safety hazards of welding and cutting in the construction industry (Subpart J- Welding and Cutting)
Identify common electrical hazards and related OSHA standards (Subpart K- Electrical Standards)
Understand the importance of scaffolding for workers in elevated workplaces (Subpart L- Scaffolding)
Implement measures for protecting workers and equipment from dangerous falls (Subpart M- Fall Protection)
Recognize the hazards associated with working in or around excavation sites (Subpart P- Excavations)
Understand the safety requirements necessary to protect workers around concrete and masonry jobs (Subpart Q- Concrete and Masonry)
Identify the precautions and hazards to protect workers using explosives or blasting agents (Subpart T- Demolition)
Protect workers who perform jobs on or around stairways or ladders at worksites (Subpart X – Stairways and Ladders)
List and describe the hazards and prevalence of confined spaces
---
OUR POPULAR SAFETY COURSES:
---
---