Green World Group is the most trusted health and safety institute in Patna. GWG provides a variety of safety courses like NEBOSH, IOSH, RoSPA, OSHA, ISO 45001, Safety Diploma, Industrial safety courses in Patna. Let's learn more about the NEBOSH courses in Patna from Green World Group.
Green World Group is one of Patna's most reputable health and safety Institutes. GWG offers a wide range of safety courses in Patna, including NEBOSH, IOSH, RoSPA, OSHA, ISO 45001, Safety Diploma, and Industrial safety training. Let's find out more about Green World Group's NEBOSH courses in Patna.
At lowest cost affordable to candidate when compared with other providers in India!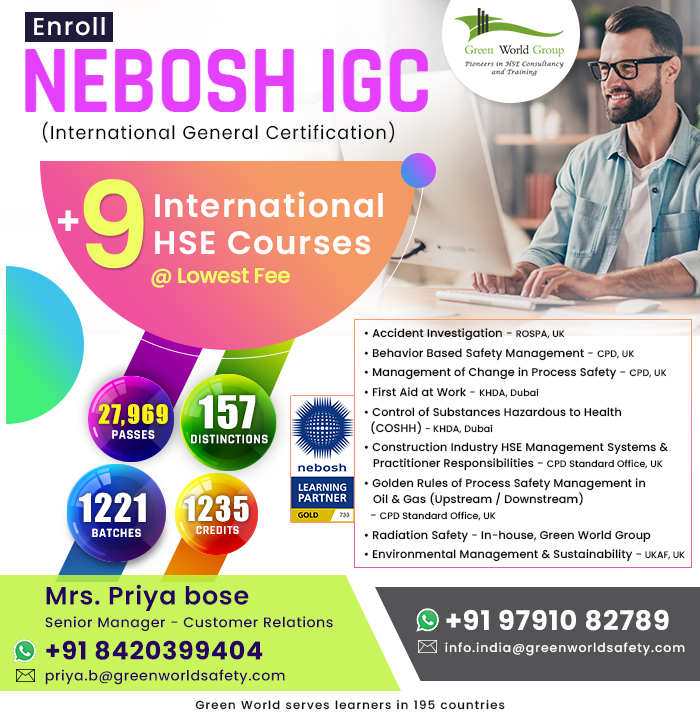 NEBOSH Courses in Patna
Green World Group is accredited by the NEBOSH developed by the United Kingdom, and GWG is a Certified Gold Learning Partner with 1220+ NEBOSH Training Batches delivered to date. NEBOSH, including as are offering more safety courses
Green World Group is always striving to raise the bar regarding training delivery and quality at Nebosh IGC. Because, GWG achieved 1220+ Batches, 150+ Distinctions, 1230+ Credits & 27,960+ Successful Pass rates.
Green World achieved over 923 learners currently on NEBOSH international diploma based on the finest result ever in the market.

Safety Diploma Courses in Patna:
Green World Group also offers Safety Diploma Courses in Patna. GWG will educate you on how to keep safe in any dangerous circumstance. As a result, Safety Diploma Courses are more vital.
Let us go through the essential Safety diploma courses in Patna:
Green World Group has taught millions of industry professionals throughout the world while adhering to the principles of honor and integrity, and it collaborates with various internationally renowned organizations.
Benefits of Good Health and Safety Management at Workplace

Reduce accidents loss
Safety of workers, their health, and well beings.
Build confidence among the workers, thus Increasing productivity efficiency at the workplace.
Increase the profile reliability of the organization to customers, clients, insurers, etc.
Health and safety management ensure that people at the workplace are safe and protected, risks and hazards are averted.
Get International Health and Safety certification with a discounted offer at Patna at Green World Group.
---
Learn more about the NEBOSH Course Fee in Patna, Don't Hesitate to Call

---
For Enquiry & Enrollment:
Toll Free 1800 121 4246 (North india) | Whats App : +91 9791082789 |
Email : info.india@greenworldsafety.com
---
GREEN WORLD MANAGEMENT CONSULTANTS & TRAINING INSTITUTE
Shop No. 112, First Floor,
Patna Market, P.S. Sabzibagh,
Patna, Bihar – 800004
Tel : 0612-2300338
E-mail: info.india@greenworldsafety.com
---
Ask Your Queries