Every workplace should be prepared adequately to prevent potential disasters, dangers and accidents or reduce its impact when it strikes unexpectedly. Disaster management system should be an important functionality of the occupational health and safety team in any industrial environment who are there to formulate strategies and introduce various healthy practices and procedures to safeguard workers from dangers and hazards.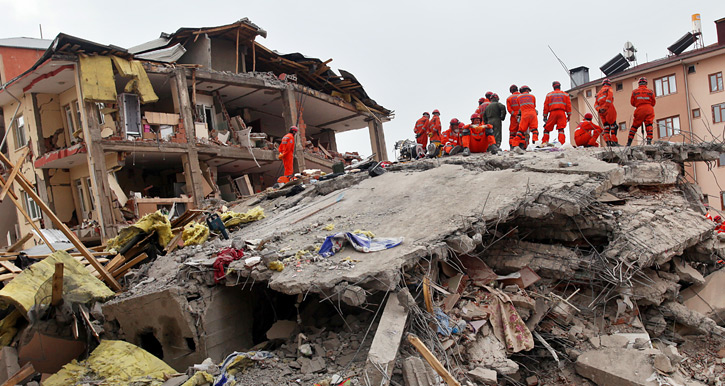 Workplace Disaster Management
Industries and enterprises where hundreds of workers engage in different types of activities may face the threat due to sudden fire, fall from elevated places, get injured while handling heavy equipment, inhale poisonous gases, or become sick due to unhealthy work conditions. To prevent workers becoming the victims of unsafe workplaces, managements hire competent safety professionals who are talented and experienced to manage any sudden unpleasant developments at work sites and take appropriate action to reduce its impact on workers.
Emergency Planning
As disasters at workplaces can strike any time, the HSE team should always be geared up to undertake quick and responsive action to prevent the disaster or accident taking its heavy toll on workers, machinery and properties. There should be a threadbare planning to meet the emergency and safety managers install fool-proof system to meet any contingency issue. In case of crisis, the quick response team takes the centre stage and offer preliminary assistance and medical care to the affected before rushing them to the nearby healthcare centre in shortest possible time.
Role of HSE experts in Disaster Management
Industries look for Health, Safety and Environment specialists to deal with emergency situations such as accidents, disasters like fire or employee sickness and effectively plan strategies to prevent shutdowns and losses.
HSE experts are highly qualified and certified by internationally repute safety institutions such as NEBOSH and IOSH and are hired by industries as safety managers, health and safety officers, independent HSE administrators, or safety auditors, who regularly monitor all safety procedures, introduce new safety regulations or strategy, strive to increase awareness on workplace safety, and keep their trained personnel on high alert to deal with emergency situations.
How to become Disaster Management Experts
Students and those who are currently employed in any work condition, can become safety professional and engage themselves as successful disaster management experts. Green World Group, a pioneer educational institution offering industry specific safety course, offers several internally recognized diploma and certification courses for candidates around the world though its state-of-the-art training centres spread across several countries.
Students can choose the best safety course to suit their interest and ambition and pursue their studies to become accredited safety professionals. The scope for disaster management and emergency planning experts are vast and lucrative as individuals having safety certifications from highly rated institutions such as NEBOSH and IOSH are preferred by industries of all sectors.
For more details Contact us,
Toll Free : 1800 300 20676
Whatsapp : 97910 82789
Mail­_id : info.india@greenwgroup.com
Website : http://greenwgroup.co.in/