Any tool such as hoe, fork, and spade or with whatever, that you have to take action to control the health and safety risks in your workplace except where the cost of doing so is' grossly disproportionate' to the reduction in the risk. You can work this out for yourself, or you can simply apply accepted good practice ('Reasonably Practicable'- HSE executive).
Across – the board, warehousing and storage cover a myriad of great bustle that can result in various hazards and risks. We must therefore, acquiesce in the necessity to devise health and safety management to protect the asset, premises, reputation, employees, furthermore the public from harm. Hazards found in warehouses are slip and trips; manual handling / musculoskeletal disorders; work at height, vehicles in and around, noise, vibration, storage systems, mechanical handling and electrical safety. The management of Health and Safety at work regulations 1999 requires the employers to put in place, the appropriate health and safety arrangements by having an effective health and safety management system in place in a healthy environment for the employees and visitors, along with adequate welfare facilities.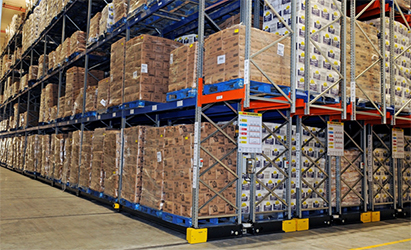 Design and Layout
Warehouses should be laid out with good design of storage areas, aisles, gangways, pedestrian traffic routes, staircases and ramps and emergency escape routes which can help reduce the risk of accidents. A workroom to be designed with a minimum space of 11m3 per person is recommended. Suitable toilet and washing facilities with required amenities and facilities also to be provided with the average ratio of 100:5:5:4 the number of people at work: number of toilets: number of wash basins: number of urinals subsequently. There should be separate and adequate facilities for resting and eating to be provided with drinking and non-drinking water supply in good hygienic condition.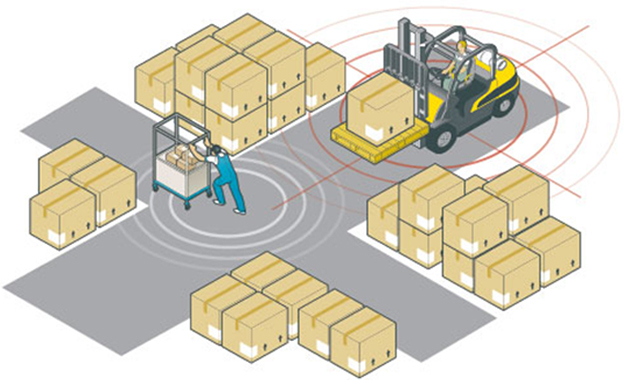 Floors and walkways to be laid out with effective drains and channels and to be anti-slip vinyl treated. Stairs should have adequate handrails and clearly visible anti-slip nosing. The fixed low voltage electric installations should be complying with BS7671 requirements. All electrical switchgear and control gear should be clearly labeled and readily accessible at all times. Residual current protection on supplies (rated not exceeding 30mA) to socket outlets and distribution boards should be provided to provide permanent protection. The most relevant classes of electrical equipment's which should be used in the warehouses are Class I and Class II. It is advisable to use the lower voltage equipment's (110volts) and ATEX certificates for the explosive atmosphere. According to the Health and Safety (First Aid) regulations 1981, adequate and appropriate first-aid equipments and facilities should be provided.
Heating, Lighting and Ventilation
The specific ventilation requirements will vary according to the presence of combustion equipment or plant, vehicles used and the type of stored materials. Typically the warehouse temperature should be set at least 160 C and where the work involves severe physical efforts the temperature should be at least 130 C. There is some specific storage temperatures should also be provided according to the requirements of the storage materials such as the main bands are 40C or 50C for chill storage and -200C to -300C for frozen goods.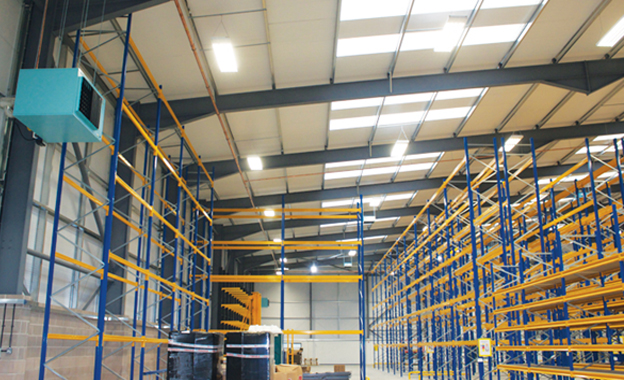 The means of opening windows, skylights should be designed and constructed to enable the cleaning safely with central pivots and the bottom edge to be at least 800mm above the ground level. To prevent pedestrians walking into transparent materials, appropriate markings, screens, barriers and vision panels to be installed. Good lighting, whether natural or artificial, is vital in promoting good visibility. Lighting should be provided without flickering effect or shadows or glare. The average luminance for the corridors and parking should be 20 lumens, in the loading bay it should be 50 lumens, in general operational area it should be 100 lumens and in offices it should be the minimum of 200 lumens.
Safety Systems
According to BS EN61496, beyond the safe systems of work by the regular risk assessments, permits and routine maintenance, some technical safety systems are also used in the operations. Conventional perimeter fencing, access gates with interlocking devices, powered mechanical doors, emergency ventilation system, trapped man alarm and ammonia alarm systems, hydrant facilities for fire fighting, spill kits, battery-operated emergency lighting, etc are few examples of the basic safety systems in place. Electro-sensitive safety systems are used as trip devices to detect the presence or approach of people near the dangerous parts and to detect the violation of crossing the zones Photo- Electric (PE) safety systems and Pressure sensitive mats are used. The suitable Personal Protective equipments according to the standards ISO11079 and BS EN ISO 9920 such as respiratory protection, goggles, quilted jackets and trousers or coverall, light weight gloves, safety boot for normal warehouse environment, thermal undergarments, salopettes with knee protection, gloves with thermal liners, insulated safety boots with thermal socks, safety helmet with thermal liners, thermal balaclava and thermal hood for chill and frozen environment to be provided.
---
Load safety!
Download Health!
---
Article written by:
Ananth Tamilmaniarasu
HSE Trainer.