Tough new laws on health and safety have forced employers to raise safety standards and manage health risks more effectively. This programme offers comprehensive training in all aspects of safety management and occupational health and safety law, as well as in safety-related financial management and computer technology.
increasingly complex work processes and changes in working conditions, together with the resulting new or changing types of hazard, there is a need for a new and systematic approach to manage safety and health at the workplace.
The overall aim of the programme is to produce an individual with competence across the core disciplines of occupational safety and health. In particular, the course aims to provide an individual the necessary skills for managing occupational safety and health. Managing OSH will provide a safe working conditions as well as enhancing productivity, operational effectiveness and good morale.
Careers: loss control officer, safety officer, risk control officer, loss control training office, HSE Manager.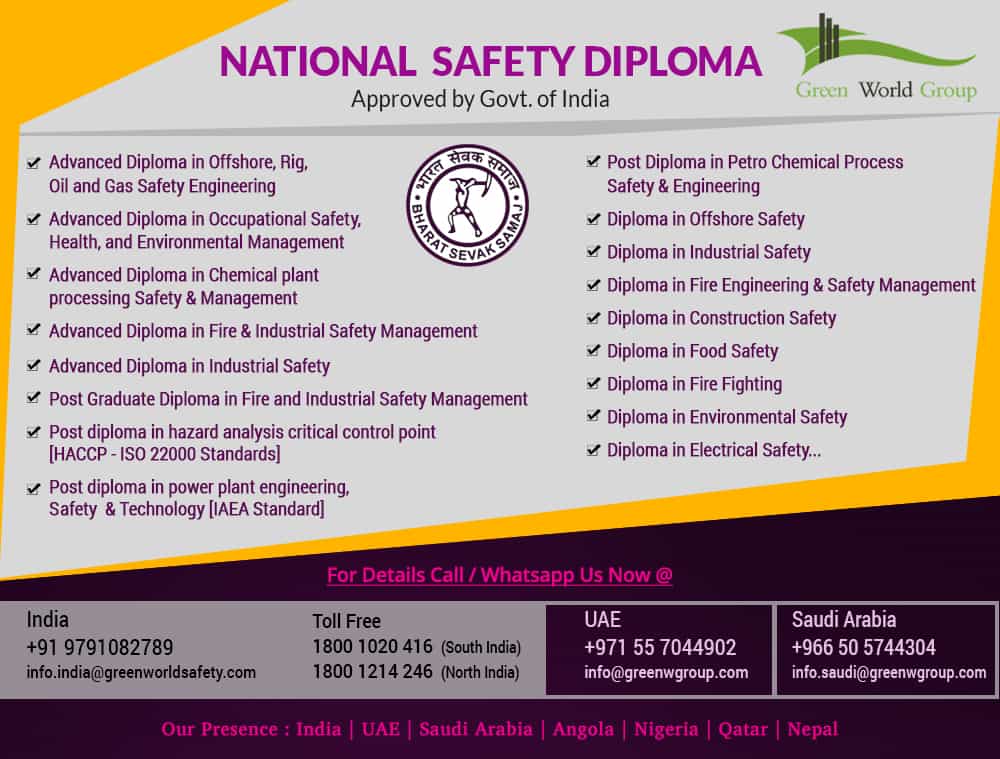 Syllabus
Five theory papers only & Practical assessment
Paper 1: INTERNATIONAL MANAGEMENT FOR HEALTH AND SAFETY – I
Paper 2: INTERNATIONAL MANAGEMENT FOR HEALTH AND SAFETY – II
Paper 3: INTERNATIONAL WORKPLACE SAFETY – I
Paper 4: INTERNATIONAL WORKPLACE SAFETY – II
Paper 5: ENVIRONMENTAL MANAGEMENT
Project on Industrial Safety to be completed before theory examination and a Report to be submitted to the Department
Exam type:-
Paper I & Paper 2 – 2 hrs written exam – 10 questions (no choice) – Marks 100
Paper 3 & Paper 4 – 2 hrs written exam – 10 questions (no choice) – Marks 100
Paper 5 – 1 hrs written exam – 8 questions (no choice) – Marks 50
Paper 6 –Practical assessment – Marks 50
Seminar classes
8 days (not mandatory) at GWG Education center Karaikal UT of Pondicherry
Expertise available all the working days to clarify the subject through mails & telecommunication
Course materials
International standard published by Green World Group (promoted by government of India)
Certification
Successful candidates will get the certificate within 25 days (from result announcement date). Certificate & Mark list will be issued from Central Board of Examinations& National Development Agency (Promoted by Government of India)
Started at the instance of Planning Commission, Government of India with the object of enabling individual citizens to contribute, in the form of an organized co-operative effort, to the implementation of the National Development Plan. The constitution and functioning of Bharat Sevak Samaj is approved unanimously by the Indian Parliament.
Certificate division with Distinction & First class
Fee Structure
Including course materials, examinations fee, Administration fee & Seminars.
Contact:
GREEN WORLD MANAGEMENT CONSULTANTS & TRAINING INSTITUTE
249/2, P Block MMDA Main Road,
Arumbakkam,
Chennai – 600 106,
Tel :
044 48561333
Mob :
+91 8939440431
E-mail: 
info.india@greenworldsafety.com
---
For Enquiry & Enrollment:
Toll Free 1800 121 4246 | Whats App : +91 9791082789
---