Among the fastest growing economies in the UAE, Dammam offers varied occupational interests for workers in both public and private sector enterprises. Occupational safety has been the prime concern for industries in and around Dammam which offer challenging work environments coupled with varied degrees of safety measures for workers to minimize the work-related mishaps and disasters.
There is a huge opportunities for safety professionals in Dammam as employers prefer highly motivated and experienced health and safety professionals to manage safety issues in their enterprises.
NEBOSH course in Dammam is one of the most preferred qualifications by employers of Dammam, NEBOSH International General Certificate (IGC), can get students their dream job as HSE professional or safety officer in Dammam.
Why to become Health and Safety experts?
Like other cities in the UAE, industries in Dammam too growing at faster pace creating various health, safety and environmental challenges to workers. Industries, in order to create congenial and safe work culture, look for competent and experienced health and safety managers, who can, not only manage all the health-related issues and workplace risks and dangers, but also make industries viable and sustainable. Health and safety experts are in great demand, not only in Dammam, but also in all other parts of the world.
Where to study safety and health course?
As industries look for competent people to manage workplace safety, right qualification done at right place can take you to places. Doing NEBOSH IGC at Green World Group is the wise decision, as the centre in Dammam is one of the best coaching and NEBOSH-accredited centres in the world. Apart from offering internationally recognized certifications, the centre provides excellent ambience for learning, well-researched study material, flexible timing, competitive pricing, any-time advisory to students seeking opportunity abroad and recognition among employers around the world.
Why NEBOSH at GWG?
Green World Group in Dammam offers coveted HSE courses such as NEBOSH, IOSH, ADOSHEM, and government certified diploma courses to suit the industry needs and career aspirations of working professionals and students. These courses are carefully crafted while including various safety standards, health risks, employee intakes, demands and career prospects.
NEBOSH course in Dammam has great employment potential as it makes you a thorough safety and health professional having wide knowledge and skills to tackle any kind of situation at work places independently without causing widespread losses. NEBOSH IGC is a stepping stone for those who want to take up career in occupational safety at senior levels. The safety officer course touches every aspect of workplace safety regulations, guidelines and standards and makes the participants eligible to handle all safety and health issues in various work environments.
NEBOSH IGC in Dammam can be taken up by anyone who has an interest to handle or manage safety issues at workplaces. Hurry! What are you waiting for? Enroll today at your nearest Green World Group centre and become a qualified HSE professional!.
nebosh course in jubail
NEBOSH IGC – JUBAIL
Unlimited training until You pass all the papers* !!..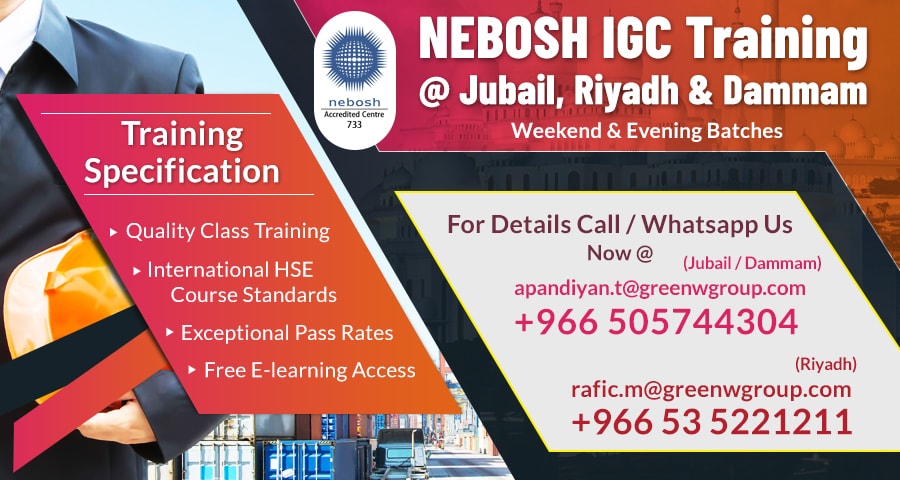 BATCH DETAILS :
Click here to Know Upcoming batch
---
Contact
Mr. Arunachala Pandiyan – (Assistant Manager – Sales & Marketing – KSA)
Phone
+966 50 5744 304
Mail Us
apandiyan.t@greenwgroup.com
---
Green World Group Training Center
# 613, Business Tower
#101, King Abdul-Aziz Street,
Jubail city, Kingdom of Saudi Arabia,
Tel: +966 13 3638442.
---