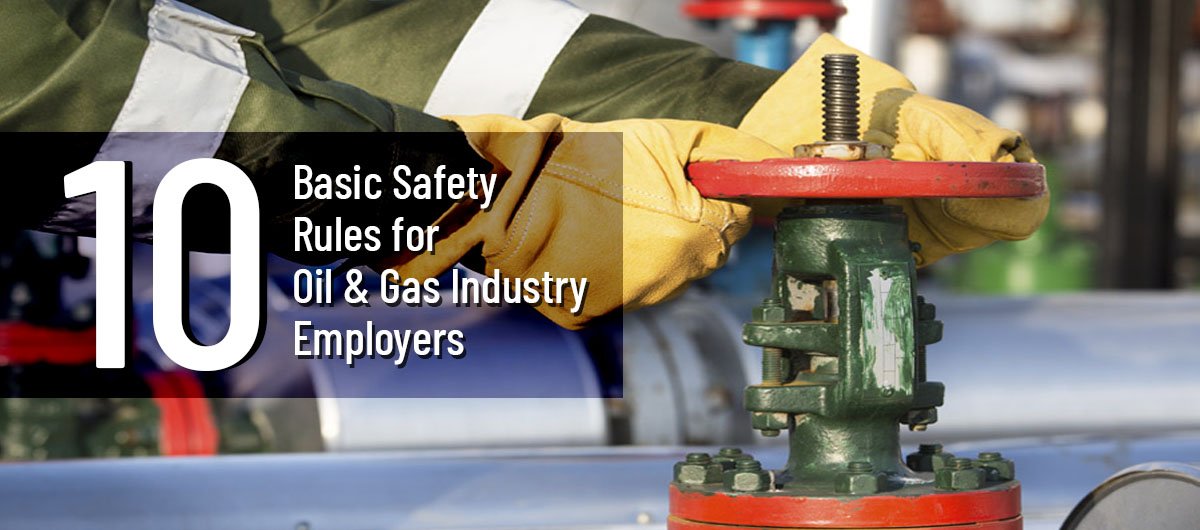 Workers in the oil and gas industry are at highest risk of injuries and fatalities. So, it is important to re-evaluate safety programs and behaviour to effectively address worker safety issues and reduce the rate of injuries and accidents in the industry.
In order to ensure a safe working environment, apply these tips to improve worker safety:
1. Collaborate With the Local Emergency Organization
Develop a relationship with local emergency response community and establish a uniform flow of communication to supply a higher level of overall safety. Company's emergency responders and safety and health professionals must work together to utilize their resources to be able to handle emergencies successfully.
Discuss specific health and safety hazards that exist at the drilling location and determine the way to assist one another in these emergencies. If possible, take emergency responders on a tour of the drilling site or rig to offer them a clearer idea of the way to approach potential emergencies.
2. Invest in a Safety Program
Encourage the environment of open communication approach to safety training and allocate time for workers to get to know each other. Building personal connections with workers will inherently build trust and brotherhood when out in the field to improve overall safety.
3. Monitor Mental Health of Workers
Workers culture is a huge factor that negatively affects safety in the industry. Eliminate the tough and stereotypic workers in the industry by promoting a transparent and open environment through various training techniques and team exercises. Trusting workers and building a sense of community makes easier for them to help, obey rules, admit mistakes, and possible to make a positive and safe environment.
4. Ensure Familiarity with Worksites
Before the work begins, ensure everyone to understand their worker's role, hazards that exist, and all safety precautions. Provide workers with procedures and hazards to be fully communicated in the event of shift handovers and work site changes.
5. Consistent Housekeeping
Reduce the chances of fatal accidents by keeping floors, pathways, and all work areas clear to prevent trips and falls. Implement clear signage to direct workers towards emergency and safety equipment to quickly conflict hazards.
6. Implement the workflow
Apply strategic labelling techniques to direct, warn, and communicate a variety of different information to workers. Colour-code materials in the workplace makes easier and quicker to find specific tools, equipment, and more.
7. Install In-Vehicle Monitoring System
Monitor driver behaviour in vehicle to analyse concerns and poor habits to determine how to improve your vehicle safety programs and worker training.
8. Provide Clear Visual Communication
Try to eliminate miscommunication and mystification with clear and reliable signs and label to convey dangers and safety instructions. Create specific custom signs to communicate procedures to certain work crews and work sites. Replace unreadable and out-dated signage as soon as possible.
9. Re-assess Safety Signage
When worksite and project changes occur, take time to assess the signs and labels are in the right areas and communicate present hazards and procedures before the next project begins. This will ensure new workers with dangers and details about specific locations.
10. Stay on Top of Machine Maintenance
When working on offshore rig projects, the machines are your lifeline when you're thousands of miles from shore. Prevent premature machine failure and conduct the importance of regular maintenance check of machinery to workers. Communicate the checks to your workers using OSHA maintenance activities.
About Green World Group:
Green World Group is a leading health and safety Training & Consultancy Since 2006, which is the first institute in HSE sector to deliver 980+ NEBOSH IGC batches in our training centers around the world.
We deliver international standard Health, Safety, and Environmental Courses such as Nebosh IGC, Fire Safety, Govt.Approved National Diploma, IOSH Courses, etc… for individuals in the classroom and online mode for corporates and industries we provide In-House training sessions by highly-qualified tutors in Occupational Health and Safety Management.
---
For Any Safety Queries, Contact Us