Greetings from Green World Group,
We are the leading IOSH, NEBOSH, ADOSHEM, LEAD AUDITOR training provider.
Nebosh course in Newdelhi
750th BATCH OFFER !!
Pay For NEBOSH International General Certificate
Attain 3 CPD UK Courses (HAZWOPERM, MOC & BBSM)
AND 3 Dubai KHDA approved (First Aid, Fire Safety & COSHH)
Only Limited Seats.. Hurry Up for Early Booking
GET FREE TRAINING UNTIL YOU PASS THE EXAM !
INR 48,999/-
FREE QUALIFICATION
> HAZWOPERM – Hazardous Waste Operation and Emergency Response Management – CPD UK Certified
> MOC – Management of Change in Process Safet – CPD UK Certified
> BBSM – Behavior Based Safety Management – CPD UK Certified
> Control of Substances Hazardous to Health (COSHH)
> Essentials of Fire Safety Principles
> First Aid at WorkLast Date of Reg : 23rd May 2018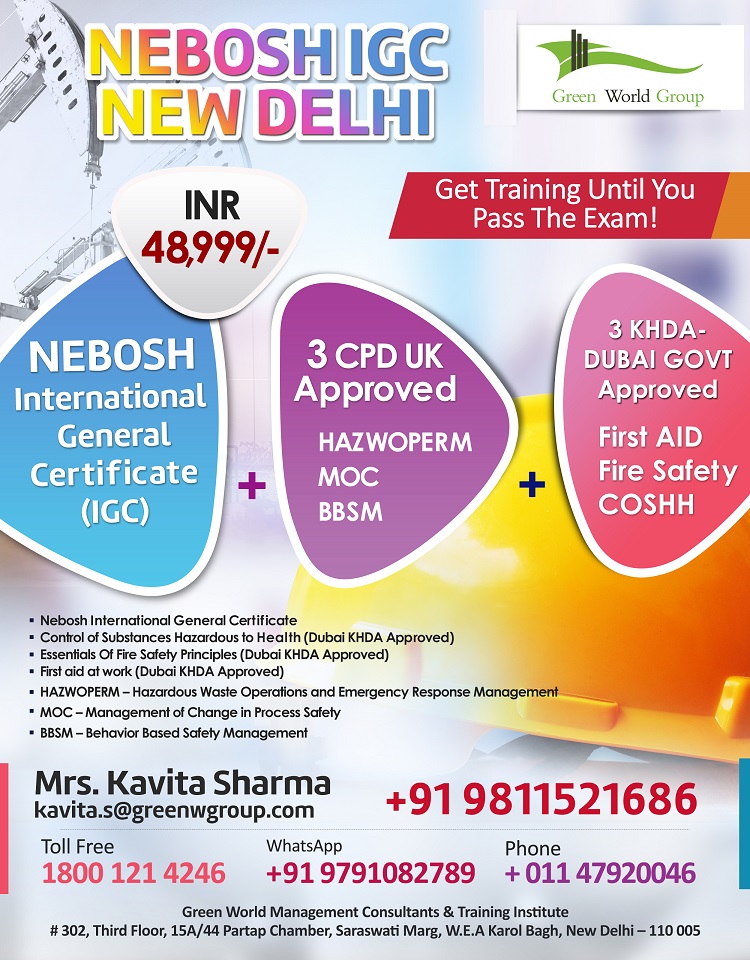 ---
For Enquiry & Enrollment:
Toll Free 1800 300 20676 (South India) | 1800 121 4246 (North india) | Whats App : +91 9791082789
---
Course Duration and Timings:
GWG offers both training and consultancy solutions across the Middle East, India and worldwide on an in company or public course basis or distance learning
Hence we will not compromise in quality, deliverance and procedures given by NEBOSH/ IOSH /ADOSHEM / LEAD AUDITOR.
Our wide range of products include:-
IOSH Managing Safely
NEBOSH International General Certificate
Advance Diploma in Occupational Safety, Health and Environmental Management – Distance Learning – Duration One Year, Promoted by Government of India
IRCA LEAD AUDITOR COURSE
Name of the Award – NEBOSH IGC
Mode of Training – Full time (8.30 A.M to 5.30 P.M)
Course Duration – 18 Days
Click the blow link for Nebosh Course syllabus:-
http://greenwgroup.co.in/wp-content/themes/gwg-theme/NEBOSH_IGC_syllabus.pdf
http://greenwgroup.co.in/training-courses/nebosh/nebosh-igc/
Click the blow link for IOSH Managing Safely course syllabus:-
http://greenwgroup.co.in/training-courses/iosh/iosh-managing-safely/
Registration:
Prior registration is required to confirm your participation as there are only limited seats. For confirmation send us the following:
·         Duly filled in application form
·         Id proof (passport photo copy)
·         Part payment Rs. 15,999/-
Remaining amount should be paid at the first day of training. Nebosh IGC brochure is attached with relevant information for your perusal.
Certification:
On successful completion of written exam (IGC1 and IGC 2 – 45% and above) and a practical assessment (IGC 3 above 60%) certificate will be issued by NEBOSH (U.K) in 12 weeks from the date of examination.
Visit @ www.greenwgroup.co.in
---
Mrs. Kavita Sharma
ACADEMIC COUNSELLOR
Mob: +91 9811521686
kavita.s@greenwgroup.com
---
For Enquiry & Enrollment:
Toll Free 1800 300 20676 (South India) | 1800 121 4246 (North india) | Whats App : +91 9791082789
---
Green World Management Consultant & Training Institute
# 302, Third Floor,15A/44 Partap Chamber,
Saraswati Marg,W.E.A Karol Bagh,
New Delhi – 110 005
Tel :+011 47920046
info.india@greenwgroup.com
Email: info.india@greenwgroup.com
Website: www.greenwgroup.com
---
---