Greetings from Green World Group,
We are the leading IOSH, NEBOSH, ADOSHEM, LEAD AUDITOR training provider.
SUMMER SPECIAL BONANZA OFFER FROM GWG !!
NEBOSH IGC – NEW DELHI
Pay for NEBOSH IGC & Get 5 International HSE UK Courses worth Rs.51,000/- Free !!
Course Details:
JOIN – NEBOSH (IGC) International General Certificate
and GET these below courses FREE
IMS Integrated Management System (ISO 9001:2015, ISO 14001:2015 & OHSAS 18001:2007) INTERNAL AUDITING COURSE – IRCA STANDARD
HAZWOPERM – HAZardous Waste OPeration and Emergency Response Management, CPD UK Approved
MOC – Management Of Change in Process Safety, CPD UK Approved
BBSM – Behavior Based Safety Management, CPD UK Approved
First Aid Course – RoSPA UK Approved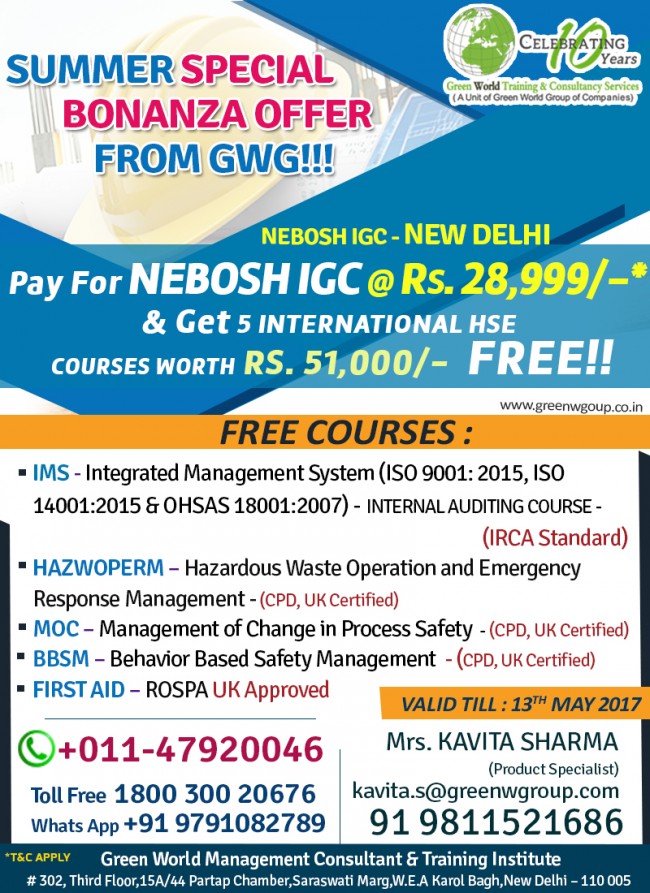 For Registration
Mrs. Kavita Sharma
PRODUCT SPECIALIST
Mob: +91 9811521686
kavita.s@greenwgroup.com
Green World Management Consultants & Training Institute
# 302, Third Floor, 15A/44 Partap Chamber
Saraswati Marg, W.E.A Karol Bagh,
New Delhi – 110 005.
Tel: +011 47920046.
Mobile: +91 9811521686.
Email: info.india@greenwgroup.com
Website Details: www.greenwgroup.org, www.greenwgroup.co.in
GWG offers both training and consultancy solutions across the Middle East, India and worldwide on an in company or public course basis or distance learning
Hence we will not compromise in quality, deliverance and procedures given by NEBOSH/ IOSH /ADOSHEM / LEAD AUDITOR.
Our wide range of products include:-
IOSH Managing Safely
NEBOSH International General Certificate
Advance Diploma in Occupational Safety, Health and Environmental Management – Distance Learning – Duration One Year, Promoted by Government of India
IRCA LEAD AUDITOR COURSE
Name of the Award – NEBOSH IGC
Mode of Training – Full time (8.30 A.M to 5.30 P.M)
Course Duration – 11 Days
Course Calendar: