Green World Group a global Leader in providing the Best HSE Training. Our branches are wide spread across MENA region as well at major cities at INDIA. E-learning HSE courses are also provided across 140 countries. Known for BEST training FOR NEBOSH Certification Courses in HEALTH , SAFETY and ENVIRONMENT for all those who wants to aspire as a successful HSE Career. Green World Group has Announced a Special Discounted Deal of the Day Offer for
NEBOSH Course in Mumbai.
Enroll NEBOSH IGC with GWG & Attain Globally Approved Dual Level-3 HSE Qualifications with additional Exciting FREE International HSE Certificates !!
NEBOSH IGC in MUMBAI @ Get Free Training Until You Pass The Exam !
Free Courses :
HAZWOPERM- Hazardous Waste Operations and Emergency Response Management (CPD UK Certified)
BBSM – Behavior Based Safety Management
Accident Investigation – ROSPA UK Certified
Disaster management and Emergency Planning
Permit to work- (ROSPA UK Approved)
EMS - Environmental Management & Sustainability – ISO 14001:2015- ( UKAF,CPD-UK )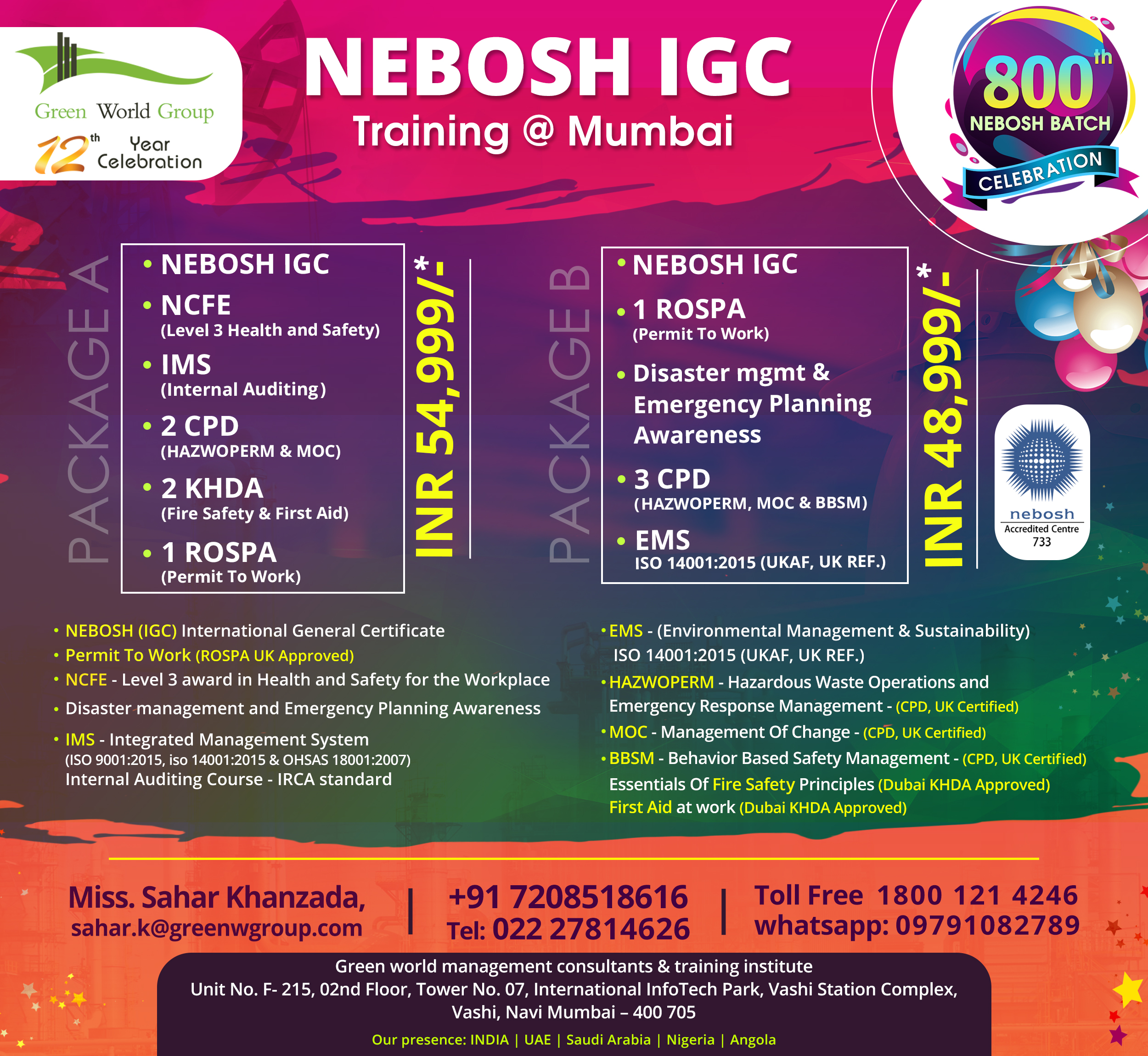 ---
For Enquiry & Enrollment:
Toll Free 1800 300 20676 (South India) | 1800 121 4246 (North india) | Whats App : +91 9791082789
---
Miss. Sahar Khanzada
Academic Counsellor
sahar.k@greenwgroup.com
+91 7208518616
---
Green World Management Consultants & Training Institute
Unit No. F- 215, 02nd Floor, Tower No. 07,
International InfoTech Park,
Vashi Station Complex, Navi Mumbai – 400705
Tel :+022 27814626.
info.india@greenwgroup.com
Email: info.india@greenwgroup.com
Website: www.greenwgroup.com