Green World Management consultant & training institute is offering for
Nebosh Course in Ahmedabad
 Only!!!
GWG is one of the world leading safety training provider which is conducting the UK approved Nebosh certification courses in across the globe.!! GWG provides safety related certification courses like Nebosh , IOSH, HACCP, HABC, OHSAS Lead auditor course, Safety Media course, ADOSHEM, Dip in Offshore safety, Dip in Fire engineering & safety management courses etc.
GWG has branches in India – Chennai, Mumbai, Kolkata, Delhi, Kochi, Hy derabad, Ahmedabad etc.
FLASH OFFER Only For AHMEDABAD !!
Join NEBOSH IGC – AHMEDABAD @ Get Free Training Until You Pass The Exam !
Enroll NEBOSH IGC with GWG & Attain Globally Approved DUAL Level-3 HSE Qualifications with additional Exiting FREE International Exiciting FREE Internaional HSE Certificates !!
Free Courses :
HAZWOPERM – Hazardous Waste Operations and Emergency Response Management
MOC – Management of Change in Process Safety
BBSM – Behavior Based Safety Management
First AID - (KHDA- DUBAI GOVT Approved)
Fire Safety- (KHDA- DUBAI GOVT Approved)
COSHH – Control of Substances Hazardous to Health (COSHH)- (KHDA- DUBAI GOVT Approved)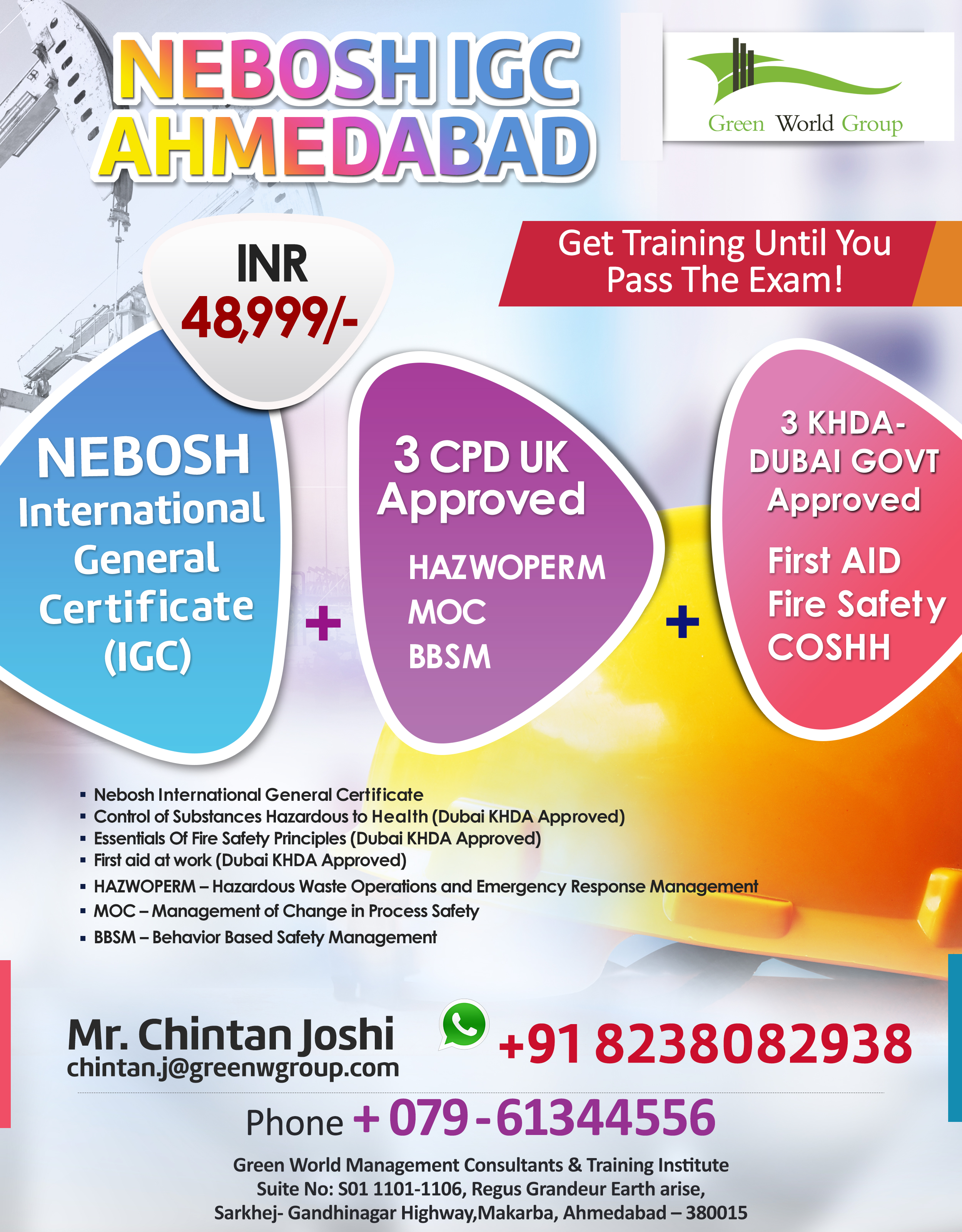 ---
For Enquiry & Enrollment:
Toll Free 1800 300 20676 (South India) | 1800 121 4246 (North india) | Whats App : +91 9791082789
---
CONTACT DETAILS
Mr. Chintan Joshi
Academic Counsellor
Email: chintan.j@greenwgroup.com
Telephone: +91 8238082938
---
GREEN WORLD MANAGEMENT CONSULTANTS & TRAINING INSTITUTE
Suite No: S01 1101-1106, Regus Grandeur,
Eartharise, Sarkhej- Gandhinagar Highway,
Makarba, Ahmedabad – 380015
Tel : +91 (0)79 -61344556
Mob : +91 8238082938
E-mail: info.india@greenwgroup.com